International Day of Peace – 21 September 2015
Tabitha Ross is a CAFOD freelancer who works in Lebanon. On International Day of Peace she tells us about Eman and Hanigal – two mothers who have been forced to leave their homes in Syria because of the ongoing conflict.
Eman's story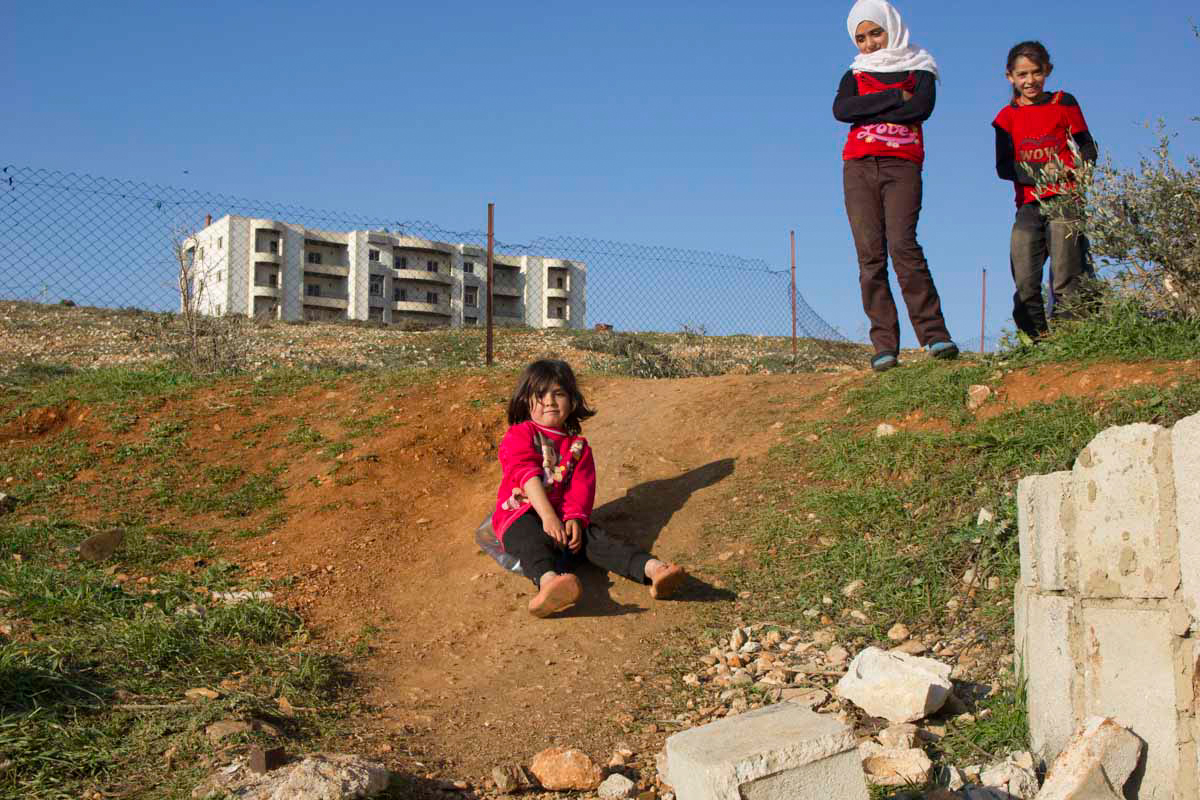 Sitting on a blanket on the grass in the warmth of the sun, Eman looks shell-shocked to find herself in Lebanon, safe from the fear of violence for the first time in nearly four years. When I meet her, she has been here just over two weeks.
Despite coming from Daraa, the region of Syria where the uprising first began on 15 March 2011, and which has seen bitter fighting and bombing, Eman only decided to flee the country this year.
I ask what was the final straw, after so much suffering, that pushed her to leave. With tears in her eyes she said: "At the start of the war my husband disappeared, so I didn't want to leave because I had the idea that he would come back. But in February my house was bombed and destroyed, so I decided to come here."
Please support our Refugee Crisis Appeal
Eman tells me how she and her four children spent three days on the road from Daraa to Damascus. Reaching the capital, they spent two nights sleeping in the freezing street. Finally a taxi driver took pity on them and brought them here to Lebanon, where she is staying with a cousin in an unfinished breeze block construction in the Bekaa Valley.
"I feel ashamed because I have no money and the family that I am staying with have barely any money either. Maybe we eat one day and then for three days we do not, because we don't have the money to buy food," she said.
The kids are messing around, sliding down a dusty slope on an improvised sledge made of a flattened plastic water bottle. One of the littlest boys has come off and banged himself on some rubble. Eman jumps up and runs to him, bringing him back to the blanket and comforting him. She explains that he sometimes has epileptic fits, so she tries never to let him cry. She would like him to see a doctor, but with no money for food or the rent which is due tomorrow, she seems at a loss as to how to do this.
Thousands of refugees need your support
Before we leave, staff from CAFOD's partner Caritas Lebanon promise to return the next day with $200 each for Eman and her cousin, which will enable them to pay for food and the rent. CAFOD's partner will also be able to advise Eman on how to get medical support for her son, and help her with the bureaucracy ahead of her as she goes through the process of registering with the UN, and gradually getting settled in her country of asylum.
We leave to go on to meet another family, the image of Eman and her children standing silhouetted against the descending sun burnt in my mind.
Hanigal's story
A member of Syria's Christian minority, Hanigal endured more than three years of the conflict but finally fled her home north of Aleppo last September after her husband disappeared. Born with dislocated hips, she walks with a heavy limp. It is easy to understand that once her husband had disappeared and all her relatives had left Syria, she was unable to cope.
Today, Hanigal Tareq lives in one room in Lebanon with her disabled 15-month-old daughter, Helena. "There are already 15 in the house. We make it 17," says Hanigal. "I don't have any problem with the other residents. But we can only shower once a week. We sleep seven in one room. We are all women, but still it is hard."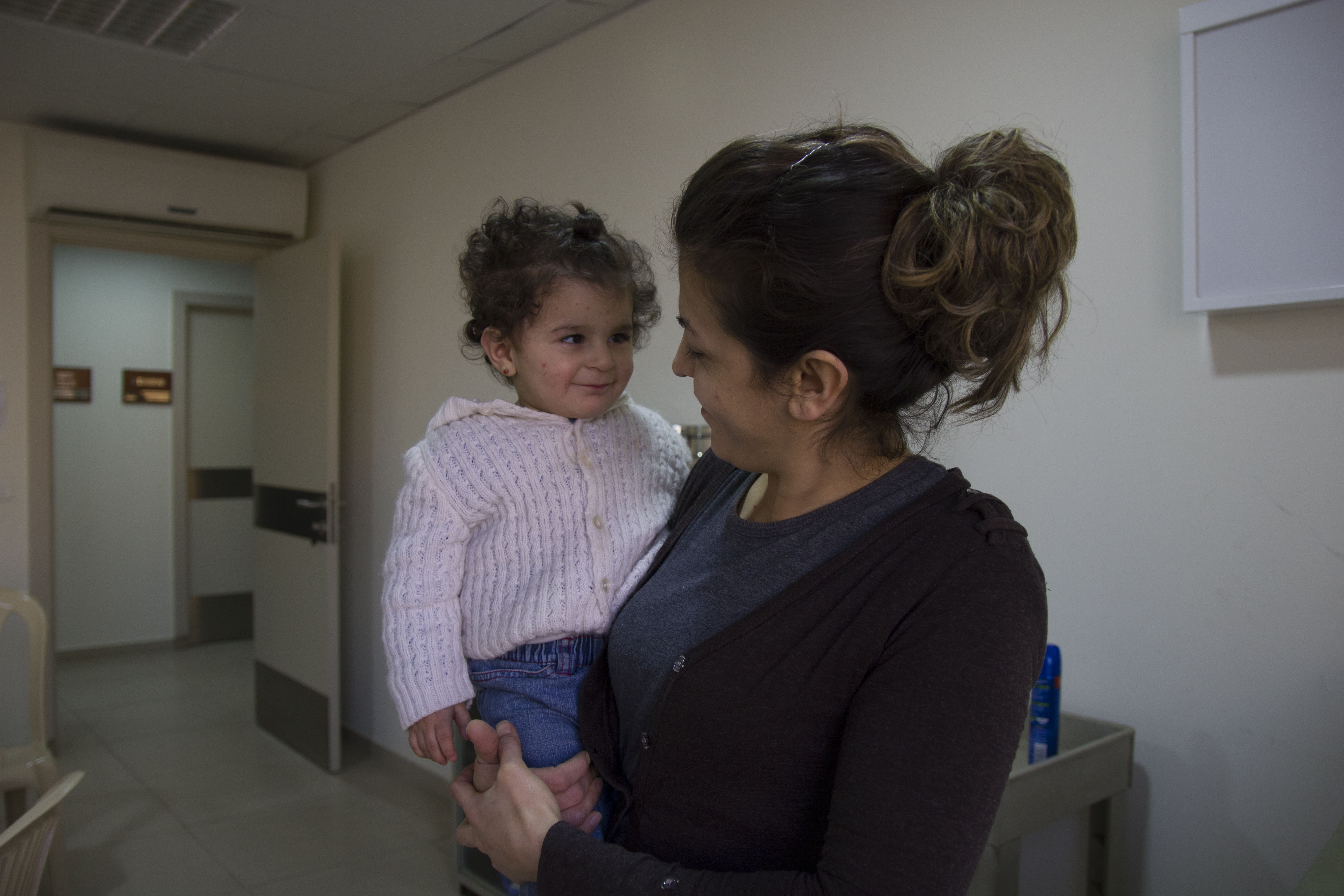 Her daughter, Helena, normally afraid of strangers, giggles joyfully at a game of peekaboo, unaware of her mother's fears. "I can't work, and we have no-one to support us financially," Hanigal says. "Caritas alone cannot cover what we need."
Please support vulnerable refugees
Helena has many severe health problems because of a genetic disorder, but what causes Hanigal most anxiety is that Helena has only 15 per cent vision, because of cataracts in both eyes.
"I really need help with Helena's eyes," Hanigal tells me. "I don't want her to lose her sight. The eyes are dear to a human being."
CAFOD's partner Caritas Lebanon paid for Helena to receive initial treatment at the St Michel medical centre in Beirut, run by Caritas.
CAFOD's support for Syrian refugees
The situation for Syrian refugees in Lebanon is tough, and the needs are enormous with more than 7.6 million internally displaced people within Syria and more than four million refugees in neighbouring countries.
Thanks to your support, our Church partners in Syria, Lebanon, Turkey and Jordan are providing food and medicine to affected families, and are helping people find safe places to stay.
As more and more refugees cross into Europe, our partners are also providing food, water and emergency supplies to thousands of people in Greece and Serbia.
With the humanitarian crisis in its fifth year, our partners are meeting this overwhelming situation with dedication and perseverance, and in many cases being the crucial difference between survival and destitution.
Thousands of refugees are in desperate need of support. Please donate to our Refugee Crisis Appeal
Download resources on the Refugee Crisis to use with children and young people