Harvest Fast Day: Behind the scenes of the Brighten Up film
Kathleen O'Brien is our secondary resources coordinator, leading on the material for young people this Harvest Fast Day.
Watch our Brighten Up Harvest film, and then read Kathleen's blog about the making of it:
Bright peace building projects in El Salvador
If you visit the education webpages this Harvest you will be greeted by Isabel and Diego, two young people who explain what life is like in a gang-dominated area of El Salvador, and talk about how CAFOD partners are helping their community to create safe, bright spaces where children and young people can play, learn and meet with their friends.
We really wanted to convey the brightness of this project in El Salvador, the brightness of the community, and the brightness of a hopeful future. So this Harvest we are asking children and young people to Brighten Up to help build a brighter world. To do this, we set about making a short, bright, fun clip to introduce the fundraising theme.
We wanted to show that by raising money to support CAFOD projects, children and young people in the UK can help young people around the world find a safe space, away from violence, where they can learn new skills and help to build a more peaceful world.
A bright idea
After much head-scratching and ideas that ranged from dotty to deadly boring, "We could make a film using stop-motion!" sounded an exciting suggestion (even if I did need Ben, our video maker, to explain exactly what stop-motion meant).
So, in late July, after a mad session of scriptwriting, storyboarding and gathering the brightest props we could find to fit in with our Brighten Up theme, we set off to a local London school to start filming our Brighten Up film.
Thankfully, the weather was glorious, as we had a lot of outdoor shots to take, but that gave problems too. You can't ask a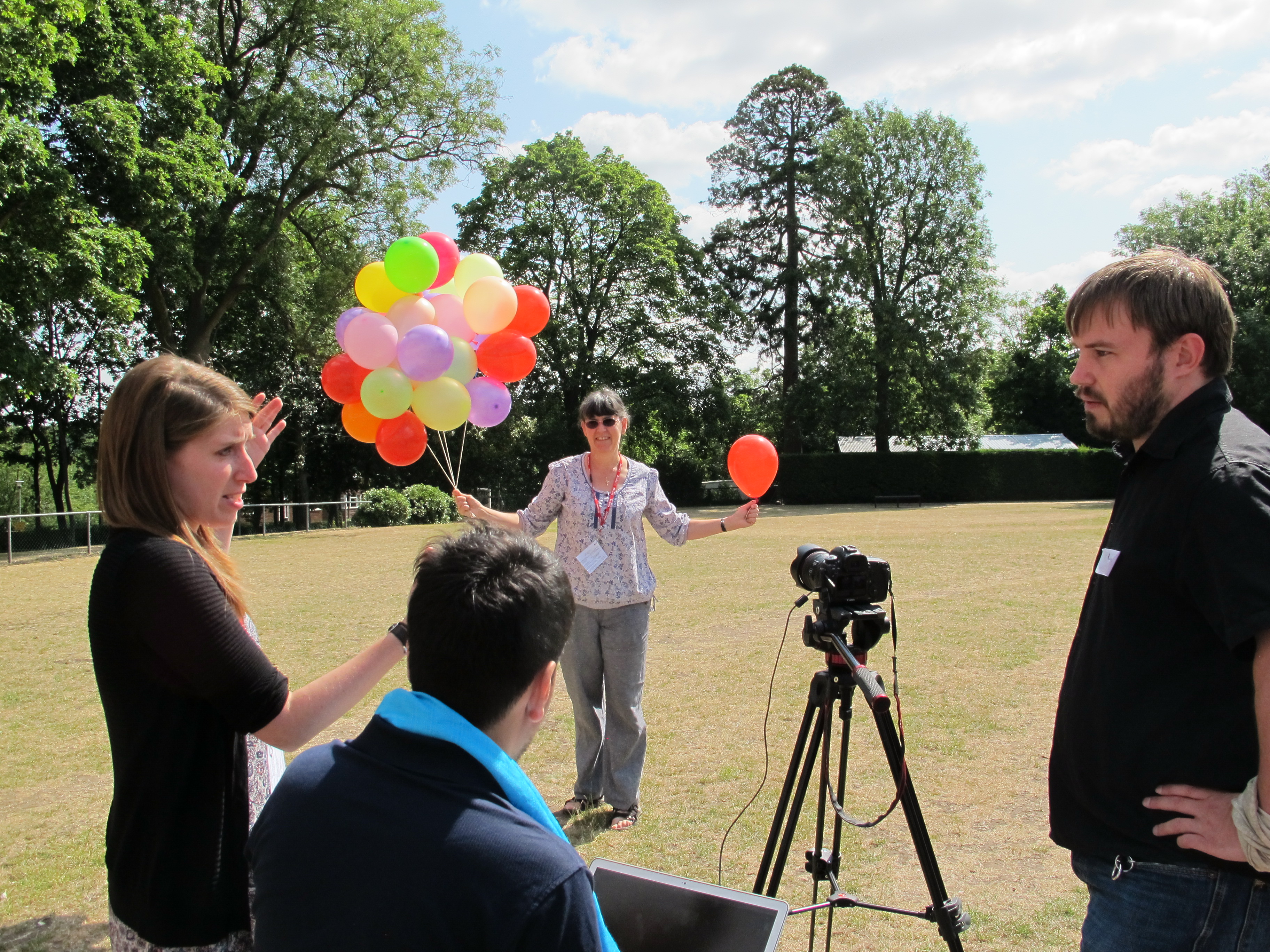 primary age volunteer actor to stand in one spot for an hour, only moving a tiny amount for each photograph, if the sun is blazing down on her head. So the photo shows yours truly standing-in for our star while she had a well-earned water and shade break and our production team discussed strategies.
With any project like this, however much planning you've done, there are always going to be a last minute panics. Ten minutes before we were scheduled to film a cupcake transforming itself from dull to bright, we discovered that the cake decorations we'd been given were more 'pastel' than 'bright'. I was dispatched to the local shops to see what I could find. However, the school staff and pupils were really amazing. Mr Bryson even brought in part of his own extensive and colourful collection of bow ties.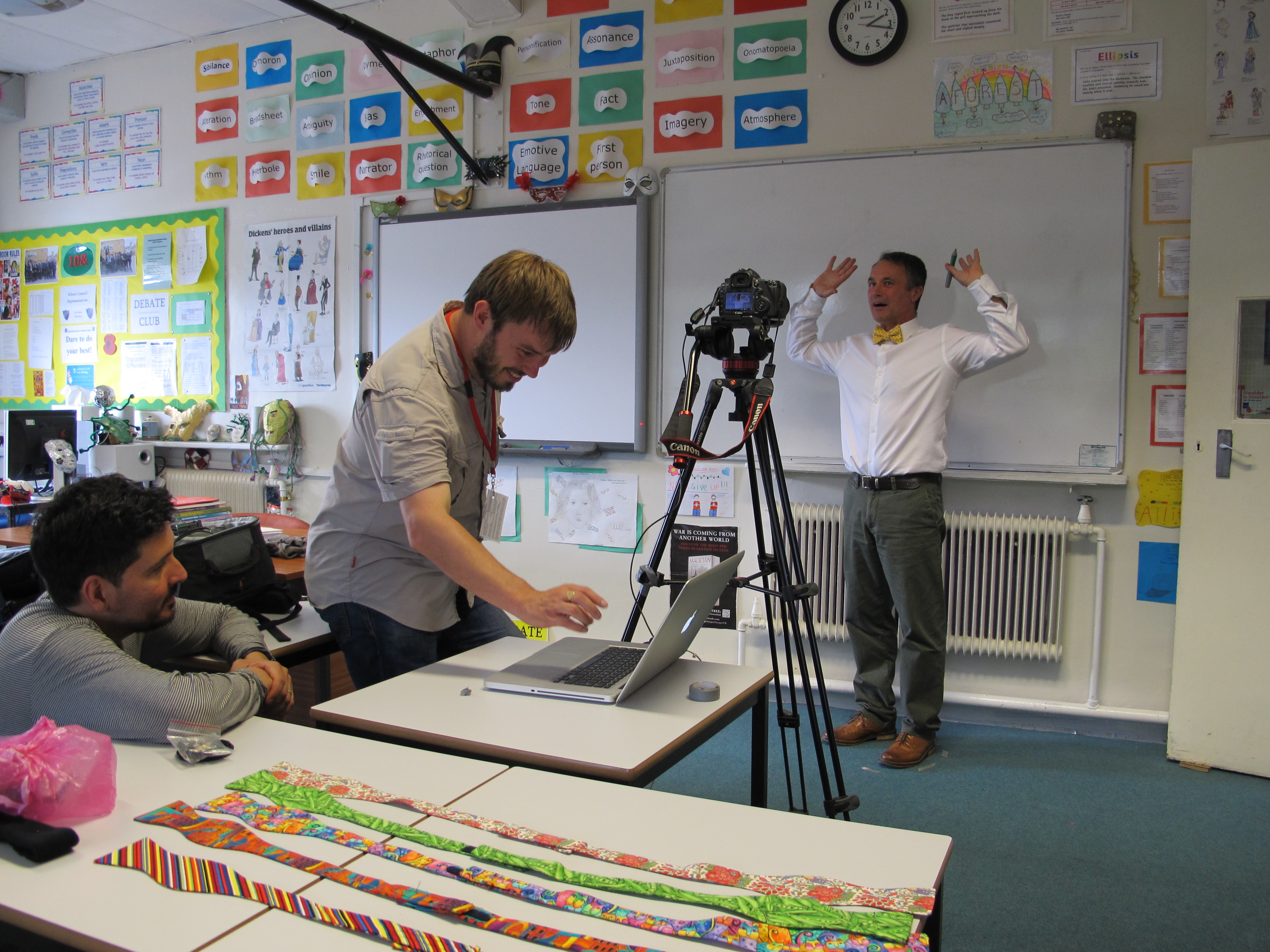 Stop-motion filming may be a slow process, but we were pretty pleased with the result. It's quite a different look from the usual films that CAFOD produces. it's a short, snappy bright film to give children and young people ideas about how they can easily join in this Harvest Fast Day. We hope it will help to inspire children and young people in England and Wales who are fundraising this Harvest to help our partners around the world in their great work tackling poverty and injustice.
How will you meet the challenge to Brighten Up your school this Harvest? Why not organise your own bright fundraiser?