January 29, 2016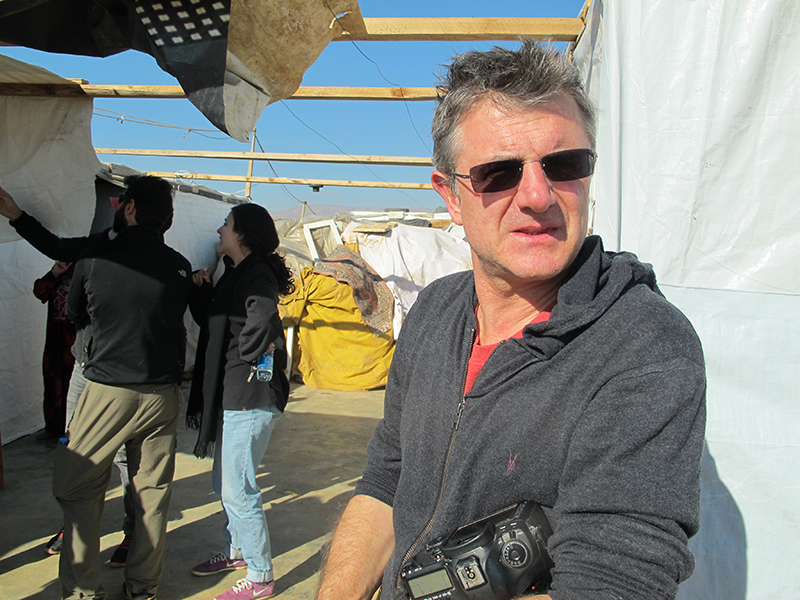 Dario Mitidieri began his career as a professional photographer in 1987 working for The Sunday Telegraph and The Independent newspapers. In his long and illustrious career, he has travelled to Tiananmen Square in Beijing to witness the army repression of students. He has also photographed the conflict in Northern Ireland, the Iraq War, the 2005 Tsunami in Indonesia and the Kobe Earthquake in Japan. He recently travelled to the Bekaa valley, Lebanon, with CAFOD and creative agency M&C Saatchi where he worked on studio-styled portraits of twelve families who have fled the conflict in Syria.
It is early – just before eight, but winding through the steep hill side roads of Lebanon's capital Beirut, there is a frenzy of building work: hotels and luxury apartments going up. This ancient, open city is alive.
Once we leave the concrete landscape behind us, the undulating hills of the Bekaa valley – Lebanon's agricultural pulse and once the 'breadbasket of the Roman Empire' – come into view. Overnight there has been a first dusting of snow on the hills.
Just over the mountain ridge, some nine kilometres away is the border with Syria.
I'm heading to a Syrian refugee camp, with CAFOD and its partner, the Caritas Lebanon Migrant Centre.
Just before Christmas, I came together with CAFOD, the Caritas Lebanon Migrant Centre and the creative agency, M&C Saatchi, to work on a unique project to highlight the plight of Syrian refugees: Lost Family Portraits.
See some of the Lost Family Portraits
The idea is to take a pop-up studio and set it up in some of the camps and take family portraits of Syrian refugees, with empty chairs symbolising the loved ones they have left behind or lost due to this horrific six-year war. Continue reading "Lost Family Portraits: Photographing the Syrian refugee crisis in Lebanon"