Feast of the Assumption: Do not be afraid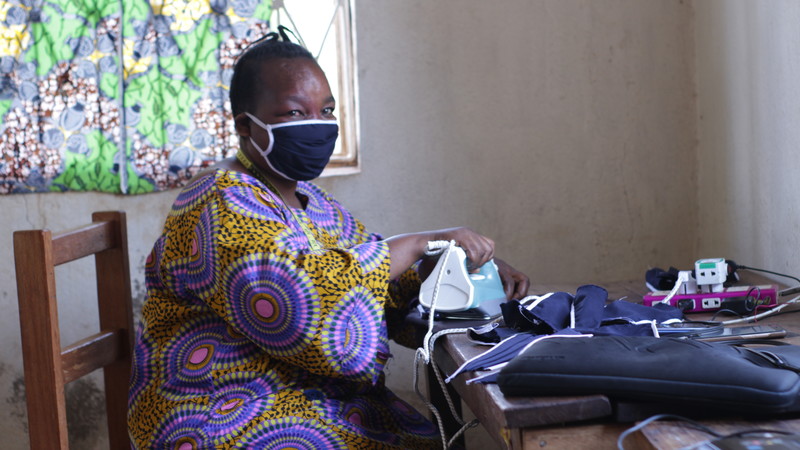 For the Feast of the Assumption, Linda Jones from our Theology team reflects on the comfort faith can bring in this time of uncertainty.
We are living through a time of great uncertainty, experiencing both a global pandemic and a climate crisis. The human brain is not wired up for uncertainty – it likes security. It's constantly on the look-out for danger, and not knowing exactly what's coming feels dangerous. Our systems gear up for fight or flight, one of our survival mechanisms. Our fists clench, our palms sweat, our heart starts to pump faster.
We are ready to run, looking out for the tiger, the woolly mammoth or the roaring lion. Our logical mind can't be accessed, fear courses through our bodies. And when the uncertainty goes on for a long time, we become anxious and stressed.
All shall be well
"Do not be afraid," is one of the most common phrases in the Bible. When Jesus speaks to his disciples, he often has to remind them that, although they are afraid, he is always there with them. "Take heart," he says, "it is I; do not be afraid" (Matthew 14:26-27).
Through the Scriptures we can see that many people are afraid, but that God takes the time to pay attention to their fears and offer reassurance. In the first chapter of Luke's Gospel, we hear how terrified Zechariah is when the Angel appears, "Zechariah was troubled by what he saw, and fear came upon him." (Luke 1: 12) and Mary too was, "greatly troubled" (Luke 1:29). When the Angel came to announce that she was to have a child, his first words after greeting her were, "Do not be afraid, Mary" (Luke 1:30).
The Angel's words remind us that God is reassuring, calming, comforting. Does that mean that Mary would never face difficulties, or challenges? That she would never know what it meant to suffer?
No, but as Julian of Norwich said, "All shall be well". This is not a trite phrase, a dismissal of suffering. Rather Julian was saying that, even though we experience difficulties in our life, we can be sure that God is there with us.
Many people around the world are struggling because of the impact of coronavirus. Stand alongside them and call on world leaders to cancel the debt.
A resounding yes
Mary had to live through the death of her son. A cruel, painful death. She is Our Lady of Sorrows. As Simeon had prophesied to her, "A sword will pierce your soul too." (Luke 2:35) Or, in another translation, "And sorrow, like a sharp sword, will break your own heart."
But she heard the words, "Do not be afraid, Mary," and knew that God was calling her by name. God promised to be with her. So, she responded with her resounding "Yes".
Opening our hearts
It's normal and human to be afraid. It's normal to be concerned about the future and about our family. During this pandemic, around the globe, families are facing the same fears.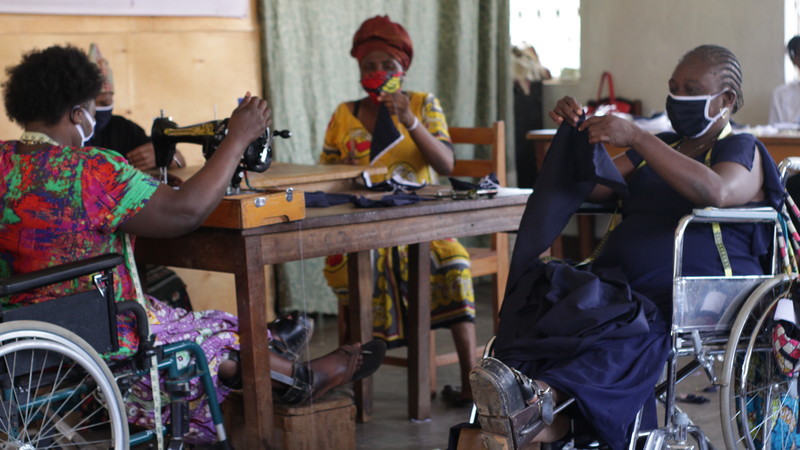 In the Democratic Republic of Congo, women at Centre Olame are making masks to respond to the coronavirus outbreak. The centre supports women who have been affected by physical and sexual violence. It provides a listening centre and counselling, as well as helping women to earn money to support themselves.
Donate to our Coronavirus Appeal.
At a time when perhaps it's tempting to think only of ourselves, and our own difficulties, it's good to know that so many of you are willing to open your hearts to others, to listen to them and be a source of comfort. We can all reach out to our neighbours, to comfort and support them, wherever they are. And through our prayers, we stand alongside them.
Join us in prayer for all those affected by the coronavirus pandemic around the world.
We turn to Mary
As we grapple with all the issues we face, with all the accompanying fear and uncertainty, we turn to Mary on the Feast of the Assumption.
'The Mother who cared for Jesus, now cares with maternal affection and pain for this wounded world. Just as her pierced heart mourned the death of Jesus, so now she grieves for the sufferings of the crucified poor and for the creatures of this world…Carried up into heaven, she is the Mother and Queen of all creation… She treasures the entire life of Jesus in her heart (cf. Lk 2:19,51), and now understands the meaning of all things. Hence, we can ask her to enable us to look at this world with eyes of wisdom.' (Pope Francis, Laudato Si', 241)
Mary, Queen of Sorrows and Queen of Compassion, pray for us.