How our office helps the environment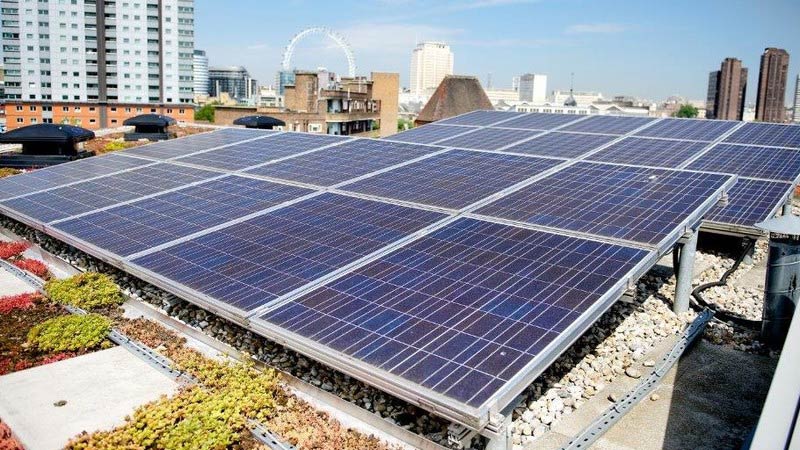 Becky, our Campaigns Writer explores how CAFOD's London headquarters, Romero House, helps the environment through a wealth of eco-friendly systems.
Back in 2008, we had the opportunity to design our new London headquarters from scratch. This gave us the opportunity to create a working space in line with our ethos of living simply and sustainably.
The roof
On our roof we have two types of solar panels:
photovoltaic panels, which convert sunlight to electricity that we export to the national grid
water heating panels, to supply the hot water in our toilets and kitchens.
The roof is a living green roof, known as a sedum roof. This is a lovely area of moss and other plants which encourages other plants to grow and insects to make it their home.
Water
We harvest the rainwater that lands on the roof and use it to flush our toilets (1 flush = 6 litres, so well worth using rainwater if we can!).
Should we ever get some decent weather, we heat or cool Romero House by ground source heat pumps that circulate water through bore holes dug deep into the ground. These pumps are very efficient and use less energy than heating or cooling water by traditional means. We do have additional boilers to keep us warm when the weather turns really cold outside.
Air
To help with keeping us at just the right temperature, we use an air filter system that draws air from the rear of the building and filters it before pumping it into the office. This air can also be heated and cooled slightly to keep us at the right temperature, ensuring we have fresh air all year round.
We also have stack ventilation via our atrium system. This promotes air flow, allowing warm air to escape so we keep cool in the summer months. This means we don't need air conditioning! Not only does this cut down on our energy use and costs, but it means we can use the roof for a wonderful airy pavilion. Here we get some much-needed sunshine as we eat lunch or have meetings.
Moving on to waste!
Waste
All of our waste is diverted from landfill. Food waste is separated and taken to an anaerobic digestion plant to be turned into biogas. Our recycling is taken to a facility in Bow where it is divided up – they have lasers which can detect three types of plastic!
Any remaining waste is incinerated at an energy recovery facility where the hot gases produced by the furnace are used to generate steam. This steam is then passed through a turbine to generate electricity.
Fun fact: We have a small kitchen area in between each main floor (or mezzanine). The cupboard doors are made of recycled yoghurt pots and the counter tops of recycled coffee cups – how cool is that?
Windows
We're lucky enough to have windows designed to maximise daylight entering the building. Natural light is better for our wellbeing and means we use less artificial light. Any lights we do use are all controlled by motion sensors, so if the lights don't need to be on they won't be.
Outside we have ample space for bikes so people like me can cycle to work and not worry about finding somewhere to lock our bikes. The more people who cycle, the better our overall carbon footprint.
Sadly, not all of these eco-friendly systems can be applied to our homes, but some of the features do act as inspiration to me and hopefully inspire you too.
---