Bridge of faith: Why are Extinction Rebellion taking over a London bridge?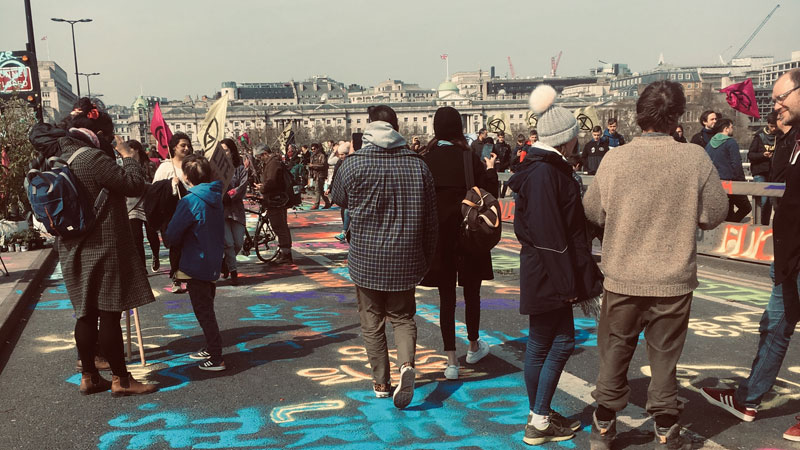 When climate change protesters create a 'prayer bridge' in London in October, our Head of Campaigns Daniel Hale suggests three ways CAFOD supporters can stand in prayer and solidarity.
Extinction Rebellion (XR) are at it again. They have three demands:
'net zero' by 2025
'citizens assemblies' to think through how to get there
declare a climate emergency.
Simple.
These are good and here at CAFOD we agree that we need to put big, bold policies in place to get us to net zero as soon as possible. If we don't, it won't matter arguing about 2025, 2045 or 2050 – we'll miss them all.
On 7 October, Christian Climate Action (CCA), the Christian part of XR, will be taking over a bridge in London. They will hold it for as long as they can. CCA's 'prayer bridge' uses the idea of bridge squatting (made famous by XR) and puts a faith spin on it. There will be activities, talks, art classes and 24/7 prayer.
We recognise that obstructing the highway is illegal. You can't block the road – even to pray. But non-violent direct action has an honourable place in Christian political involvement and a history of bringing about change where other methods have failed.
Weapons of truth and justice
Pope Francis reflected on St John Paul II's 1991 Encyclical Centesimus Annus which 'highlighted the fact that momentous change in the lives of people, nations and states had come about "by means of peaceful protest, using only the weapons of truth and justice.
"This peaceful political transition was made possible in part 'by the non-violent commitment of people who, while always refusing to yield to the force of power, succeeded time after time in finding effective ways of bearing witness to the truth'". There's strength in our tradition.
What if that action is illegal? The rule of law is a common good and it should uphold the dignity and safety of people and protect public and private property, all enshrined in Catholic social teaching. Violence is rarely justified.
The common good
So breaking the law is a moral dilemma and we must all make choices. What is the most loving and good course of action? What action promotes the common good?
As Catholics we turn to scripture and to Church teaching to guide and inform our conscience. Each of us is called to reflect and to do what is good, to serve God and our neighbour as well as to care for the gift of creation, which is clearly being destroyed.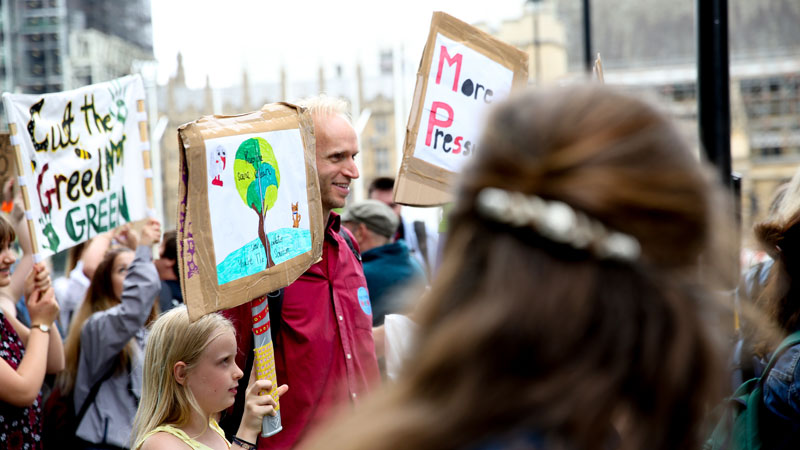 Many who have engaged in XR's non-violent direct action so far are CAFOD supporters and people of the Catholic faith. We should support those who engage in non-violent direct action for the good of our neighbours and the Earth.

And we should respect those who decide, in conscience and painfully, that they must disobey the law in this case, provided their actions are non-violent and proportionate.

Of course, this kind of activity is something most people wouldn't consider. But each of us is called to witness to the truth that God's creation is being destroyed with devastating consequences for some of the poorest people in the world. All of us must act in some way. Visit our campaigns pages to see how you and your church or school can act and pray for our common home.

Ways to support
CAFOD doesn't encourage you to break the law. Instead, we stand in prayer and solidarity with the protesters who have chosen to do this with CCA. We are all part of the same movement calling for greater action on climate change.
If you want to support, you can:
Pray
Wherever you are, hold the protesters in prayer. They're taking big risks on behalf of the poorest people in our world and for Creation. You can also make a prayer flag and send it to the organisers to display on the bridge,
Find out how to make a prayer flag
Send a message of support
Use your social media to amplify CCA's political asks to your MP, or just send a message of solidarity. Find CCA on Twitter: @CClimateAction.
Support roles
Christian Climate Action also has a list of supporting roles on their website. However, please make sure that you talk to Christian Climate Action to ensure you understand any risks involved – you would be doing this on their behalf rather than CAFOD's.
If you decide you want to support, we'll share your social posts. Tag @CAFOD so we can see your messages and photos.