Speak at Mass this Harvest Fast Day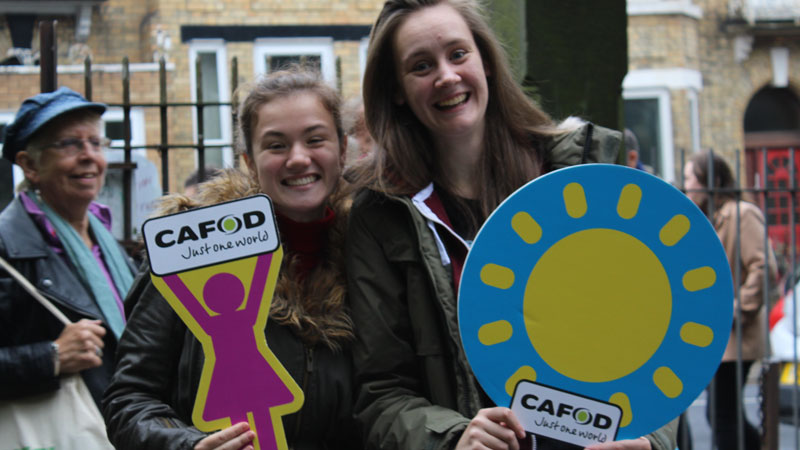 Lizzie is one of CAFOD's Step into the Gap alumni. She had a great experience speaking at Mass for Harvest Fast Day, and she hopes you will do the same this year.
During our training weekend for the Step into the Gap programme, we found out that we would have the chance to speak for CAFOD at Mass at both Harvest and Lent for Fast Day.
Back in July this seemed a long time away, but it came around really quickly and, before I knew it, it was time to organise our talks.
Preparing to speak at Mass
Although we were a bit nervous it's actually really easy to prepare for speaking at Mass. The short talk is available to download, along with lots of other great resources for Harvest. If you'd like to meet up with other volunteers and local CAFOD staff in your area, get in touch to find out where your nearest Harvest event is. 
Father David, who we also lived with as part of the community at Just Youth, agreed to let Sophie, a fellow Step into the Gap volunteer, and I take over the homily for the Mass. We had the chance to speak at Mass on both the Saturday evening and Sunday morning, which meant we were able to connect with the whole parish.
The big day arrives!
The parish held a second collection for CAFOD, where the Fast Day envelopes were collected along with any donations people felt called to give after listening to us. It was a real privilege to be able to tell parishioners about the amazing work they support and how they could play a part in it.
Making a difference by speaking at Mass
The whole parish gave us really lovely feedback on both speaking during Mass and the amazing work CAFOD does.
Speaking at Mass makes a real difference. If there's anyone who is thinking of trying it for the first time, I would definitely encourage you to give it a try!