Building a common home in the Brazilian Amazon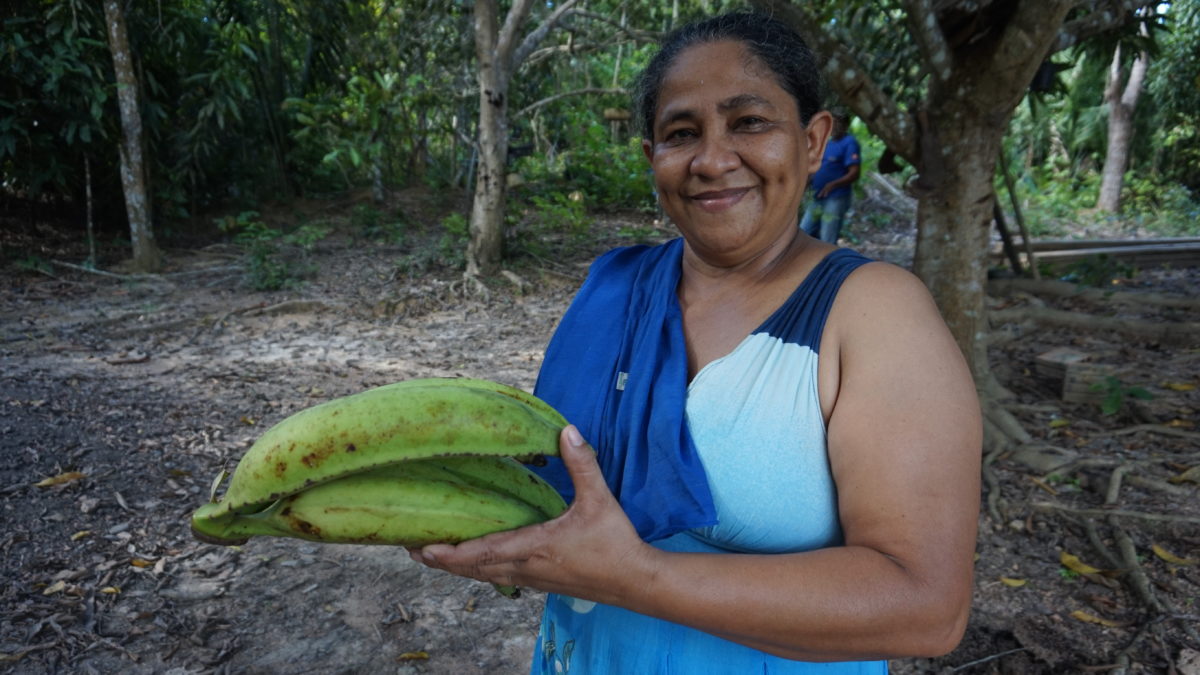 Kezia Lavan from CAFOD's Brazil team tells us about her latest trip to the Brazilian Amazon where she met with local communities who are learning to farm sustainably, preserve the forest and stand up for their rights.
Struggle for land rights
I'm in Marabá, Pará state in northern Brazil, in a region known as the epicentre of deforestation and land conflict in the Brazilian Amazon.
It's not easy for poor landless families to gain access to land in Pará. Wealthy landowners and large agricultural businesses control most of the land and today 70% of the once abundant forest is dominated by cattle pasture and soya crops, leaving soils badly degraded and empty of the once plentiful animal and plants.
Poor farmers who migrated to the region attracted by unfulfilled promises of land or a mining job had few choices left than to occupy a corner of one of the many large abandoned estates to try to produce and survive.
Many families in this area live in encampments on private or public land without basic services and are under threat of eviction and violence. Despite the uncertainty, they work hard to grow the food they need. Some have lived like this for 15 or 20 years, campaigning for the right to stay and carry on farming these lands.
During my latest trip I visited Porto Seguro Sustainable Development Settlement where, with the local church's help, poor rural families and forests are living together, producing, and healing the earth. This community was previously an encampment but today is home to 47 families whose right to stay on the land is recognised in law.
Brazilian law recognises that land has a social purpose which is to house people or produce. Should a property be left empty or abandoned for a long time, then it is not fulfilling this purpose.
If landless people occupy such a property and start to use it productively, as the families from Porto Seguro have done, they acquire certain rights under Brazilian law. In theory, they can then make a claim for land rights on the part of the property they occupy.
But in reality, this takes many years of struggle, with families often battling administrative barriers, court cases, violence and intimidation for many years before they eventually receive communal land rights.
Even then, the land families win may be difficult to farm productively because years of cattle ranching have left it barren and stony. Many families give up hope and abandon the lands they fought so hard to win.
Growing sustainably and preserving the forest
But the Porto Seguro settlement tells a different story. With the legal support of the local church, families received their first formal recognition of land title in 2016, after years of bureaucratic battles, legal setbacks and surviving four evictions.
Today, the formal land title recognises their rights and responsibilities to use the land and natural resources sustainably. With the support of the local church, they are learning to grow sustainably and preserve the remaining forest.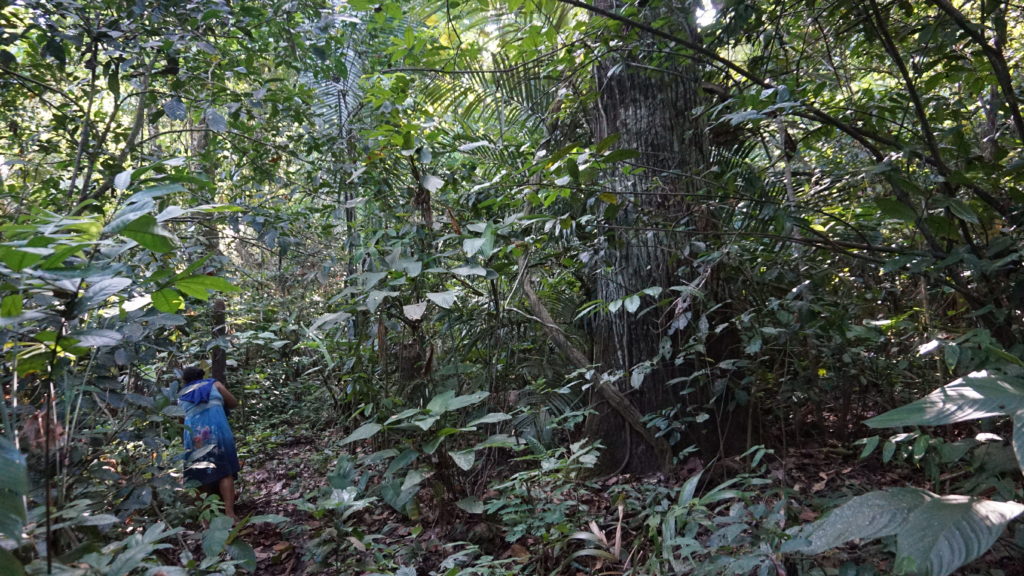 The president of the Producer's Association, Dona Maria Lindalva Gomes, proudly shows me around her small plot of land and house – fruit pulp stuffed in the freezer, a bag of tapioca flour hanging over the balcony, fresh eggs from the hens roaming the yard, a squealing sty full of piglets, cacao fruits ready for picking, trees heavy with tangerines, açaí palm fruit forming and Brazil nut pods ready for cracking, and a kitchen garden full of chives, lettuces, runner beans and tomatoes. She feels rich, she tells me.
While she may not have much money to spend, she is always learning and has everything she needs:
land to work
a year-round harvest of delicious
diverse and commercially viable crops
a plentiful water supply
medicinal plants for common illnesses
the shade and breeze of the trees
abundant nature
the company of family and neighbours
plenty of visitors from the city seeking her famous tapioca.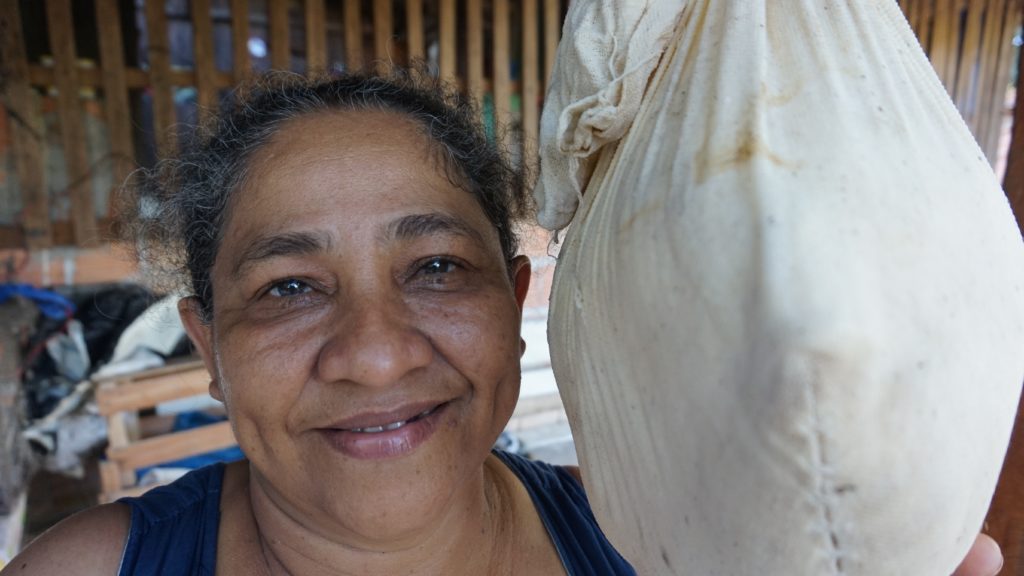 Dona Maria's bumper harvest was produced without chemicals using farming techniques that preserve soil, water and natural vegetation, sustaining current and future harvests. The local church help to provide the know-how, encouragement, seeds and saplings to enable Dona Maria and her neighbours to learn how to do this.
Standing alongside indigenous communities
Fast growing crops like beans, cassava and maize provide for immediate needs. Native fruit and palm species like açaí, banana, cashew, papaya and cacao are highly prized and protect the soil and water sources. Slow growing species, like mahogany and Brazil nut, are planted, economically valuable and crucial in ensuring healthy natural processes in the forest. Such diversification ensures a year-round food supply, income, and reduces the risk of crop failure which increased climate extremes bring.
Getting goods to market
Settlements like Porto Seguro often have poor or no access to basic services and infrastructure when they are first established. Until recently, the road from Porto Seguro to the highway was unpaved, leaving produce to rot on the ground because local markets could not be reached in time.
The local church and families lobbied local authorities to get the road surfaced and now the settlement's bananas, acai and eggs find their way to organic family agriculture markets in Marabá and bring an income home for families.
A nurturing home in the forest
After just a couple of hours in Porto Seguro settlement, tramping through vegetable plots and groves of mixed wild and planted species, the dusty city of Marabá seems like a dream. Gentle light and a pleasant breeze filter through the dappled shade of the trees above.
Even the smells of PDS Porto Seguro – a rich mixture of life, death, decay and rebirth – are strangely reassuring, and feel as much a part of the landscape as the 40ft Brazil nut trees I'm shown. Fruit trees, blossoms, decaying leaves, humid soil, beans in the pressure cooker, chickens, the slightly acrid smell of a ball of cassava flour being processed, the bark and leaves of a Brazil nut tree, all mix together to create a backdrop of nature wild and alive.