Nepal earthquakes: rebuilding lives and homes one year on
Janet Crossley is CAFOD's Emergency Programme Manager for Nepal. One year on from the devastating earthquakes which struck Nepal in April and May 2015 watch Janet's short video from Nepal and read how the generosity of supporters has helped our partners reach the people who were most affected.

[youtube https://www.youtube.com/watch?v=0wt0jndoVuY?rel=0&w=560&h=315]
When I arrived in the village of Bungkot in Gorkha district, piles of rubble still filled spaces where houses once stood. Grass and crops had already started to grow out of the heaps of stone and dust that families once called home.
Please pray for the people of Nepal
I first visited Gorkha district in western Nepal three months after the 7.8 magnitude earthquake struck on Saturday 25 April. It devastated the lives of more than 5 million people, killing over 8,700, and reducing more than half a million homes to rubble. A second earthquake caused further destruction when it hit three weeks later on 12 May.
It takes around five hours to drive to Gorkha town from the capital Kathmandu. From there, travel gets more challenging. In winter, communities up in the mountains – normally only accessible on foot or by helicopter – can be completely cut off by snow and storms. Meanwhile in the summer, the monsoon rains turn roads into rivers of mud, making access to even the closest villages difficult. On my first visit, our short journey to Bungkot village resulted in us trying unsuccessfully to push the car out of the mud, and then continuing on by foot.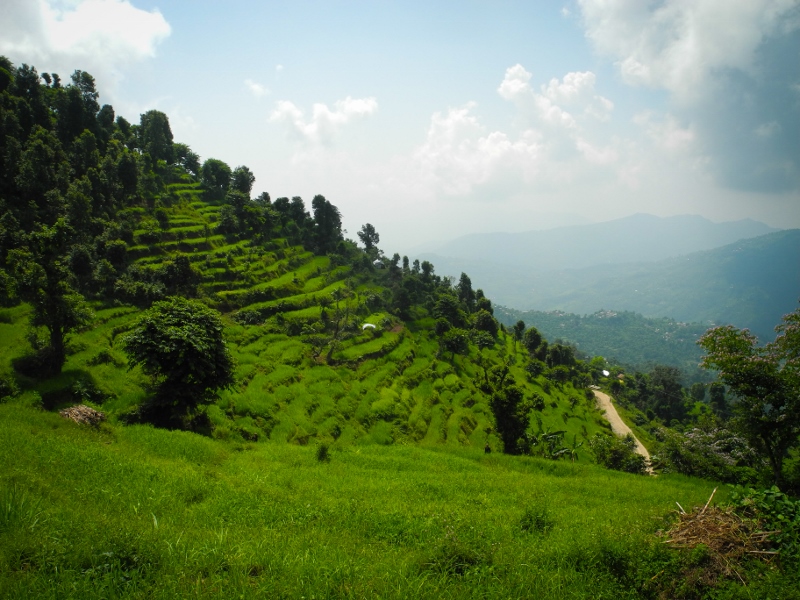 Helping those most in need
Two months later, on my second visit to Gorkha, I travelled to another small village called Choprak. We walked up the hillside, weaving our way through green tiered paddy fields, and badly damaged houses, to visit vulnerable families who have received grants from our partners to buy crucial items like clothes and food.
There I meet 92-year-old Mani Kumani Garung, and her daughter Lila. Their home was destroyed when the first earthquake struck, a year ago this week. When I meet them, their temporary shelter – being shared by 13 members of four different families – is made from tarpaulins and corrugated iron received through emergency aid, as well as salvaged wood and other materials. All the families' remaining possessions, and some recently harvested crops, are piled up against the walls and hanging from the roof.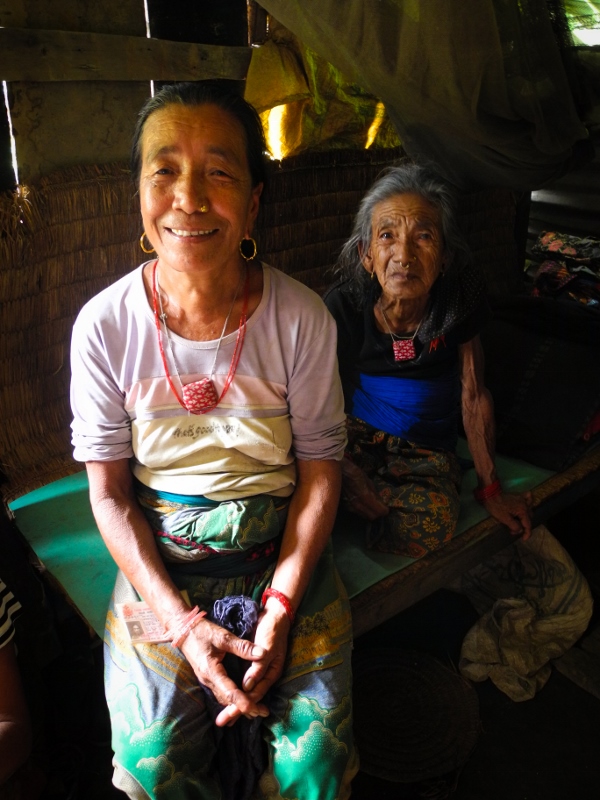 Mani is visibly frail, and has lost the ability to speak, but listens on intently as we talk. As a senior citizen, and one of the more vulnerable members of her community, Mani received an extra multipurpose grant to help her and her family cope.
"At that point, we had nothing. The support we received was so important", Mani's daughter Lila tells me. "We used the grant to buy clothes for the family, and also food – two sacks of rice, oil, salt, spices and a little meat. We are also saving a little bit so we can celebrate Dashain" she said. Dashain is the biggest festival in Nepal, a really important time for Nepalese people when families and communities come together.
Living together in that small shack are four generations, mostly women and girls. The way they all came together to support each other after the earthquake is really inspiring. But hearing their hopes and concerns brought home to me the challenges faced by people who have lost everything, and who now have no way to earn an income.
Mani's family have no savings or source of livelihoods, apart from what they can grow on their small fields. They have heard rumours the government will provide a grant of 200,000 Nepalese Rupees for house reconstruction, but worry this is not enough to pay for the labour and materials needed to rebuild their home.
Those who will struggle most over the coming years are the people who have physical challenges, those who have lost their means of making a living, and those who do not have legal access to land. Our partners are providing targeted support and pushing to make sure that groups who may be traditionally excluded, such as Dalits and female-headed households, have equal access to land, bank accounts, sources of income and other support they need to rebuild safe homes.
Read more about what CAFOD are doing in Nepal
Thank you
A year on from the earthquakes, thanks to the enormous compassion and generosity of our supporters, CAFOD and our partners have reached around 300,000 people with emergency aid and support to recover their lives. One of the most visible changes has been the delivery of temporary shelter. Across the country's hillsides, roofs of corrugated iron sheets glisten in the sun. Now that the government's National Reconstruction Authority has finally started its work, these communities are a step closer to having their permanent homes rebuilt, and some families have already begun.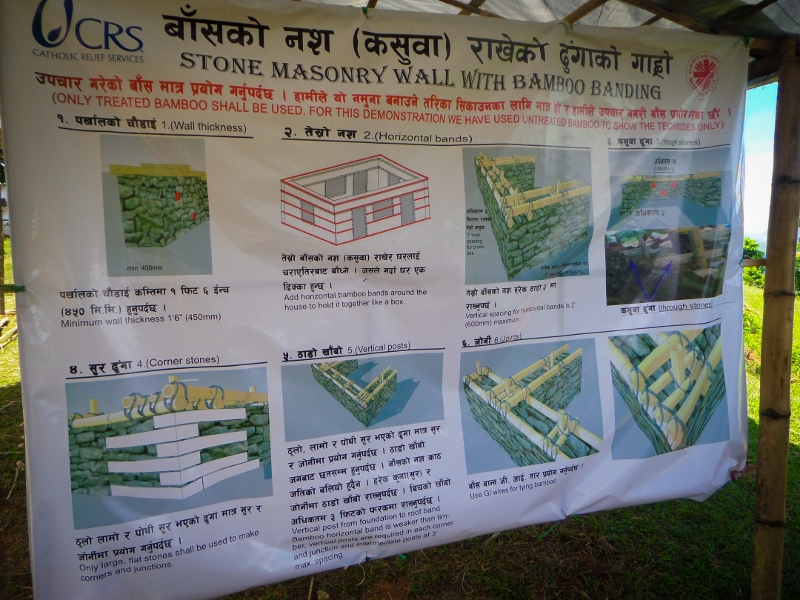 However, with the rainy season approaching there is an urgent need for the government of Nepal to speed up the pace of reconstruction, so that families do not spend another monsoon under iron sheets and tarpaulins.
It is hard to imagine what the survivors of Nepal's earthquakes have been through, but we can all identify with the terrifying fear of losing everything in a matter of seconds.
Our supporters responded with amazing generosity to the terrible events of a year ago, and we would like to say a massive thank you to everyone for helping us raise £3.8 million through our appeal.
As our partners continue their work supporting families to rebuild their lives, please continue to pray for the people of Nepal.