Pope Francis speaks up for our common home
Cardinal Luis Antonio Tagle, from Manila in the Philippines, is President of CAFOD partner Caritas Internationalis. He reflects on Pope Francis' encyclical and the devastating typhoon that hit his country in 2013.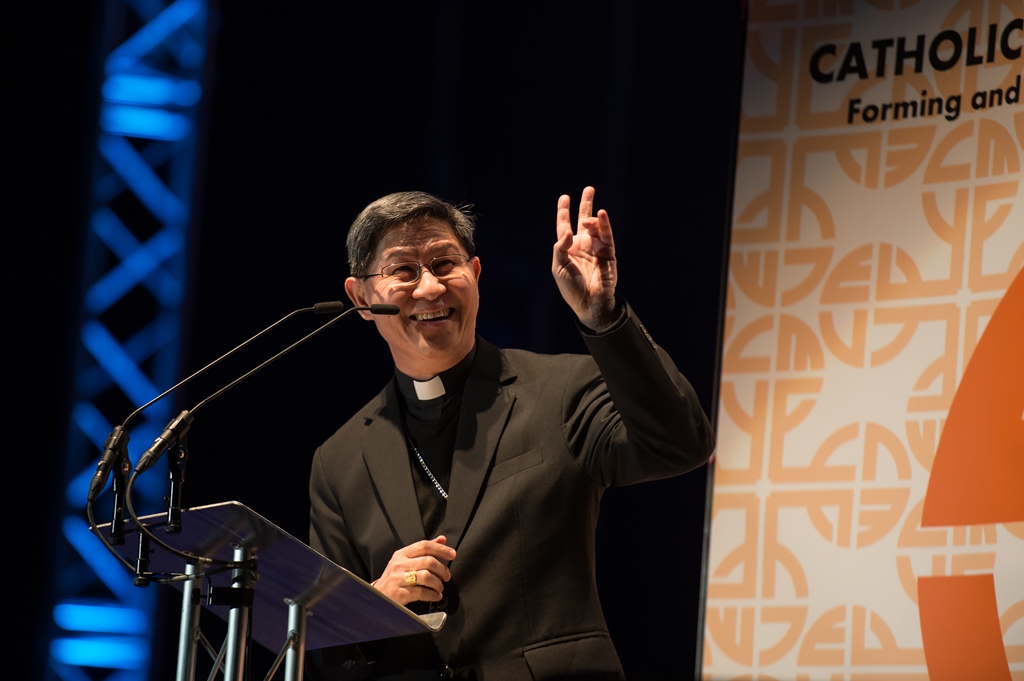 I do not need to tell the people in my country that we are living in a time of crisis. When Typhoon Haiyan caused widespread devastation across the Philippines in November 2013, it was immaterial as to whether it was caused by climate change or not; people suffered and the poorest were hit hardest. In such times of crisis what should our response be?
Climate change affects the dignity of the most vulnerable
In the Encyclical Laudato Si' released this week, Pope Francis acknowledges the seriousness of climate change and how it is affecting the dignity of the most vulnerable, as well as the harmony between humans and nature. In the light of the Gospel of Creation, he calls us all to urgently respond to protect the gift of creation and the richness of life. He challenges us all, governments, businesses and citizens, to look deep within ourselves and find a common answer reflecting all peoples' voices, for the appropriate response is not an easy or simple issue to be solved. This is a deeply rooted problem, which goes to the heart of who we are and our values.
Find prayers inspired by Laudato Si'
In line with his predecessors, Pope Francis is looking at the signs of the times that confront us. Laudato Si' is a powerful and inspiring document calling us to a greater solidarity with the environment, a solidarity that binds the caring for people and caring for the environment. We must recalibrate our relationship with nature, the garden God has created for us, which we have looked upon as a subordinate to our desires and extracted from mercilessly without fear of the consequences.
The environmental crisis is affecting our brothers and sisters worldwide
I hear more and more from my brothers and sisters across the world about how the environmental crisis is already affecting them. CAFOD has reported that more than 400 million of the world's poorest people – more than the total population of the USA and the UK put together – are most at risk from the impacts of climate change. The Intergovernmental Panel on Climate Change (IPCC) – the leading scientific authority on the issue whose findings are backed by governments worldwide – has said with 95 percent certainty in its 2013 report that humans are the main cause of climate change. Pope Francis writes that climate change is "one of the principal challenges facing humanity" where the "huge consumption on the part of some rich countries has repercussions on the poorest areas of the world."
The timing of Laudato Si' is significant: 2015 is a critical year for humanity. In July, nations will gather for the Financing for Development Conference in Addis Ababa, September should see a new set of Sustainable Development Goals agreed at the UN General Assembly which Pope Francis will be opening, and in December the Climate Change Conference in Paris will look to make significant progress on limiting the global temperature. Pope Francis writes: "Recent world summits on the environment have failed to live up to expectations because, due to lack of political will, they were unable to reach truly meaningful and effective global agreements on the environment."
Climate change is affecting my home
For my community in Manila, where many of the parishes are below sea level, these meetings can mean a future to enjoy, rather than witnessing the disappearance of our homes and lands. With great foresight the Bishops of the Philippines argued 27 years ago that "the commitment to work for justice and to preserve the integrity of creation are two inseparable dimensions of our Christian vocation to work for the coming of the Kingdom of God in our times." We won't achieve everything this year but we can turn a corner, we can look beyond ourselves, beyond our borders and offer a response that comes from deep within our hearts.
Pray for our brothers and sisters affected by extreme weather
In the generous response to Typhoon Haiyan, we witnessed our brothers and sisters from across the world recognising the pain of our suffering and standing in solidarity with us. Such charity was generous and heartfelt. But how do we expand this notion of charity, bringing to it a deeper understanding that it must be our actions but also our lifestyles, economics and politics which express our love for our brothers and sisters and awareness of living in 'one common home' which God has given us? Pope Francis writes: "We are one single human family. There are no frontiers or barriers, political or social, behind which we can hide, still less is there room for the globalisation of indifference."
The earth is our common home
Seeing such love and compassion from across the world, I firmly believe that we as one global human family can shift to the service of the common good. We can all be active participants, instead of bystanders, in our decisions to embrace human dignity and flourishing to ensure economic growth and sustainability go hand in hand.
In the words of Pope Francis: "Never have we so hurt and mistreated our common home as we have in the last two hundred years… All is not lost. Human beings, while capable of the worst, are also capable of rising above themselves, choosing again what is good, and making a new start." For that, we need an "ecological conversion", which implies gratitude and generosity towards the gifts of creation, and develops human creativity and enthusiasm.