Attenborough has inspired the nation, but we must hear diverse voices if we are going to change the world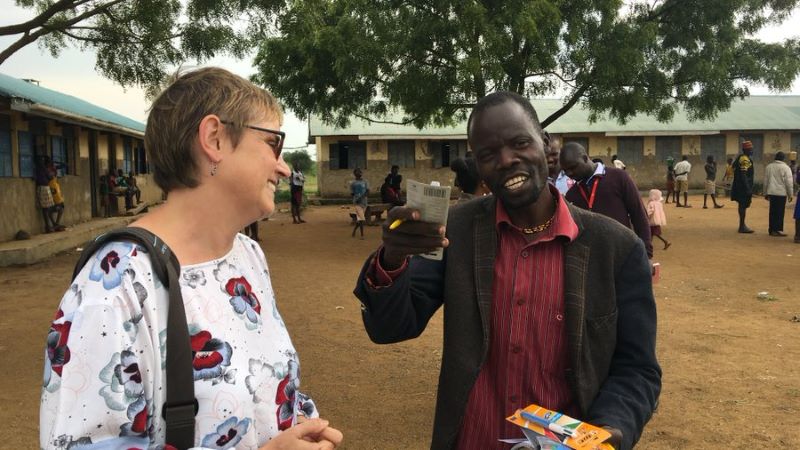 With the current momentum around climate action, now is the time to highlight the experiences of those on the frontline of the climate crisis, writes CAFOD Director Christine Allen.
Sir David Attenborough has hit the headlines again, this time for joining Prince William to launch what they hope will be the "Nobel Prize for environmentalism" – the Earthshot Prize.
The project, which hopes to find 50 solutions to the world's gravest environmental problems by 2030 with £50m awarded over the decade, is said to be the largest environmental prize ever.
Speaking exclusively to BBC Radio 4's Today programme, Attenborough's environmental message would have likely reached many of the 11.5 million adults – over 20 per cent of the population – who listen to the station each week.
As Attenborough so well understands: "Saving our planet is now a communications challenge."
His entry onto Instagram, just days before the release of his latest Netflix documentary 'A Life On Our Planet', saw him gain over a million followers in just four hours – beating the previous record held by Hollywood actor Jennifer Aniston.
Attenborough has shown how simple, powerful messaging – ​on the right platform – has the power to inspire a generation.
Supporting communities to create the change they want to see
This idea got me thinking about another recent Netflix documentary, 'Kiss the Ground'. It features a school in Karamoja, Uganda, which CAFOD and UK Aid has supported.
I visited the school last year and met their inspiring headteacher, Moru Zachary Khigham, whose school's project features in the documentary.
His community, which is a 10-hour drive from Uganda's capital city, Kampala, make up some of the 27 per cent of the global population that live in water-scarce areas. The United Nations estimates that this number will increase up to 3.2 billion people by 2050 unless radical changes are made.  
Mr Khigham told me how his community was already feeling the effects of climate change. But rather than viewing the issues as an impossible problem, they instead looked towards innovative solutions.
He explained how the school faced two main problems.
Firstly, due to a lack of clean and safe drinking water, many of the children, often girls, had to walk long distances in the mornings to collect water. The time it took and the exhaustion from travelling in the intense heat meant many missed classes.
Local knowledge is crucial to help communities thrive
With the support of the local church agency, Caritas Moroto, the community were able to come together in a project to install solar-powered borehole pumps. They assessed what was needed and where the pumps should go to achieve the best impact for those who were most vulnerable.
These renewable energy sources now provide running water to more than 42,000 people, and local people have been trained so if the pump ever breaks, ​local mechanics can repair it.

This sustainable solution also helped fix the school's second problem. ​
Without a reliable source of running water, many girls dropped out of school when they started their periods. Not being able to freshen up during the day left them feeling uncomfortable, ​self-conscious, and unable to concentrate ​in class.
With the installation of the solar-powered pumps, it meant that more girls started regularly attending school. In one year, Zachary told me they went from four to 39 girls sitting in classrooms.
Find out how you can put your faith into action to help global communities
Innovation will help drive change
The documentary focused on the school's latest innovation: 'green toilets', which uses sawdust to help decompose waste. Not only does this help protect water sources, but it also creates ​good compost soil for ​improved crop growth.
This film has given Mr Khigham's community and pupils a voice ​to tell the world how the climate emergency affects their everyday lives and the simple, cost-effective things that can change their lives.
But so often, this isn't the case. Thousands of stories, like that of the Karamoja community, aren't being told.
When I settled down with millions of others to watch 'A Life On Our Planet', I thought back to my time in Uganda, and the communities who are tackling the climate crisis head-on – and how important it is that their experiences and voices are also heard.