Same storm, different boats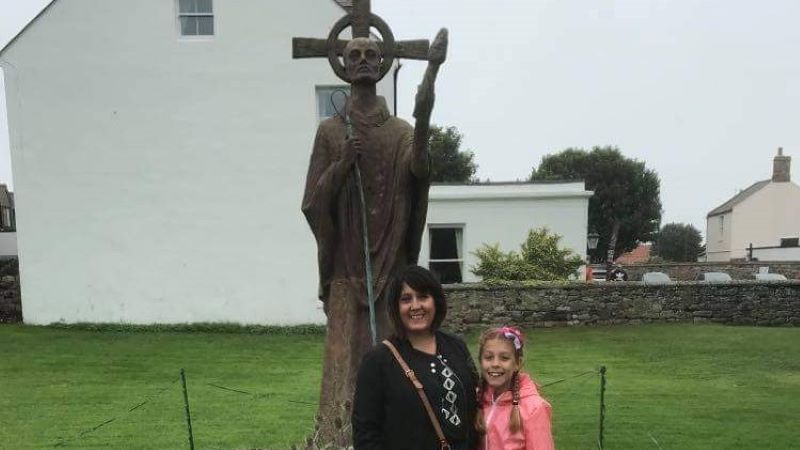 Kirstie is a new CAFOD volunteer in the Hexham and Newcastle Diocese. As we prepare for a Harvest like no other, she tells us how her experiences so far as a volunteer have helped to build her connection with her parish community.
So, 2020…what a year! I'm guessing we've heard this said so many times over the last 6 months as we've tried to navigate our way through the storm of the coronavirus pandemic – all of us in the same storm but very much in different boats.
The last few months have given me an opportunity to reflect. As a lay chaplain to a busy secondary school here in the north-east of England, the coronavirus and the closing of schools came at the mid-point of our Lenten fundraising. There were Lent liturgies, Stations of the Cross and Easter celebrations still to come, and yet here I was at my kitchen table. By day it was my office and my daughter's classroom; by night it was the table we all gathered around to share a meal and, on Sunday, it became my sacred space whilst I attended Mass virtually. When community has been at the heart of all that you've ever known, I suddenly felt very disconnected.
I felt I needed to try and do something more, so I signed up and became a volunteer with CAFOD here in the Diocese of Hexham and Newcastle. I really wish I'd done it sooner!
As part of my introduction to my volunteer role, I was asked to get in touch with some of our wonderful parish volunteers. "Just give them a little call, introduce yourself, check that the information we hold is accurate. Some of our parish volunteers might be quite vulnerable in the present climate, so even just a little check to make sure they're okay…"
I've had lovely chats over a virtual coffee. I've been invited to sample the delights of various home baking and, more than that, I've discovered a connection to belonging to something bigger than just my little piece of the world. It's been an amazing start to volunteering and, as we enter October, it's gathering pace quite quickly!
Find out more about volunteering with CAFOD
Rebuild lives this Harvest
Here at CAFOD, our attention is firmly focused on our Harvest Appeal and, as the tagline for the campaign says, it really will be a 'Harvest like no other'.
Our parish communities are slowly coming back together, but we are still very much apart. Not all our churches will reopen in time for our Harvest Appeal, so it's time to get creative as we think about our call to pray, act and give.
Our call is to reach beyond borders and ensure no-one is left behind. To guarantee that, as far as possible, everyone comes through this storm in strong boats. So, we need to get building, and we need to help. When you see someone struggling, you help them. I'm learning quickly that this is what CAFOD does.
Give hope to families around the world this Harvest
Fundraise for CAFOD in your parish
Whatever our view of technology, it has brought us through the initial storm of the pandemic. It has kept us connected to family and to our parish communities. So, as a new parish CAFOD volunteer, I've encouraged my lovely parish family to try out contactless donating. This means we can donate immediately to CAFOD's Harvest Appeal using a mobile phone and a clever little device.
Read our contactless device FAQs
Now my husband would probably tell you that I have no problem paying for things in shops by way of a contactless device, and he's probably right. So, donating to CAFOD via the same kind of technology is right up my street! Of course, the CAFOD envelopes are still available as well, and there's always a collection bucket – even if we have to wait a while to count what's inside.
It's a strange time, but I really feel that people want to be generous – they want to contribute to a cause, they want to make the world a better place, even in a small way. October nights are already getting dark quite quickly, but our Harvest can bring some light – both to the giver and the receiver.
Let's make this Family Fast Day a Harvest like no other, so we can bring everyone safely through the stormy waters of uncertainty. We'll have built those strong boats in no time at all!