South London schoolchildren tell us why they joined the Walk Against Hunger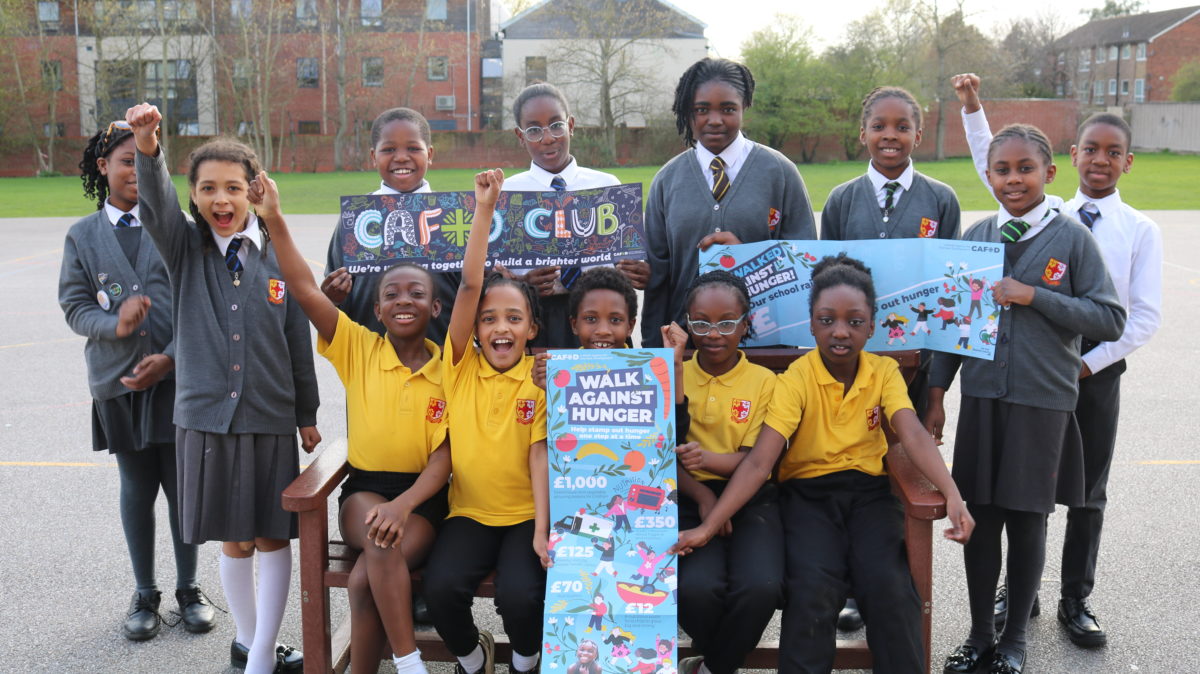 This Lent children and young people all over England and Wales are walking in solidarity with the 200 million children around the world at risk of malnutrition. By setting up JustGiving pages and getting sponsored to walk, schools are rising thousands of pounds to fight hunger.
Children in the CAFOD Club at St Chad's primary school in Croydon told us why they are lacing up their trainers and beading bracelets this Lent.
Our CAFOD Club
"In our CAFOD Club we try to raise awareness in our school community and in our parish about our global neighbours who need our help, support, and love.
"We do this by leading assemblies to our school about the termly CAFOD projects we take on. This term we lead an assembly on Walk Against Hunger. We showed a film about Lombeh in Sierra Leone and then we explained what we were going to do in school to help other children like Lombeh."
Making footprints
We also challenged our school to come up with their own ideas about ways to raise money.
The Year 3 children came up with their own idea about sticking money onto a foot template every time they do a small act of kindness at home for someone else.
Making banners for our walk
"As a school we all walked together around the school playing fields. In our CAFOD Club we made posters to advertise the event, and we raised them up high as we walked.
"The CAFOD Club children lead the school in a chant and clap as we walked around. We had a great time and felt like we were all joining in a small act of love for others." Mathias, Year 6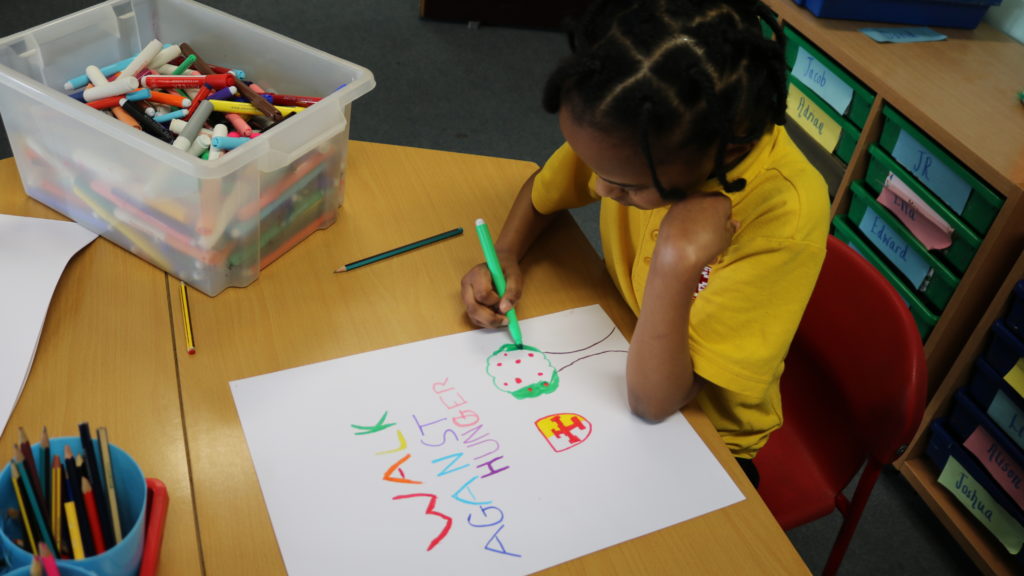 Selling bracelets
"In our CAFOD Club we decided to make friendship bracelets because we wanted to help other children that are not well. We decided to make bracelets because Lombeh got a bracelet when she was a baby. We want to show her that we care with our small acts of kindness, by making bracelets to sell to our school to raise money for CAFOD." Elizabeth, Year 5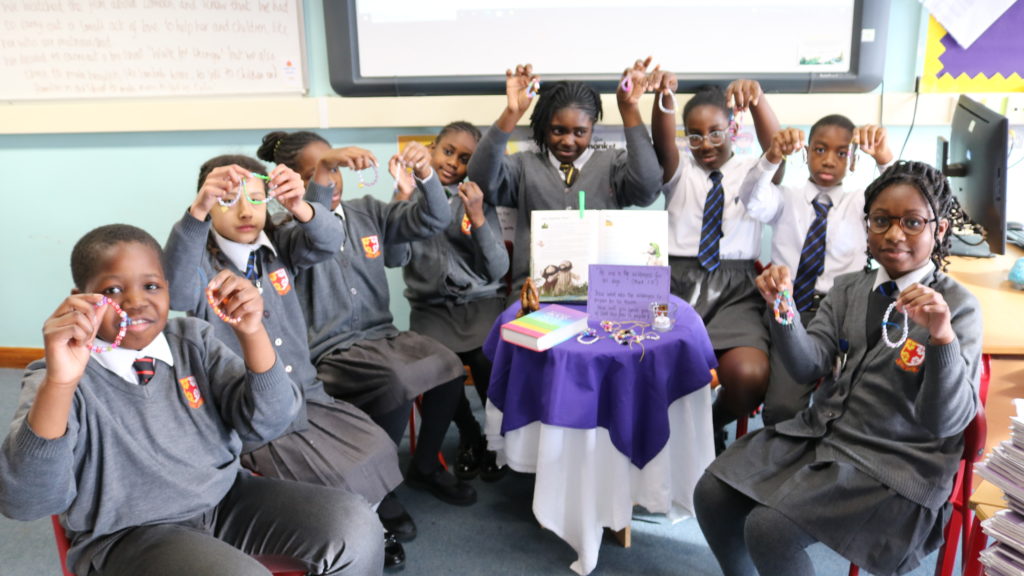 Find resources to help your school Walk Against Hunger
"In our St Chad's CAFOD Club we are making bracelets. We are doing this because after watching the clip of Lombeh, we realised that people across the world need our help and we can help them. We want to try and help our global neighbours, we are all part of God's family, and all families take care of each other." Faith, Year 5
"Our CAFOD Club have decided to Walk Against Hunger, because after finding out about Lombeh and other malnourished children we knew that we had to do something! We organised for our school to walk together to stamp into action against hunger! The bracelets that we are making are a way to raise money but also to spread CAFOD's message." Alva, Year 6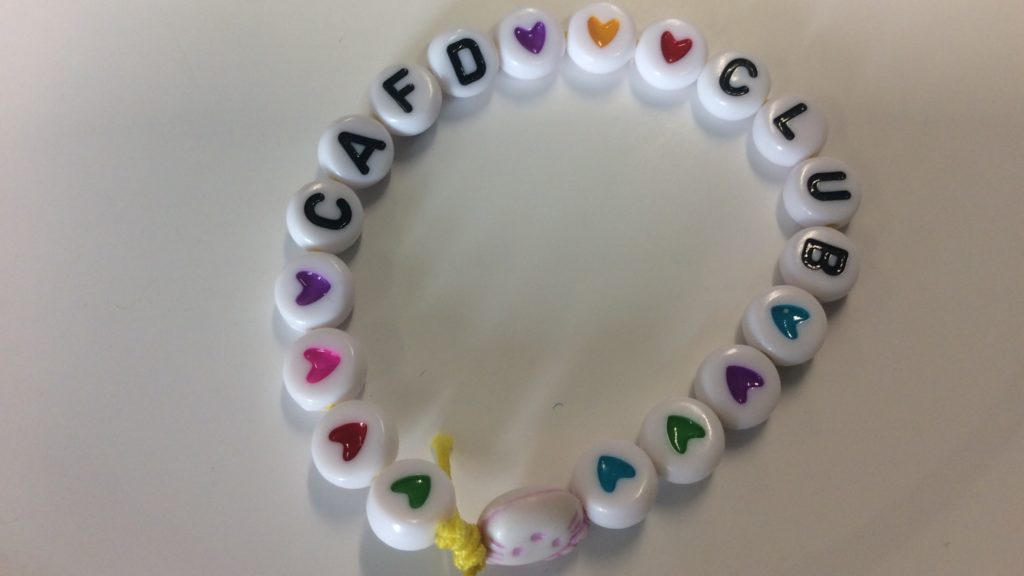 "We are Walking Against Hunger because children around the world are malnourished and the numbers will grow if we don't help our global neighbours. It is vital that we should stamp out hunger and we should try to do small acts of love. Children are prevented from living life to the full and being happy. Small acts of love can change the world and make it a better world for all. We have chosen to make and sell bracelets to sell to raise money for CAFOD, it is our small act of love for Lombeh and others." Elise, Year 5
Thank you!
Thank you so much to the CAFOD Club at St Chad's, and for schools all across England and Wales doing amazing things this Lent.
You are all brilliant – please share this thank you film with your pupils!