Challenge yourself to run for CAFOD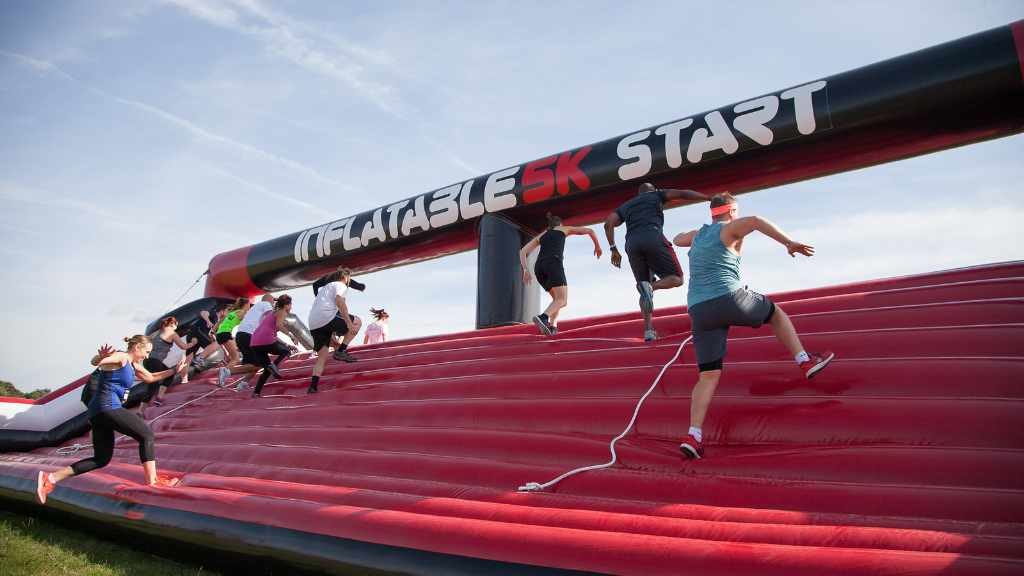 CAFOD supporters have been busy running all over the country doing marathons, half marathons and 10km races. There are loads of opportunities to run for CAFOD and we have just launched a new set of events to sign up for on our website.
Including the Great North Run, Royal Parks Half Marathon and an inflatable 5km race! This last event happens all over the country, and we also have races in all the different areas of England and Wales so you can find an event wherever you are.
London Landmarks Half Marathon
On April 3rd, 2022, six CAFOD runners lined up for the London Landmarks Half Marathon. It was an amazing day, with good weather, good music, and a great atmosphere.
One of our runners was Alix Downing, who has been doing this event since it started in 2018.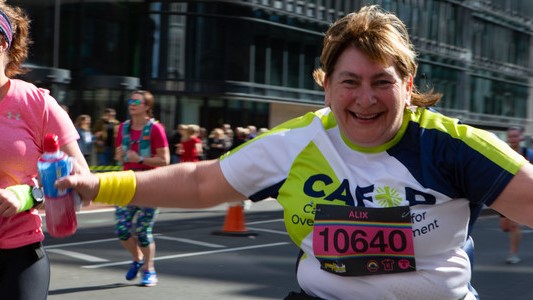 "I've done the London Landmarks Half Marathon three times for CAFOD, I'm hoping I'll have raised around £2,000 over the three years."
She continues:
"I chose to fundraise for CAFOD as whenever there's a crisis, whatever the country, CAFOD always seems to be there, helping on the ground from very early on."
Alongside our runners, we had various supporters come along to cheer, one of those was Mark Maughan:
"The atmosphere was electric, with runners enjoying our music and cheering – what a great way to support thousands of runners who took over the streets of London."
Another was Lily Bliss:
"We were looking out for all the CAFOD runners and when they came past, we made sure we gave them an extra big cheer. I think I would like to go to other events as it was fun and so inspiring. Seeing everybody running made me think – maybe I could do that? So, you will see me there next year – definitely in a supporting role, perhaps as a runner (but that's not a commitment!)"
Manchester Marathon
April 3rd was a busy day for CAFOD supporters – as two runners entered the Manchester Marathon!
After participating in CAFOD's 5km Christmas Fun Run, Maria Ruston once again tied up her running shoes and began training – this time for the gruelling marathon distance of 26 miles! By mid-March, Maria told us: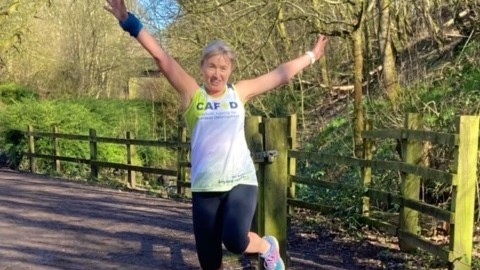 "Have completed my last very long run, 22 miles, and it went well so am confident that I will manage on the actual day!"
Having been truly bitten by the running 'bug' – Maria spread news of her fundraising on social media and through her local church.
So far, Maria has raised over £1,500!
Matthew Kijowski also took on the challenge; raising a fantastic £1,247 – here he explains why:
"I used to raise money for CAFOD every year when I was at school, and I've been running the Manchester Marathon for the past few years now, so it was on my to-do list to raise money for CAFOD again."
Vitality London 10km
On 02nd May, Jaime Alvarez participated in the Vitality London 10km – an annual event that takes runners past some of our capital's most iconic buildings: St Paul's Cathedral, the Bank of England, and Big Ben – to name a few.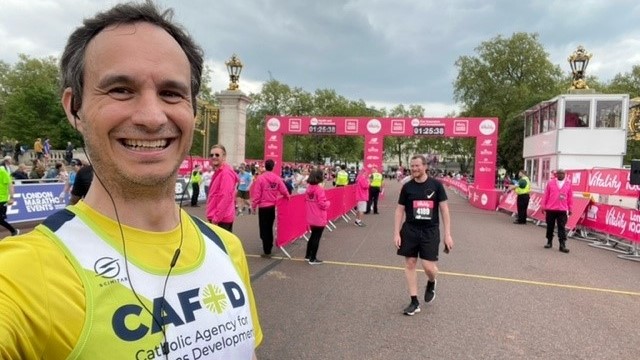 People run for all sorts of reasons – here, Jaime explains why he ran for CAFOD:
"Fundraising with Cafod gave me strength, as every step in my run was not just about me, but about doing something to help those less fortunate and make the world a little fairer. Victims of war did not do anything to deserve it, and in 10 years' time it could come to us or our children."
But there is always hope! To date, Jaime has raised over £2,000!
CAFOD sends huge congratulations to these inspiring runners!
You too, can take on a running challenge and know that you are stepping up the plate to support our global family and fight hunger.