Climate campaign: Get Close-up on Climate
Victoria Ahmed works in CAFOD's Education team. In this blog she reflects on the opportunities this month for young people to have their voices heard on climate issues through the Close-up on Climate film project.
'Young people demand change. They wonder how anyone can claim to be building a better future without thinking of the environmental crisis and the sufferings of the excluded.' Pope Francis, Laudato Si' (13)
What a powerful quote. When I came across it this week I couldn't help but think about the many young people who attended the Speak Up For The Love Of climate lobby last week, spilling out of trains and buses in London from all corners of England and Wales to speak to their MPs about why climate change is impacting the world's poorest people.
Were you at the lobby? Watch our film of the day
My memories of the lobby are a whirlwind of bunting and queuing, face paints and wall paints. In what was the biggest ever climate lobby of Parliament, almost half of all MPs were asked to tackle climate change, and I had my mobile phone in my hand the entire time. Whether it was to capture images of the colourful bunting with messages flapping in the wind on Lambeth bridge, tweeting news of the day, or recording short clips of young people preparing their questions, I have a phone full of reasons why young people care about climate change, of young people demanding change, as Pope Francis puts it.
Get Close-up on Climate this month – join our film project
CAFOD, as part of the Climate Coalition, is looking for children and young people to get creative and produce short films about climate change and its impacts as part of the Close- up on Climate challenge. These short films could be inspired by Pope Francis' message or the Speak Up For The Love Of lobby, a climate change lesson at school. Anyone aged 5-18 can enter, and you don't need a professional camera- just like me at the lobby, you can use any recording device like a smartphone or tablet. Some early film entries were even displayed at the lobby.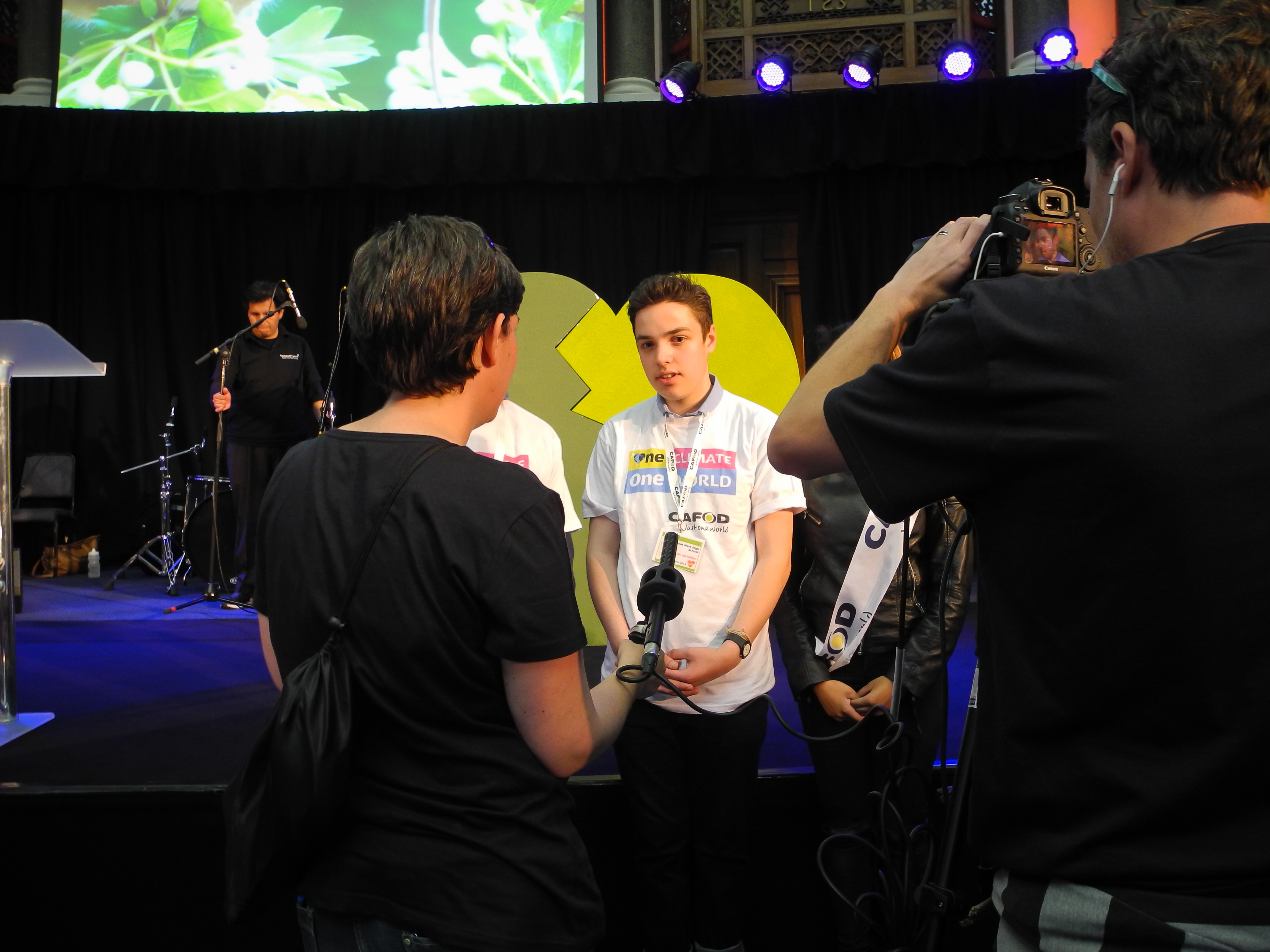 John is a student from St Thomas More who took part in the Ecumenical service and helped carry a large heart to the stage to symbolise speaking out for what we love that could be affected by climate change. John Said: "Climate change affects me, but it also affects people all over the world. I'm here at the lobby for the love of future generations around the world. We can and must make a difference."
We want to see more young people speaking up about climate change matters. Get Close-up on Climate! Entries close on Friday 24 July 2015.
Enter your Close-up on Climate film today
Close-up on Climate is being delivered on behalf of the Climate Coalition by All We Can, CAFOD, Christian Aid, Into Film, the NUS, Oxfam and the WWF.