'Thanks to CAFOD, I'm not missing out on the world.'
Orla, from London, recently spent a week volunteering at the CAFOD Romero House office. Find out why she thinks young people care about climate change, and who inspired her during her time with the CAFOD team.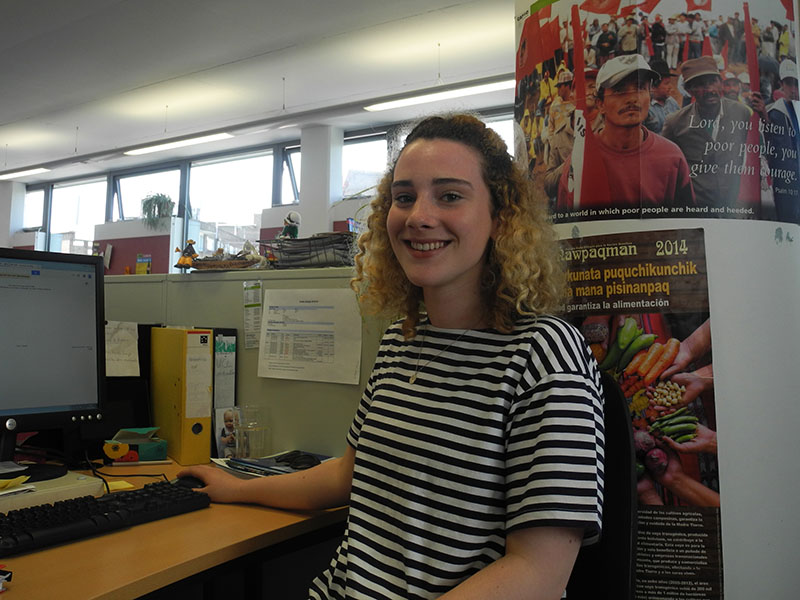 As an internet-savvy teenager, I have the sort of constant access, 24 hours a day, to the world via social media that my parents never even dreamt of. It's all there, virtually, and for better or worse, at the touch of a button. News is readily available, telling me stories from half way across the world that I share while sitting on my sofa at home.
For my generation, therefore, the world seems like a smaller place than ever before. And that is reinforced by living and going to school in London. I am part of one of the most ethnically diverse communities anywhere on the globe. In my year group of 96 at my Catholic school, I am one of only four whose parents and grandparents were born and brought up in the UK. So I can learn about such a variety of different cultures by just talking to the person sitting next to me in class.
Speaking Up on 17 June
When looking around my class I know of many members of my friendship group who feel too swept up in the shallowness and unfulfilment that comes with social media. One of the integral parts of my Catholic school is to reach out and help others through charity work. Therefore I know of so many of my peers who seized the opportunity to take part in the Speak Up for the Love of… climate lobby on the 17 June.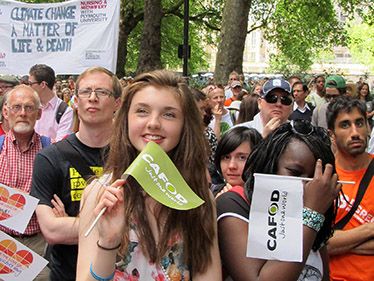 I believe that young people in our society often get the reputation of being uncaring delinquents. However, I speak for many my age when I stress that being a teenager in a world where suffering is so present, where the future of the planet we have to grow up in seems to be spiralling out of control, where the effects of climate change are already being seen, really terrifies us and leaves us feeling powerless.
With young people it's not that we lack care for our surroundings, it's that still being young, we are sometimes unsure of how we can help. This want to help is why I know so many of my peers turned up at the Speak Up for the Love of… climate lobby on 17 June, because they saw it as an opportunity CAFOD was presenting for them to join in.
Opportunities to make a difference
During this week at CAFOD I have learnt about so many various programmes I previously hadn't even realised were available, such as Step into the Gap, which is offered to young people to help them be part of the difference they want to see happening in our world.
Read blogs by Step into the Gap volunteers
I was particularly inspired when watching CAFOD's young climate bloggers, as I really admired them for seizing the chance given to them to make a change and not shying away from the issues of our world. The programmes for young people that I have learnt about this week will not only help my generation to escape the darker side of social media but give them a voice in the future of their world.
Meet our Young Climate Bloggers
Before coming to CAFOD for a week of voluntary experience, I felt like I knew the world, but CAFOD has made me realise how much more there is to learn, experience and enjoy. It is one thing knowing people whose roots are in different parts of the world. It is another to be in an environment where all those different backgrounds come alive to me.
Hearing from CAFOD's overseas staff and partners
Over my five days in the Latin America and Caribbean section of CAFOD, I have met so many warm and welcoming people who have shared face-to-face (not on a screen) their stories of where they come from, challenges they have faced in their lives, journeys they have made, and how they have ended up in London.
Among them was Narath, a CAFOD overseas staff member from Cambodia who had come over to England to visit the Asia and Middle East team. As we talked, I realised the differences between her society and mine and the things that were the same. Just finding out simple snippets of her everyday life completely captivated me, such as her experience of university or the way her society views cars.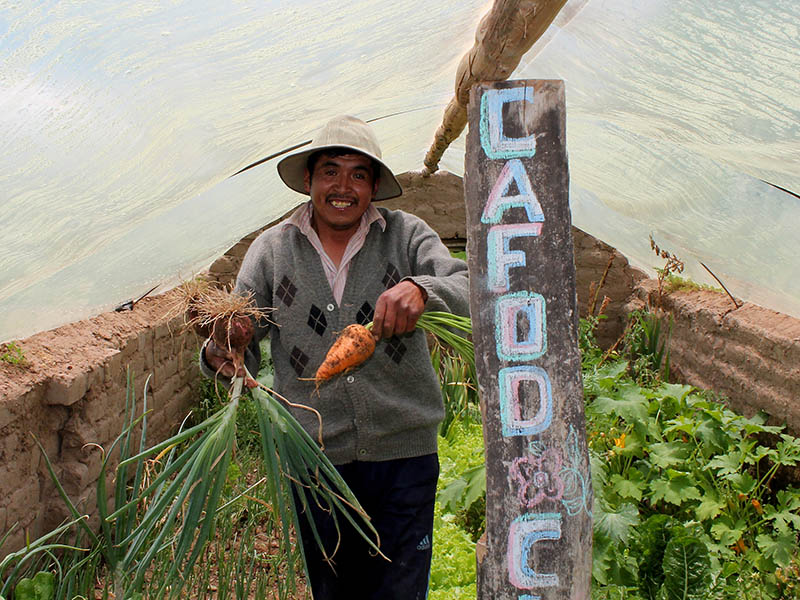 And then on another occasion, I made a Skype call with somebody working for CAFOD in Bolivia called Mary Carmen. Not only was it a chance to try out my classroom Spanish – lots more work still to do! – but we were talking at a one-to-one level about all the things we shared, despite the distance between us, and all the things that I take for granted which are not part of the lives of others in separate parts of the world. All of this made real what had previously only been virtual. I wouldn't have missed this experience for the world. And thanks to CAFOD, I'm not missing out on the world.
Are you a young person who wants to make a difference? Take a look at all the ways you can get involved with CAFOD.