December 19, 2017
Some of our Connect2 Brazil friends look back on 2017 and share how they are preparing for Christmas in their communities.
News from our partner MDF and the community of St. Joseph the Worker Pastoral Area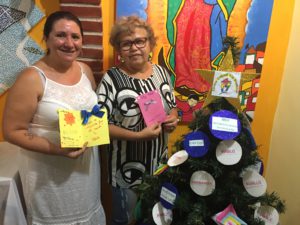 Jenilda – Vila Prudente Cultural Centre in the St Joseph the Worker Pastoral Area
"At the Vila Prudente Cultural Centre (CCVP) this year we organised different workshops with the children. Each month we had a different area of focus. From solidarity, to the family, the environment, which included a visit to the recycling cooperative. We worked on children's rights and empowerment, Black History month against racism and discrimination, and in December we will celebrate the arrival of baby Jesus with a children's concert.
"Around 60 children from the Cultural Centre will be in the Christmas concert at St. Joseph the Worker church with the theme "How to be a child in the world."  There will be music and dancing."

Continue reading "Feliz Natal from São Paulo – Happy Christmas from our Connect2 friends"