April 6, 2017
Cameron is a CAFOD young leader and volunteered at Flame 2017, an event for 10,000 young Catholics on 11 March. Alongside around 50 other young volunteers, he ran activities with the Flame crowd to raise awareness of CAFOD and global justice issues.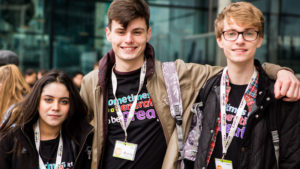 I had the opportunity to volunteer with CAFOD at Flame. This was an enjoyable experience and I had a really nice day. For anyone who doesn't know, Flame is a Catholic event held at the SSE Arena, Wembley. At Flame there are many different speakers and performers such as Matt Redman.
The day started with joining the mini bus in order to take us to Wembley. As we arrived we got into the groups got to know what activities we'd be running as we were volunteering and not just here to watch the performances!
Watch our film shown on stage at Flame 2017
Continue reading "Great Generation: Volunteering with CAFOD at Flame"