August 9, 2018
Climate champion Beth has been thinking of ways to enjoy the summer without damaging the world we live in. Here are her top tips.
With everyone enjoying the summer months it is easy to forget the small things that we are doing to cause damage to the planet. Whether you are out with friends, at a festival or jetting off somewhere far away, there are ways to enjoy the summer months and reduce your carbon footprint. You can enjoy the summer season and help save the planet one small step at a time.
These tips should help you make the most of summer but also advise you to enjoy the season with simple hacks that can make this world an even better place.
Got a tip of you own? Tell us on twitter
Top tips for an Eco friendly summer
1. Reduce plastic waste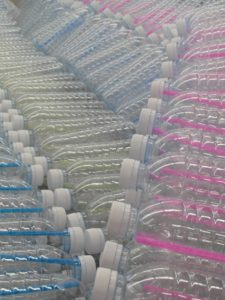 With Britain experiencing its hottest summer for years, everyone is heading to the nearest park or beach for a picnic. Why not reduce the amount of plastic you waste, whilst enjoying yourselves? Try packing reusable cutlery and plates or even use reusable containers to pack your food in instead of disposable ones. Instead of constantly buying a bottle of water, be more prepared and bring your own reusable bottle. Many areas have water fountains to refill at, and cafes and restaurants will happily refill your bottle with tap water if you ask.
2. Walk or Cycle 
Think about your mode of transport! Although it is hard to stay "green" when you're going on holiday aboard, it can still be done. Instead of jumping on the local bus or grabbing a taxi, a great way to experience your new surrounds and help reduce carbon emissions is by walking or hiring a bike. You may even explore areas you never thought of by traveling this way. It is another way to truly appreciate our own natural surroundings and all the real beauty the world has to offer!
Serious about stopping climate change? Join our delegation to the UN climate summit in 2018
Continue reading "How to enjoy the summer without damaging the planet"