Spotlight on Brazil: Passing on the Olympic torch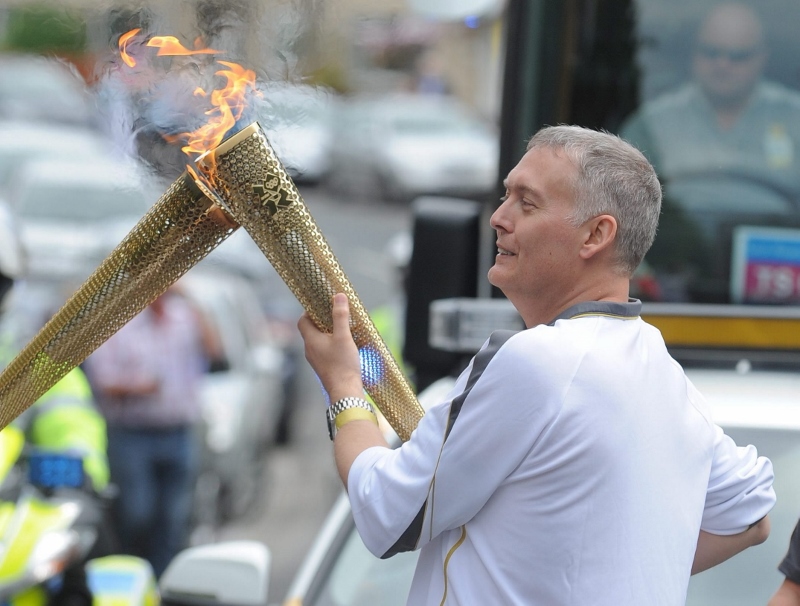 John McBride is CAFOD's Learning and Development Coordinator. Here he shares his fond memories of carrying the Olympic flame for CAFOD, and about meeting some of the partners who have inspired him to continue speaking out to protect our common home.
We are shining a light on Brazil this Olympic Games
2012 was a big year in Britain, Bradley Wiggins won the Tour de France, Andy Murray won at Wimbledon and Rory McIlroy won the US PGA. We also hosted the Olympic Games that proved to be a triumph. We showed the rest of the world that we were good at sports. In a small County Durham town, I made my contribution to the summer of sport by carrying the Olympic flame, representing CAFOD supporters and partners through the market town of Barnard Castle.
I was a CAFOD volunteer for a few years and was very surprised to be asked to participate, but it wasn't an offer I considered turning down.
Two days later, I found myself in a CAFOD supported sports project in Korogocho slum near Nairobi, Kenya handing over "my" Torch and tracksuit as a symbol of our love and care for our brothers and sisters there. I said at the time that it was never my Torch any more than it was Coca Cola's or Samsung's. The Olympics is far bigger than that.
The Torch and tracksuit are still there in the gym, inspiring all the athletes to reach their full potential.
Four years on and the Olympics are with us again, this time in Brazil. A country I've been interested in for years. We all know Brazil…the Rio Carnival, football and Samba. It looks like a great place to live. Sunshine, beaches and a laid-back way of life. What could be better?
A different side to Brazil
A year before carrying the flame, I'd walked from Durham to Holy Island with CAFOD supporters and two women from one of our partners in São Paulo, Brazil. We covered 135 miles and I learned of a different side to the Brazilian dream that I'd imagined.
Find out more about our work in Brazil
Zeza and Heluiza told us about the struggles people had to find housing. The way that buildings are left empty while families live on the streets, violent evictions carried out from slum areas and the injustice that while the Brazilian constitution guarantees everyone a home, so little is done to uphold this basic right.
Heluiza and Zeza never tired of telling the many groups they spoke to, of the gratitude of the people they were able to help, through the assistance CAFOD supporters give.
By September 2014 I'd been working for CAFOD for a couple of years and in that time I'd heard about a man called Davi Yanomami from the Amazon Basin. A much revered, almost mythical character who had chased away the rain clouds from a CAFOD pilgrimage. He was spoken of in hushed tones as a fearless leader of his people and a shaman. Davi and his deputy, Mauricio were launching CAFOD's "One Climate, One World" campaign. Many of our previous walkers went with our Brazilian guests to walk in the steps of the Northern Saints, from Chester-le-Street to Durham.
Support CAFOD's work with partners in Brazil
Impacts of climate change already being felt
Davi told us about how his people are intimately connected to the environment they live in. How changing weather was causing them great harm and they knew that the world was hurting. This was no lecture, it was like Davi was opening his people's feelings and inviting us to share their sense of deep concern for our common Earth. He explained how the emissions from our cars, our factories and our lifestyle in the global north was having clearly felt effects on his people. Listening to him was a masterclass in the way that we are all connected, no matter where we live in the world.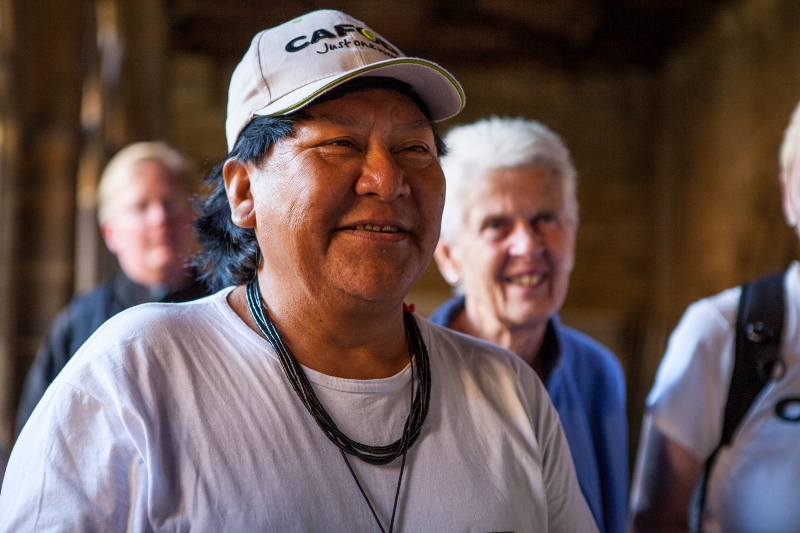 Hearing Davi speak took me back to a Massai woman I met in Kenya in 2010. Ntatia told me how her family only just survived the drought of 2008. She had nine cows and almost as many children and was doing well before the drought, but eight of her cows died due to a lack of pasture and she had to tell her children to sleep hungry as there was so little milk to go around. Looking straight into my eyes she said that she "saw the end." I can't imagine how that felt. She explained that when she was a girl, you could almost set your watch by the rains. The "long rains" would come and a few months later the "short rains."
One providing steady rainfall and the other short heavy showers. Now, she said, the long rains are intermittent and sometimes the short rains never come. All down to climate change, all down to the industrialised nations pumping greenhouse gases into the environment like there are no consequences. It hit me that the people who tread as lightly on the Earth as angels, are paying the price of our carbon footprint.
So what can we do? We understand that this can't continue and that we need to up our game to help Davi and Mauricio's people in the Amazon, to help Ntatia and her family and for ourselves.
Speak Up to defend our common home. Join CAFOD for a week of action on climate change
Our call to action
Pope Francis in Laudato Si says, "Strategies for a solution demand an integrated approach to combating poverty, restoring dignity to the excluded, and at the same time protecting nature."
We need to speak up and talk to our MPs to push the Government to wean our economy off fossil fuels and into renewables, help the world's poorest people to get access to affordable, clean power that respects human rights and communities, and to limit the global temperature rise to 1.5C.
Speak Up to ensure our government upholds its climate change promises