Connect2: Brazil: communities connected through the power of cake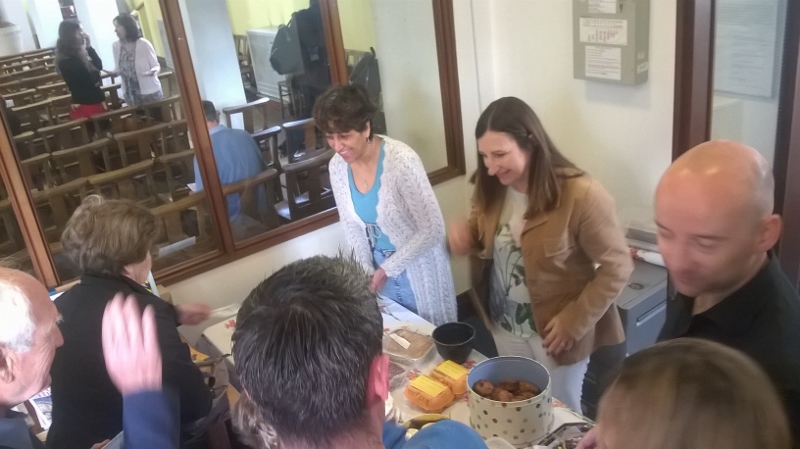 The Chesham Union of Catholic Mothers (UCM) group at St. Columba's RC Church have a long history of supporting CAFOD's work with our partners in Brazil. Starting from fundraising to supporting children in need in general, they explain how they came to be a Connect2: Brazil parish.
Learn more about Connect2: Brazil
We have always raised money for children who were in need and following a presentation about sewer children in Mexico, we decided to change the focus to South America. Parishioners, past and present, of St. Columba's RC Church in Chesham have regularly and for many years donated to CAFOD via the CAFOD Envelopes. CAFOD has been an organisation dearly close to our hearts and is always well supported within the parish.
In 1996 when Fr Chris Whitehouse became the parish priest, CAFOD took on a new and more personal meaning for us. He suggested we focus our parish fundraising efforts on a specific CAFOD project. He put his wish into the safe and capable hands of the late Patti Warren who already had links with CAFOD. He asked Patti Warren along with the support of other women in the parish to contact the national CAFOD Office who in turn put her in touch with the newly formed CAFOD Northampton Office. It was 20 years ago now that Patti Warren with the support of others from within the parish and latterly the Union of Catholic Mothers (UCM) on behalf of St. Columba's parish started to fundraise for their designated Project in Brazil.
Find out more about CAFOD's work in Brazil
CAFOD cakes
Patti Warren struck upon the idea of organising, some 20 years ago, a regular monthly coffee morning in the Church Hall where people could meet and socialise over coffee and biscuits and where important CAFOD information and material could be distributed and discussed amongst the parishioners. Throughout the years we have also enjoyed other smaller fundraising efforts, for example Easter Card making and selling, to help boost the funds sent to CAFOD's Project Brazil. The coffee mornings became a regular and much loved feature among all, adults and children.
About 15 years ago, thanks to the adoption of an idea from other successful fundraising efforts within the parish, the CAFOD Coffee Mornings progressed into the form we now know and love as the 'Monthly CAFOD Cake Sales'. Over the years many, many UCM and non-UCM members in the parish have kindly and regularly baked and slaved over their ovens each month to provide some of the most delicious, scrumptious and creative cakes to sell. Patti Warren, Adrienne Gunn, Moira Burnett, Tina Pearce, Sandra Watson, Hannah Evans and Jackie Telford, to name just a few, are some of the many dedicated women who have organised, baked, advertised, set up, cleared away, washed up and donated each month.
In recent times the CAFOD Cake Sales have yet again transformed to keep up with the times. They have expanded to often include not only cakes but the efforts of our jam, marmalade and homemade pickle makers. This year we are trying a new venture by including the produce of our green fingered parishioners – 'CAFOD Cake and Home Produce Sale'!
Connecting to our brothers and sisters in Brazil
The Connect2: Brazil project that we are now part of has been great fun and very informative. We especially like it because of all the feedback we have had over the years. It is really great to find out what the money raised is being spent on and how it helps improve lives.