Spotlight on Brazil: the power of sport
Victoria Ahmed works in CAFOD's Education Team.  She reflects on the transformative power of sport.
It has been a pretty amazing summer of sport so far. From cheering on the Wales football team to the semi-final match of the Euros, to celebrating Andy Murray's Wimbledon championship win, I've been swept up in a summer of sport. So now I'm really looking forward to the biggest sporting event of the summer: the Olympics in Rio.
Find out more about our work in Brazil
As August rolls around I find myself recovering from an injury. With each warmer day I feel a little bit stronger, and I've been surprised at how much I've drawn inspiration and strength from athletes. Though not particularly sporty myself, I recognise the power of sport to transform – the drive, commitment and teamwork on display this summer has definitely helped me on the road to recovery.
Sport has such a powerful way of bringing about change. I'm always astounded by the lengths to which children and young people go to support CAFOD's work. Over the past few months I've heard stories from schools and groups in the UK of children and young people raising money through sport themed activities.
I remember the amazing achievement of teenager Bobby from Lancaster who swam half a mile in the open water of Lake Windemere to raise money for CAFOD. The chilly thirteen degrees didn't put him off as he completed it in in just over fifteen minutes! Then there are the thirty children from parishes across Hemel Hempstead churches who hopped on their bikes for a sponsored cycle for CAFOD. The fantastic CAFOD young leaders had a sporty year of activity too: St Joseph's, Reading, organised a swimathon, and Oaklands College, Waterlooville ran an impressive multi-year basketball tournament to fundraise.
Most of us will never run 100 metres in 10 seconds, but by fundraising and bringing hope to poor communities around the world, we can each be truly amazing, as these children and young people show us all the time.
As thoughts turn to Brazil this summer, I am reminded once again of the power of sport: how sport is so much more than the events themselves, and how sport promotes peace, helps people challenge discrimination, and teaches the values of teamwork, fair play, friendship and self-discipline.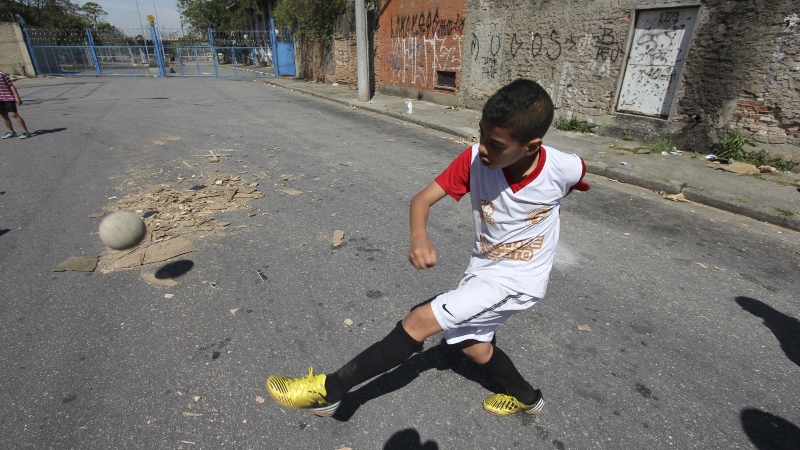 In Brazil, CAFOD supports projects to help vulnerable young people have somewhere safe to grow up, away from violence in favelas. About one in eight people live in poverty in Brazil. In many cities there are overcrowded favelas, poor public services, and people living on low wages. Violence and gangs are big issues in many favelas.
For several years, CAFOD has supported a project called Growing Towards Peace, which aimed to address the needs of children and young people living in the North East of Brazil. With workshops in football, music and dance, young people learnt to build peace through sport. Activities such as football tournaments and a focus on team spirit helped young people develop skills, find work or decide to begin further study, helping to break the cycle of violence in their communities.
Find out how CAFOD has supported sports projects across the world
So when I tune into Brazil and cheer from my sofa this summer, I'll remember how sport is changing lives across the world and I'll keep the children and young people involved in the Growing Towards Peace projects in my thoughts.
Why not consider running a CAFOD Olympic Sports Day Fundraiser with friends/family in your local community?