Why Syrians become refugees: a view from Aleppo
Bishop Antoine Audo, SJ is the Chaldean Bishop of Aleppo and the President of Caritas Syria. He writes:
If you want to know why so many Syrians are seeking a new life in Europe, just come to Aleppo. Large parts of our city have been laid to waste. Bombs and rockets fall every day, and we never know when or where they will hit. We do not feel safe in our homes, in our schools, in the streets, in our churches or in our mosques. It is exhausting to live with this fear hour after hour, day after day.
Even without the shelling, life here would be almost unbearable. Throughout the summer, as temperatures have soared, people have been forced to cope without running water or electricity in their homes. Four out of five people don't have a job, so families are not able to afford food or basic supplies. The middle-classes have become poor, while the poor are now destitute. Many of those who are still here are elderly. Almost no-one is still in Aleppo by choice: most of those who remain do not have enough money to leave.
I have been the Chaldean Bishop of Aleppo for 25 years, and it fills me with sadness to see what has happened to my city. As President of Caritas Syria, I have chosen to stay so I can lead distributions of food and emergency supplies, with support from Catholics in England and Wales and their aid agency CAFOD. But our work is becoming harder, because more and more of our staff are leaving the country. I do not blame them, but their departure makes the task of helping those in need even more difficult.
Donate to our refugee crisis appeal
In some parts of the country, we have had to suspend our operations. In 2014, my colleagues in the city of Hassakeh provided vulnerable Syrians of every faith with vouchers for food, clothes and school equipment as well as covering the costs of medical treatment. In total, they reached over 20,000 people. But this July, as the city fell to extremists, all our staff had to flee at short notice. One of my colleagues had given birth only three days beforehand.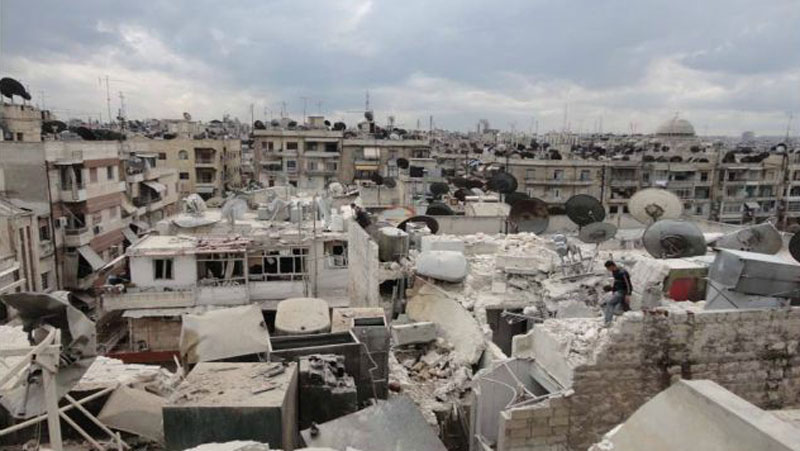 It is a tragedy that our society has been torn apart, and that so many people have left Syria. It is a particular source of sadness that my fellow Christians are being forced to leave. Our faith has thrived in Syria since the time of the Apostles 2,000 years ago, but today many of our churches stand empty. Aleppo alone used to be home to 150,000 Christians, but today 100,000 of them have departed.
It was not always like this. Christians and Muslims have lived together in Syria for generations, strengthened by our shared values. Even today, as the war rages around us, most people are not interested in sectarian divisions. Not so long ago I came out of my house and there was a Muslim man sitting on the ground outside who had been helped by Caritas. He got to his feet and said, "We know who the Christians are, they are worth their weight in gold."
Although the Christian communities of Syria are now under great threat from extremist groups, it is important to remember that yet more weapons and yet more bombs will not bring an end to the war. It is time for political leaders all around the world to prioritise peace over their own strategic and economic interests.
Syria is a beautiful country with deep roots in history and humanity. As a Christian, I try to maintain myself in my faith, and to pray that one day my country will be peaceful again. But many people have lost all hope.
When you see images of Syrians who have succeeded in travelling to Europe, please remember that they need food, shelter and compassion. But above all, remember their presence is a sign of a conflict which is continuing to take its toll on millions – including those of us left behind. We, and all Syrians, need peace above all else.