Refugee crisis: swimming to Europe
CAFOD is working with its partner Caritas Serbia to support thousands of refugees as they attempt to travel north across the continent.
Stefan Teplan from Caritas describes meeting a father who had to swim to Europe alongside an overcrowded boat.
Donate to our Refugee Crisis appeal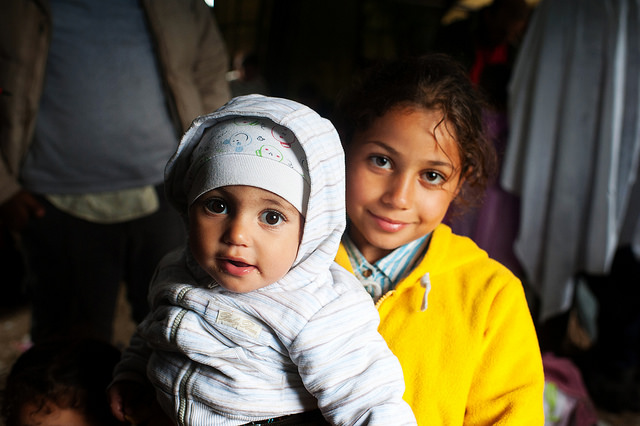 Omama, 8, feels homesick. Her father Khaled says to her, "How can you feel homesick when there is no home any longer?" His words are well intentioned but the truth does little to console her.
Omama is one of the middle children from a family of six from Syria. Their flat was completely destroyed by a bomb. "But can you really say we were lucky?" asks Khaled. "We had to live in a tent in the suburbs of our home-town Aleppo from then on. For more than one year. And we were frightened every single minute, every day and every night."
The family feared the criminal gangs roaming through the suburbs and villages. They were frightened of more bomb attacks, being exposed to the sounds of explosions and gunfire nearly every day.
Khaled and his wife Jayal have three daughters and one son. I meet them all, two weeks after they escaped from Syria, in a refugee camp in northern Serbia, close to the Hungarian border. They are hoping to travel to Germany.
Khaled says, "I hope so dearly it will work and I will immediately get some work in Germany. I'm used to working a lot. I'm a construction-site worker. And I urgently need money. You know, I borrowed all the money for our flight from Syria and I have to pay it back. And we are already running short of money because the people smugglers took nearly all of it."
Swimming to Europe
The crossing of the sea from Turkey lasted only about 40 minutes, yet it cost the family $5000. Khaled and his daughter Ronya were not even on the boat. It was so overcrowded that there was no space for them.
Khaled is a tall, sturdy and broad-shouldered man. Otherwise he could not have managed what I first find hard to believe when he tells me: "I was swimming alongside the boat, with Ronya wrapping her arms around me and clinging her head to my neck. It was a rubber boat and very slow. So I could keep up with it. If that hadn't worked I was expecting Jayal and the other children to wait for us at the shore in Greece."
Omama was, as she tells me, scared all the time, worried about her father and worried their boat might sink. "My Daddy is very strong," she says proudly. "When we went from Syria to Turkey, we walked over hills and mountains. And most of the time he was carrying one or two of us in a big backpack."
Khaled says, "But now I am really very exhausted. Walking and swimming and riding in such life-threatening conditions took nearly all my strength. It was so hard and tough. Believe me, you cannot imagine."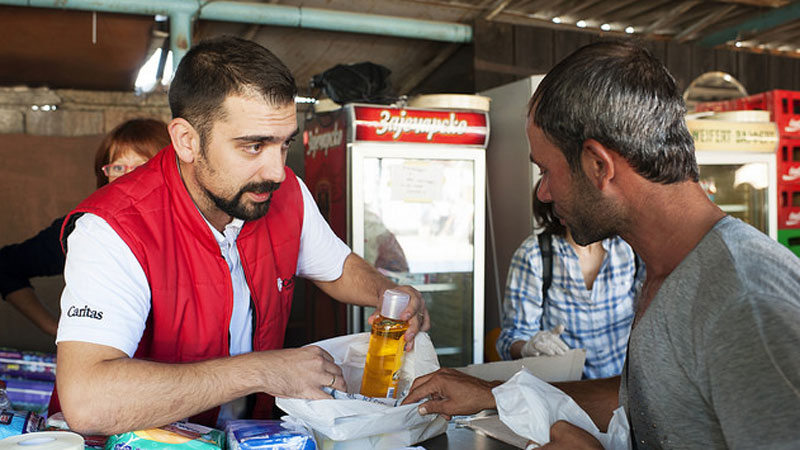 Good people
The family take some juice that is being distributed in the tent. "We are running short of money", says Khaled. "So we're so grateful that humanitarian organisations like Caritas provide us refugees here with what we need most."
There are three camps for refugees in Serbia, one in Preshovo at the Macedonian border, one in the capital of Belgrade and one in Kanjiza at the Hungarian border. Caritas Serbia – supported by CAFOD – is distributing drinking water and juice to the refugees there, and also provides medical help and legal support.
"There are good people here," says Omama. "As Daddy promised. He always said in Europe there will be good people."
With your support, our local partners are providing food, water, mats, blankets and sleeping bags to thousands of refugees. Donate to our Refugee Crisis appeal