Climate campaign: Five reasons to be hopeful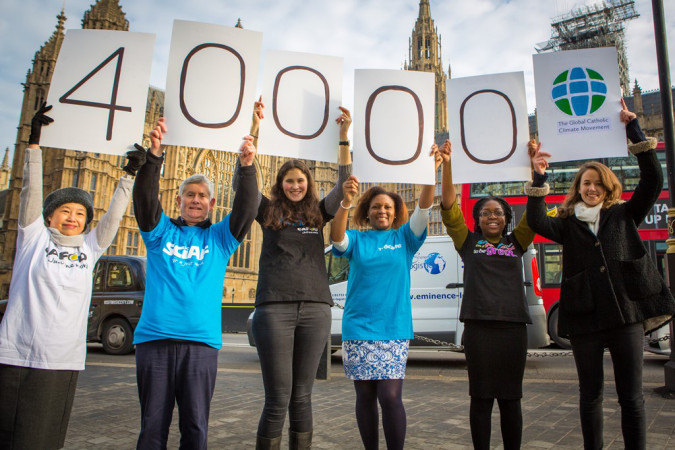 What do recent political changes and reshuffles mean for campaigning on climate change? What's been achieved so far? What difference can we make now?
CAFOD campaigns manager Sarah Croft has been glued to the news. This is her personal letter, offering her reasons for hope, to everyone who's taken action with CAFOD.
Dear campaigners,
When Harold Wilson said a week is a long time in politics I don't think even he could have predicted the events that have happened over the last month. Every day a new story has trumped the one the day before.
After a lot of negativity and uncertainty, I am in need of a bit of nourishment to keep going. Not the kind that I snack on when I am tired (hobnobs and curly wurlys). The kind that comes from my faith and ultimately from hope.
Now more than ever, we need to keep speaking out on climate change. We have a new opportunity to shape the world we wish to see and to show politicians that we care.
Join us in speaking out on climate change this autumn
Please be encouraged by good news.  For the first three months of 2016, more than 25% of electricity in the UK came from renewables. 16 out of 22 Catholic dioceses are now buying electricity from 100% renewable tariffs. Despite the political turmoil, the government has announced a new carbon budget to help to tackle climate change. We are making progress.
Be encouraged by prayer. Pray for our politicians who are embarking on new roles, pray for those living in poverty affected by climate change, pray for renewed energy to speak out.
Be encouraged by support within government. There are climate champions in the new government department for Business, Energy and Industrial Strategy. The new Secretary of State, Greg Clark, used to be shadow secretary for energy and climate change.
The new Minister responsible for climate, Nick Hurd MP, has supported of CAFOD's campaign to bring power to the poorest people. The new department is an exciting opportunity to make sure climate change isn't put to one side, but is part of the decisions we make on business and industry.
Be encouraged by each other. Together you are making change happen. You helped to secure a strong climate deal in Paris last year and have championed energy access for the poorest people. Thank you for your hard work over the last year speaking up for the world's poorest people.
Be encouraged by our country's strong climate laws. Thanks to campaigning, the Climate Change Act passed in 2008 commits the UK to reducing emissions by at least 80% by 2050. We need to be holding our government account of their promises and this autumn we will be making sure the government has in place an ambitious plan to meet this target.
Hold onto this hope, and this October join us to show our all our politicians that, despite the recent changes, one thing hasn't changed: we expect the UK to play its part in the global fight against climate change.
From 8-16 October, thousands of people will be joining together for a week of climate action. People from across the UK will be putting on events in their parish and speaking up to their MP.
Find out how you be part of the week of action
Yours in hope,
Sarah