Harvest 2016: Battles in the garden in Bolivia and back home in the UK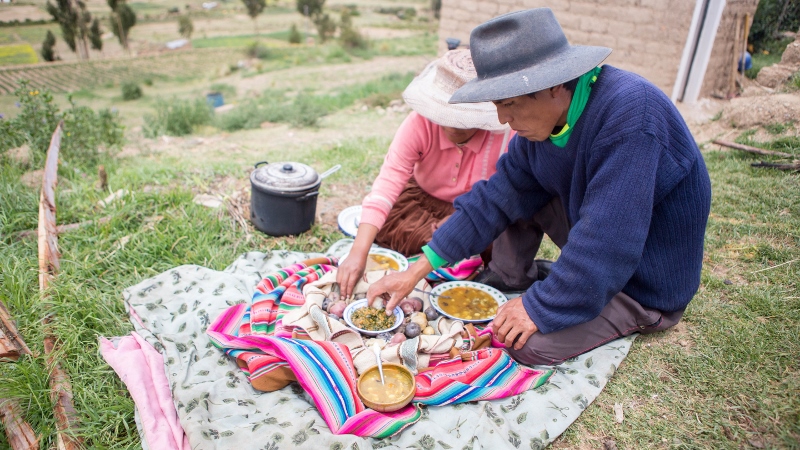 Laura Ouseley works in CAFOD's Media team. This Harvest, inspired by the efforts of our partners in Bolivia, Laura tells us about her own struggles for vegetable garden bliss.
I've only had my allotment a couple of years, but have already learnt so much. My friends and family have also learnt – the hard way – that it is now my favourite (and they would argue, only) topic of conversation!
Join us in helping Bolivian families enjoy bountiful harvests
Whilst I've discovered so much about the different varieties of fruit and vegetables that can be grown, I've learnt far more about the challenges faced by the grower: from fighting back pests, preventing the spread of disease, removing stubborn weeds and preparing soil, to trying to deal with the impacts of unpredictable weather and climate.
Weed and slug nightmares
Anyone who has tried to grow their own food can tell you the frustration of having everything ruined by an army of hungry slugs. Or for springtime to supposedly arrive but not be able to dig or sow seeds because of water-logged patches of earth. Or, to the other extreme, of having the earth crack and plants wither and die when you go away for a single weekend.
This year, my vegetables have tried to survive all these things. And they did so with varying results. I had enough cucumbers to last all summer, but only managed to grow a rather pathetic five carrots!
So many hours of preparation and care (including nursing sore backs from too much digging) have gone into getting even a small amount of land ready to grow crops.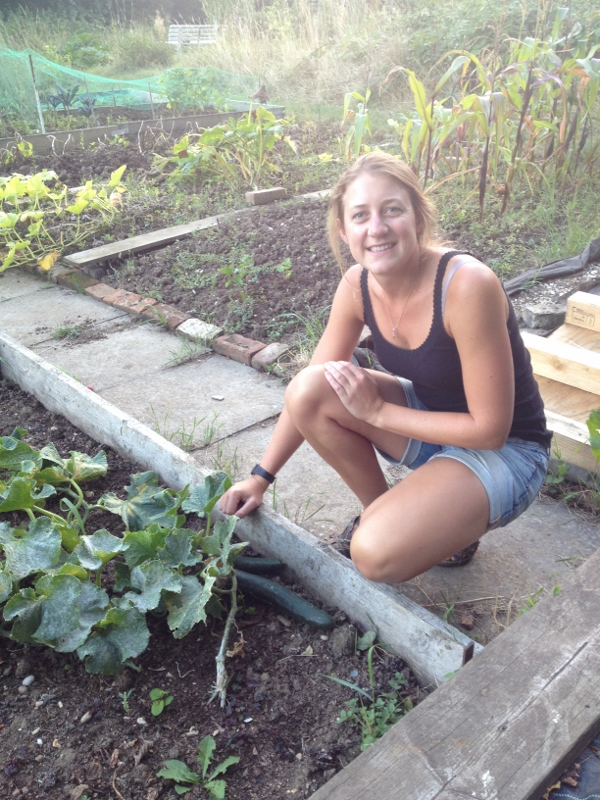 Tougher challenges
But the struggles I have with my allotment are all put into perspective when I think of 25-year-old Vladimir, who lives with his wife Maria and their three-year-old son on a small farm on the Bolivian Altiplano. They have to grow food and support the family in far tougher conditions. It should be the rainy season now, but the rains haven't come and their land is dry and dusty. In rural areas like this, where many people make their living from the land, nearly 60 per cent of people are surviving on less than $1 a day.
"We do have days when we worry where we will get food from," says Vladimir.
Even when the harvest is good, their diet is limited – breakfast, lunch and dinner are normally potatoes and beans.
But when their harvest fails, Vladimir and his family have to get by on far less. "This year we sowed beans, quinoa and peas. But they're not turning out well because of a lack of rain," he explains.
Help Bolivian farmers like Vladimir and Maria this Harvest
Even their potato crop hasn't done well this year. Whilst other farmers have potato plants at least knee high and covered in flowers, on Vladimir and Maria's small farm they're ankle high, sparse, there are no flowers, and you can see the dry earth between the crops.
Back in the UK, my potato crop was mixed this year. I lost most of my early variety crop to the slugs, and when I dug up my main crop last month I found that many of them had common scab disease. It isn't pretty, and not something you would see on shop-bought potatoes. But they are still edible.
Changing climate, changing agriculture
A changing climate means that agriculture also has to change and adapt. CAFOD are supporting communities to do this in Bolivia. We are working on the Bolivian Altiplano to train communities with new farming techniques to help them to grow more food.
Vladimir is about to start a two-year journey to build a vegetable garden, greenhouse and wormery, and to improve irrigation to his land. They will also receive training on how to sow vegetables, make organic pesticides and fertilisers, and understand good nutrition.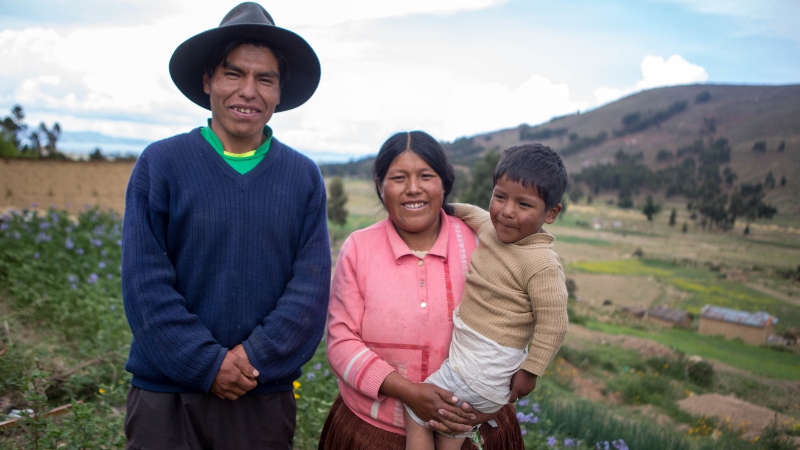 Working alongside CAFOD's local partner, an organisation called Fundación Nuna, Vladimir is now very optimistic for next year's harvest and hopes it will mean he won't be forced to move to the city in search of work: "Then I don't need to be travelling all over the place and abandoning my family. Being close to my family and being near to my son is good – it's important to me," he explains.
Back in London, if my harvest fails, I can head to the nearest supermarket and buy the fruit or vegetables I need. It isn't as organic or green – but I won't go hungry, and nor will my family.