I'm dreaming of a livesimply Christmas…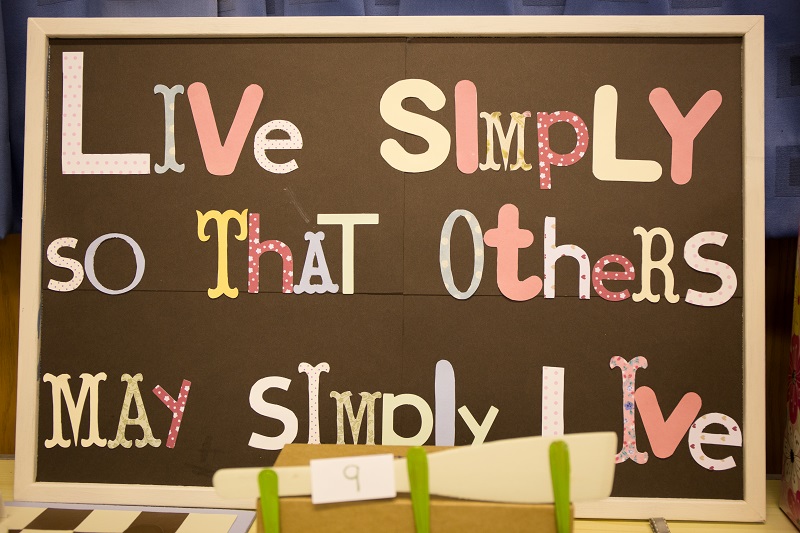 This year, CAFOD supporter Stephen Garsed is encouraging fellow parishioners at Our Lady and St Edward's parish in Preston, to think about living simply and loving abundantly this Christmas. Here are his top six suggestions…
The word we hear so often in the weeks before Christmas is 'tradition'. It is particularly promoted by the glossy magazines who like to sell us the concept of 'the perfect Christmas'.
But do we want Christmas to be about things or about family? As the TV adverts encourage us to spend more, my mind turns to thinking of ways we can celebrate Christmas in a simple, more environmentally-friendly and loving way.
1. Secret Santa. Instead of buying individual presents for ten or a dozen people, a 'Secret Santa' means you buy just one present. You can take more care over what you buy and it's fun wondering "who bought for whom". £10 is often considered a suitable value.
2. CAFOD World Gifts. Buy a World Gift or make a donation to charity. On the CAFOD World Gifts website you can find interesting virtual gifts under £10. Knowing that you have met somebody else's need is truly in the spirit of Christmas.
3. Buy Fairtrade. There is a wide range of Fairtrade crafts, Christmas decorations and even Christmas cakes available from Traidcraft. Supermarkets also stock a wide range of Fairtrade goods, including some excellent wines.
4. Reflect. Leave an empty place at the Christmas table as a reminder of those who will not have enough to eat that day. Find a few minutes each day during advent to read the reflection on the CAFOD Advent calendar.
5. Christmas crafts. Where possible, make rather buy things. A little "making" project can be very relaxing at the end of a busy day and it's great to involve children. Try:
Making Christmas cards and asking your children or grandchildren to deliver them locally on foot or by bike
Making Christmas decorations out of pine cones, paper or leaves
Preparing a special grace for the Christmas day meal – great to get children to think about the real meaning of Christmas.
6. Buy ethical gifts. Look for things that are durable rather than being in landfill in three months. Also where, possible, things made of natural products rather than plastic, or crafted by hand rather than machine-made. Take children for a good browse in a craft shop rather than just heading straight for the toyshop.
Christmas is what you make it. It should be a time of love both for your own family and for the brothers and sisters in our worldwide family.
Find out about how your parish could become a livesimply award community