Bringing water to Zimbabwe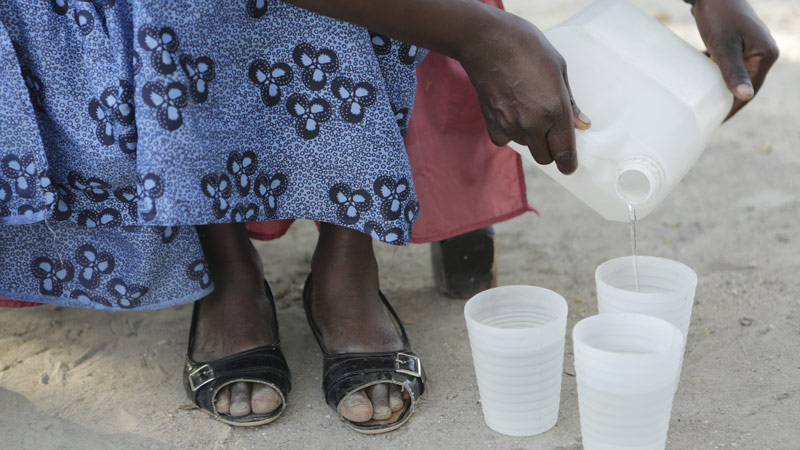 Sally Kitchener looks at how donations to CAFOD's first match funded appeal, during Lent 2012, brought drinking water to a remote town in Zimbabwe.
I am woken by a gentle tapping sound. It's 5:30am. I extract myself from the tangle of my mosquito net and shuffle to unlock my door. Outside is a bucket of steaming water. It's a welcome sight.
It's my second day in Zimbabwe and I'm staying in Nembudzia, a remote town in Gokwe North district. My room is basic but it has everything I need – a bed, a desk, and even an en-suite bathroom. Only, the sink and shower feel a little redundant, as there's not a drop of water in the taps.
In this area, it's not just the taps that are empty of water. There are no rivers, lakes, streams or even any underground water sources. I'm told you can dig and dig, drill and drill, metres down, but you won't find water. So where has my steaming bucket of clean water come from?
Donations to Lent Fast Day Appeal in 2012
You may have heard about CAFOD's Lent 2012 Appeal and Thirst for change campaign. You might even have been part of it – maybe donating to your parish collection, or going on a solidarity walk for water. What was remarkable about this Lent campaign was how thousands of you came together to say no, in today's world it's not right that people still live without water.
£9.3 million was raised and a further £9.2 million was given by the UK government for water projects in 15 countries across Africa and Asia. So, the short answer is that my bucket of steaming water came from you.
What is government match funding?
Rebuilding a reservoir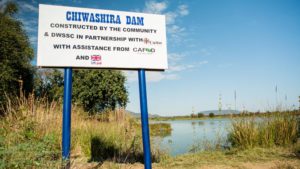 With some of the funds raised from the Lent 2012 Appeal, CAFOD were able to rebuild an old reservoir just outside Nembudzia that had been broken for 16 years. Local people helped out to construct a concrete dam and plant vegetation to build up the reservoir banks.
When the rainy season came, the reservoir filled and people flocked to collect water.
Paul was one of the first people to collect water from the new reservoir. He lives less than a mile away. When I meet him at his home, he eagerly shows me around his entire farm, pointing out his vegetable plot and chicken coop, neither of which were so healthy or productive before the reservoir.
Life before water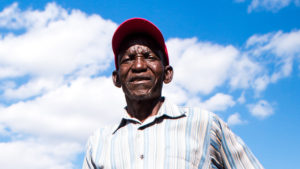 "The nearest water source then was 14km away," Paul explains to me. Knowing that I can walk a mile in just over 15 minutes, I do a rough calculation and work out that's at least a two-hour walk.
"My wife and daughters woke up in the night," Paul continues, "and would spend six to eight hours away fetching water. It takes a lot of time. They'd carry 20 litres each, which would last a day for drinking and cooking."
I see the empty yellow containers stacked in the shade of the house and wonder if I could even lift one of those full of water, let alone walk over eight miles carrying it.
But even this water wasn't clean and Paul's children often fell ill with diarrhoea.
Help fund CAFOD's new food project in Zimbabwe
Paul leans towards me and lowers his voice. "We didn't have enough to wash ourselves. The children had diseases. They were dirty. It troubled me. But what alternative did we have?
"When you're thirsty, you feel dizzy and tired and helpless. But you have no way of getting water. It went on like this for 16 years."
Good health, good food and good homes
In 2014 the reservoir was completed, and three years on – even in the dry season – it still holds water. A further government match-funded project is currently being completed that will purify the water using ultraviolet light and pump it to village taps, so it doesn't need to be filtered or boiled before drinking.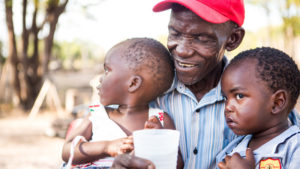 "The people living in the area are special," Paul confides in me. "We're special because we live close to water.
"It's a huge advantage. Our cattle have increased. Our gardens have increased. People are now bathing and washing themselves because there's water there. If you look at my children, you can see they're healthy."
More than 30,000 people from nearby towns and villages are now using the water from the reservoir.
Your Lent donations also helped Beauty
They're seeing significant changes in their local area. There's been a huge impact on the health of the local people – not just because they now have a reliable supply of water for their homes, but because they've been able to use the water to grow vegetables. And now that water is available to make bricks, dozens of new houses have sprung up along the surrounding tracks that lead to the reservoir. It's fast becoming a desirable area to live.
It's not surprising, given that across the world more than 40 per cent of people are living without enough water for their daily needs, and the United Nations anticipates that – with a growing population and the impact of climate change – this number will rise.
Paul's eyes squint underneath his red baseball cap. "Some of my relatives live over there," he says, looking across the fields away from the reservoir. "So I would be happy for them to have water too. We thank you for helping us, but don't stop here. Continue helping others."
Your generosity brought drinking water to 400,000 people. Thank you.