Tell Sainsbury's their "fairly-traded" tea isn't Fairtrade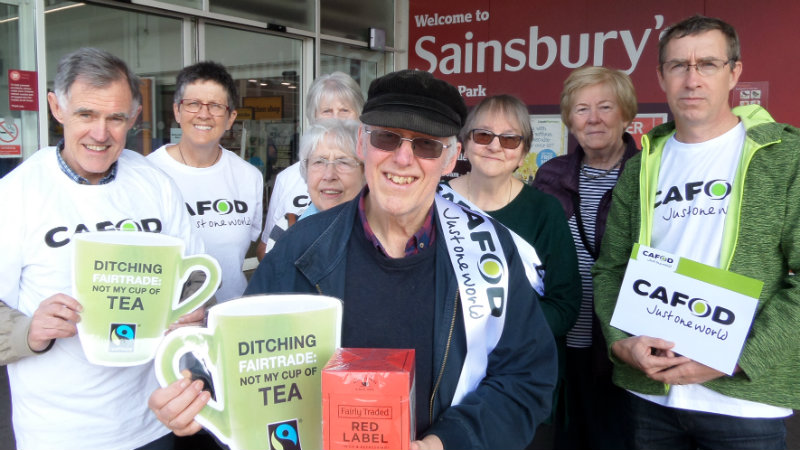 Last December Sainsbury's met a group of Fairtraders to talk about tea. Vin Allerton, a long-time Fairtrader in Salford, was one of CAFOD's delegates. Here he tells us about how the meeting went, and what his next plans are.
Telling Sainsbury's not to ditch Fairtrade
My wife and I have been Salford Diocese Fairtrade activists for over 20 years, supplying Fairtrade goods in our own parish. In the last 10 years we've also provided Fairtrade items to other local parishes, schools and at CAFOD events. This is why, with over 150,000 other people I signed a petition asking Sainsbury's not to stop the Fairtrade mark on its own-brand Red Label tea.  The reaction of Mike Coupe, Sainbury's Chief Executive, to the petition was not positive. But Sainsbury's did later go on to agree to a meeting, possibly after seeing the size of the opposition.
Sign up to receive our monthly emails about how you can get involved in our latest campaigns.
And so last December, a group of us met Judith Batchelar, Director of Sainsbury's Brand, to discuss our concerns.
Judith said Sainsbury's remained committed to Fairtrade principles, but that they thought they could improve on developing long-term, deeper relationships with their suppliers.  We told them our three concerns: first that we thought their aims could be achieved within the Fairtrade system. Second that rebranding their tea from "Fairtrade" to "fairly traded" would confuse customers; and could devalue the Fairtrade mark. And third, that Sainsbury's proposals for an independent audit and verification of their standards could be an expensive duplication of the Fairtrade system.
Empowering farmers
For me, the crunch issue is empowerment.  The whole basis of Fairtrade is that it tries to rebalance the unequal trading relationship between Western consumers and poorer farmers and suppliers.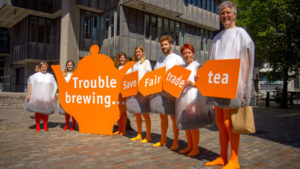 Fairtrade guarantees farmers a fair price for their produce. The Fairtrade Premium, paid on top of that, is for them to use on any social or environmental project that they choose
But under Sainsbury's new system, even though it promises the equivalent of the Fairtrade Premium, it's the (newly established) Sainsbury's Foundation that will take over its management and control.  Tea producers will need the Foundation's approval of projects to be funded by the Premium. This gives the impression of a lack of trust on Sainsbury's part.  It feels like an outdated approach to international development.  It was actually this issue of loss of power, which in May 2017 caused Fairtrade tea farmers, workers and producers to unanimously reject  Sainsbury's proposals.
No more confidence
We always recognised that Fairtrade needed to grow beyond our niche market. It had to become mainstream. It was the only way to succeed to change unjust trade market terms. So when supermarkets became involved in Fairtrade, we cheered.
We even advised parish members to buy from them.  But I can no longer recommend buying Sainsbury's tea. I don't have confidence that their system will benefit the tea farmers and pickers in developing countries.
Take action. Tell Sainsbury's not to ditch Fairtrade
Ask Sainsbury's to return their Red (and Gold) Label tea to the Fairtrade family by following these simple three steps:
Write to your local Sainsbury's store manager
Tell your friends and colleagues
Write to your MP (40 have already signed a parliamentary motion).
We, as Sainsbury's customers, still have the power to bring about a change of heart. You can find out more about Sainsbury's dropping Fairtrade.