Pope Francis's new letter to us all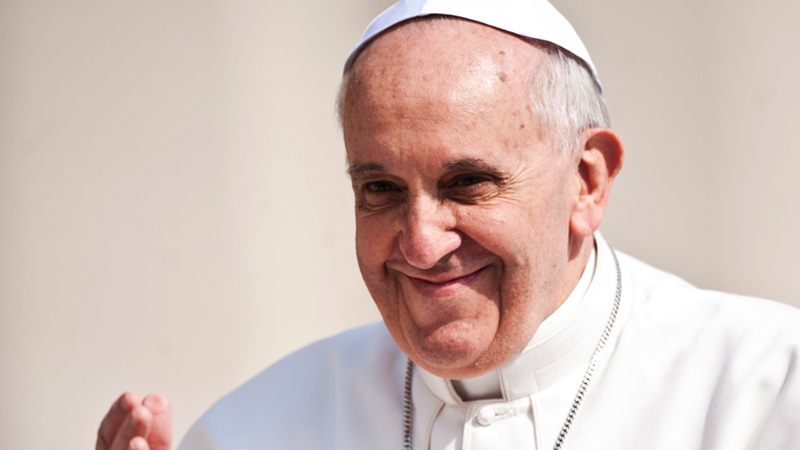 The week before last Pope Francis issued his fifth major document since beginning his papacy. It is largely a sustained meditation on the Beatitudes and how they can be lived out here and now. It is called Gaudete et Exsultate (Rejoice and be glad); and its subtitle is A call to holiness in today's world.  So what, according to Francis, does it mean to be holy? Susy, from our Theology team, highlights some key points.
According to Francis, if you are by nature timid, morose, acerbic or melancholy, prone to put on a dreary face or swoon in a mystic rapture then you are heading in the wrong direction! Here are four ways of being holy that Francis advocates.  I think they will be particularly pertinent to you as a CAFOD supporter:
1. Live out your faith in a practical way
Pope Francis always stresses that we must live out our faith in a practical way (#109). This means, that in our lives and in our work, we are urged to labour "with integrity and skill in the service" of our brothers and sisters (#14).
Put your faith into action. Sign up to receive our monthly emails about how you can get involved in our latest campaigns.
We are encouraged to open our eyes, ears and hearts, to allow ourselves to be unsettled by the words of the Gospel so as to expand our often limited horizons and ways of doing things (#137, #172). This might mean, for instance, challenging our culture of consumerism. Consumerism "only bloats the heart" (# 128). What a great image! Perhaps we can encourage our communities to live more simply?
Find out how to become a Livesimply award community
2. Progressing in holiness
Pope Francis insists that we will know when we are progressing in holiness when we recognise the face of God not only in those like us, and those we like, but in everyone, "especially the least, the most vulnerable, the defenceless and those in need" (#61). He gives the example of coming across a homeless person, someone on the margins – how do we react?
Perhaps we feel they are simply someone else's problem, an annoyance which disturbs our day. If we see them with the eyes of faith, however, the person on the margins becomes "a human being with a dignity identical to my own…an image of God" (#98).
The culture we live in would prefer to turn away from painful, disturbing situations (#75). We are called instead to face these square on and work tirelessly against situations of social injustice (# 99, # 101). For instance, in the case of refugees and asylum-seekers, are we able to authentically "stand in the shoes of those brothers and sisters of ours who risk their lives to offer a future to their children" (#102)? Many CAFOD supporters have already walked in solidarity with their brothers and sisters throughout the world….will you?
Find out how to walk in solidarity with millions of migrants
3. How is holiness manifested?
According to Pope Francis, holiness is manifested in our ability to feel compassion for others, not just those geographically near us, but also those far away. I remember being so impressed by the response of CAFOD supporters. They signed petitions in parishes and sent emails before Christmas, in response to the plight of the Mauá community in São Paulo. They were going to be evicted from their homes. The eviction was suspended as a result of the campaign! A concrete example for me of how the CAFOD family felt compassion "in such a way that all distance" vanished (#76).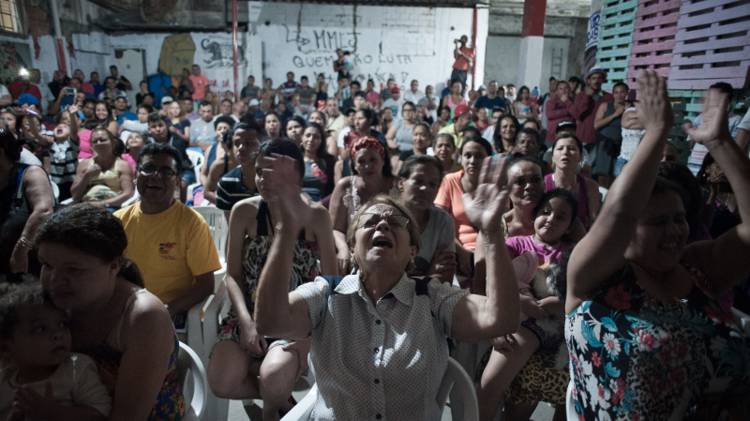 Find our how you too can become a CAFOD campaigner
4. Discernment
As you would expect from a Jesuit Pope, there is a strong emphasis on discernment. Each person is expected not just to imitate the saints, but to find their own calling, their own path to holiness. One thing we are called to, however, is prayer.
We are all asked to deepen our relationship with God. We achieve that through listening and being attentive to his voice. And we can pray for others. Far from being a distraction, "intercessory prayer is an expression of our fraternal concern for others, since we are able to embrace their lives, their deepest troubles and their loftiest dreams" (#154).
Read CAFOD share the journey prayer
In conclusion, Pope Francis acknowledges that "the Beatitudes are not easy to live out" (#91). Our faith is supposed to challenge and disturb us, to take us beyond the comfortable and easy. Yet God is with us always as we seek to live out the Gospel and to love our neighbour as ourselves. What is required is "boldness and apostolic courage" (# 131). God might ask everything of us, but he also gives everything to us (# 175).