Gospel reflection: I am the bread of life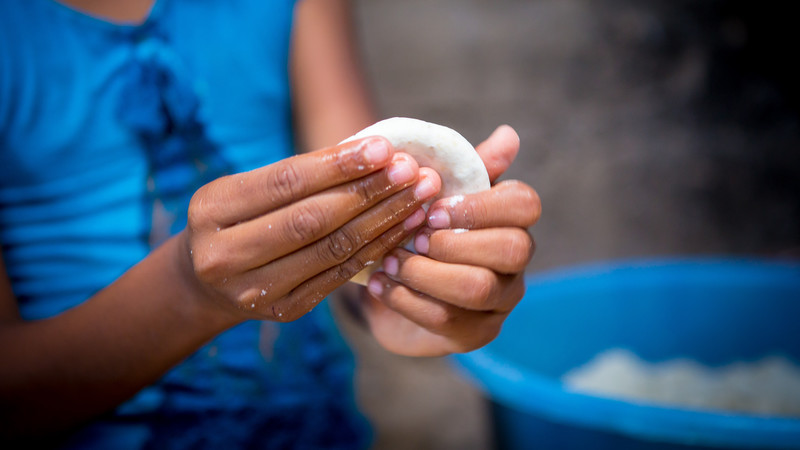 Reflecting on Sunday's gospel John 6:24-35, CAFOD supporter Kathy McVay from Bristol considers the idea that we all need nourishing both bodily and spiritually.
Based on the gospel for Sunday 5 August – John 6:24-35
"I am the bread of life"
Sign up to receive weekly reflections by email
A great deal of what we do and enjoy takes place outside. I like to see children playing on the grass or riding past on their bicycles and scooters, saying thank you as my wheelchair gives way to them.
I am sure people of all ages were in the crowd which followed Jesus. They enjoyed being outside by the lake, having a wonderful person to listen to.
Since Jesus had not succeeded in evading the crowds, in order to have a break, he turned towards them and took the opportunity to explain that they needed both bodily and spiritual nourishment.
Prepare for Adoremus, the National Eucharistic Congress, with our resources.
Jesus said, "I am the bread of life." It is this everlasting bread that we receive in the Eucharist.
Just like the crowds who came to hear Jesus, we need nourishment, both bodily and spiritually. But we also know that there are many people in the world who are hungry.
Nourished by this gospel, we are invited do all that we can to address food poverty in the world.
Give today to help those who struggle to get enough to eat. 
Lord,

May those who have plenty stop and think about what they can do about sharing their wealth, so that everyone may enjoy the fruits of this beautiful world. Amen.