Celebrating Human Rights Defenders in Brazil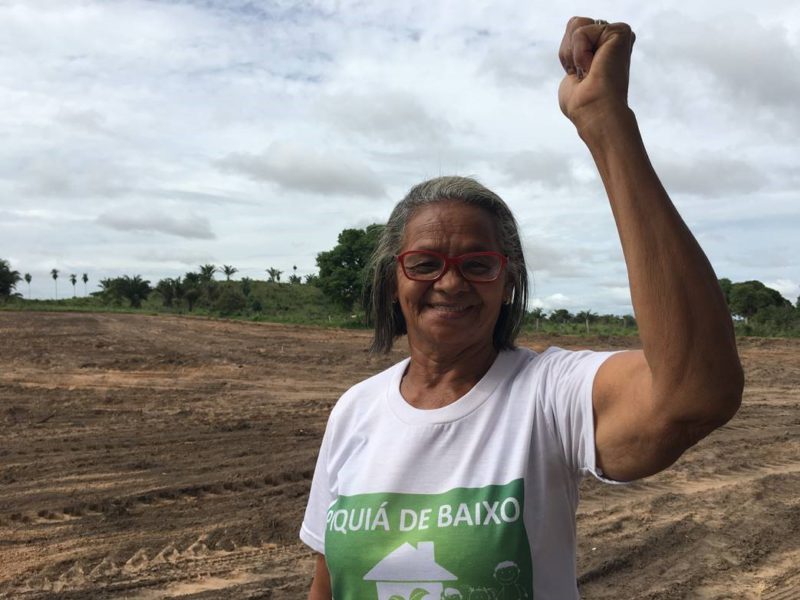 Today is International Human Rights Day. Esther Gillingham, CAFOD'S Brazil Programme Officer explains how CAFOD's partner, Justice on the Railway Tracks is empowering human rights defenders and changing lives in Brazil.
CAFOD are very proud to share the news that our Brazilian partner, Justice on the Railway Tracks was presented with the first ever  Human Rights and Business Foundation Award presented at the UN Forum on Business and Human Rights in Geneva on 27th November 2018.
They received the award for their work defending poor communities from the impacts of human rights and environmental abuses by mining companies in the Amazonian state of Maranhao in north-eastern Brazil.
This work included a 13-year long legal struggle which resulted in the landmark resettlement of the Piquia de Baixo community who have been adversely affected by a huge steel plant built right next to their community in the 1980s.
Support our human rights work in Brazil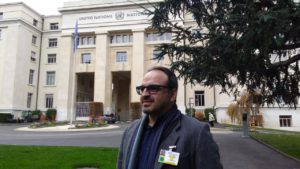 Danilo Chammas, a lawyer for Justice on the Railway Tracks said,
"This award is a recognition of those communities impacted by mining and mega-projects, who have peacefully held companies and the State accountable to rights violations caused by businesses in the region".
A landmark resettlement
Every day and night, Iron ore from the Carajás and Serra Sul mines, the largest iron ore mine complex in the world, is transported on a 330-carriage train that passes along an 800km railroad, impacting 100 communities along the way.
A proportion of this iron ore is then processed in the mining company, Vale's plant to produce steel which is then exported to countries such as China.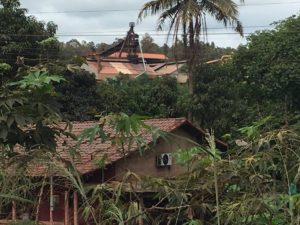 The impacts of the plant on the community of Piquia de Baixo have been huge – a rise in respiratory illnesses, cancers, and the community has been living with constant noise and dust from the plant.
Read more about CAFOD's work with human rights defenders
A long struggle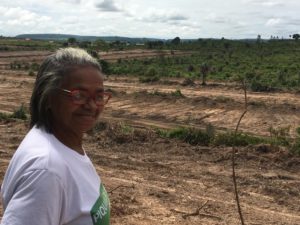 Piquia de Baixo's Community Association leader, Francisca Souza Silva, explains:
"I have lived in Piquia de Baixo for 37 years, and when I arrived there were lots of residents, there was no train, and we had a clean river which we drank from. Now we can't drink from it anymore because it's totally polluted with chemicals.
"After the companies arrived, it destroyed our community. Thick black dust covers our plants and vegetables, fills our lungs, our homes – it's so sad that we only put up with it because we are poor and these companies are rich, and they do whatever they want to us.
"My husband died from lung cancer, and the doctor told me it was caused by the pollution from this plant.
"For us to get here, we had the help of a wonderful person, Doctor Danilo from Justice on the Railway Tracks. He always gave us his hand, supporting and defending us. It was a long struggle, but without struggle you don't achieve anything
On our new land we're going to have our houses, a school, a health centre, a mothers' club, a community association centre, and a square for 312 families".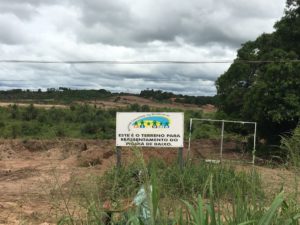 Fighting for justice
Over the last decade, our partner has provided legal support and rights awareness training.
On 17th September, the community Association of Piquiá de Baixo finally signed the contract to release funding for the resettlement of this community through the governmental housing programme, "My home, My life".
312 housing units will be built for the remaining families on a piece of land far from the noise and pollution of the plant which will include basic infrastructure and a school.
Danilo Chammas, Justice on the Railway Tracks' lawyer, explains why this case is so important,
"The beginning of the construction of the neighbourhood where the families of Piquia de Baixo will be resettled is a milestone in the history of this community. It is an achievement that renews the hopes of the residents and confirms that popular organisation and the autonomous management of their destiny are not only fundamental but can reap concrete results."
Although CAFOD does not directly fund Justice on the Railway Tracks' work with the Piquia de Baixo community, we support their work with another mining affected community and this case sets a precedent for similar cases.
CAFOD is very proud to celebrate our partner's tireless work as inspirational human rights defenders.
This is a fantastic achievement in the face of so many political and legal setbacks and is a great example of how community mobilisation and resistance can achieve socio-environmental justice for rights violations caused by huge economic powers.