Celebrating International Volunteers Day with volunteer stories from Nigeria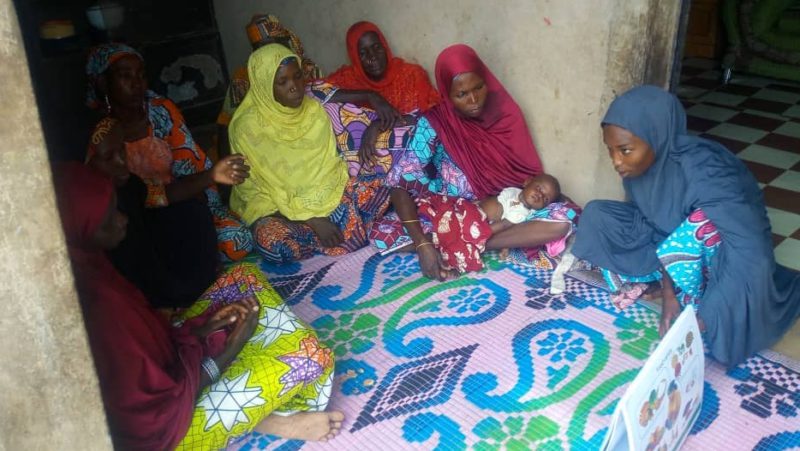 Oge Chukwudozie is a Humanitarian Capacity Strengthening Officer for CAFOD in Nigeria. Oge explains how community volunteers play such a vital role in CAFOD's work to support remote communities.
As the most populous country on the continent, Nigeria is often referred to as the "Giant of Africa". It is also large geographically, and transport links are poor in the more rural areas. It takes six hours for CAFOD staff to travel by road from Abuja to Omalla in Kogi state, and this is one of the closest areas where we work.
Community volunteers, supported by CAFOD and its partners, play an important role in supporting remote communities across Nigeria. This International Volunteers Day, on December 5th, I want to celebrate the important role that volunteers play in CAFOD's work across the world, by sharing the stories of some of the wonderful volunteers in Nigeria.
Meet Halima, one of our wonderful volunteers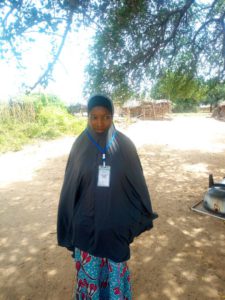 Halima is a volunteer with CAFOD's partner Justice Development Peace and Caritas (JDPC) Maiduguri, in north-east Nigeria, an area affected by conflict and instability which has forced many people away from their homes. She has been volunteering her services for about four months now, in supporting JDPC's nutrition work with people who have been displaced. Her motivation is her compassion for the families that she works with, and her duties include making local nutritional food for children, screening, and sharing messages on breastfeeding and hygiene promotion.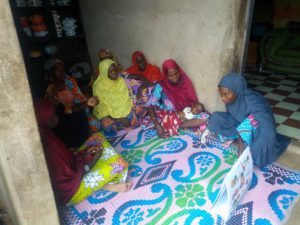 Halima is happy to see the impact of her volunteerism on the community: 'The people now know the importance of exclusive breast feeding and those suffering from malnutrition are able to get assistance'. For Halima the benefit of volunteering is putting a smile on other people's faces, "It gives joy when you are the source why other people have a smiling face. Volunteerism also brings you up close with what other people pass through and improves your perspective. It will also enlighten you on other people's hardship so has to understand life better."
Why community volunteers are so important
Reaching some of the remote communities where we work is challenging in normal circumstances. When there is a natural disaster, it can be almost impossible, and so we rely a lot on community volunteers at the start of a response, to let us know about the situation on the ground, and any challenges and gaps. Community volunteers are a major part of the chain in reaching people in hard to reach areas and quickly responding to emergencies.
Kogi State in central Nigeria was badly affected by flooding this August, and CAFOD and its partners have been responding to this humanitarian crisis. I travelled to two of the affected communities last month. The first, Omagede-otutubatu is not an easy community to get to. The only means of getting there is a 30 minute ride by motor bike from Bagana the district headquarters. The second community, Gidan-kwara is even more inaccessible; access to the community has to be with a canoe during rainy season. The flood destroyed rice fields and other farm fields leaving these people with no livelihoods. Latrines are a luxury and so open defecation in the bush is a norm, leading to cholera and diarrhoea outbreaks during floods.
Meet Yusuf, a community volunteer in Bagana
Yusuf, one of the community volunteers on the flood response is a youth leader in the Bagana community. During my visit to the community, Yusuf knew of the people and leaders to meet. We stopped to greet community leaders as we passed through their communities to our destination. Yusuf knew the nooks and crannies of all the settlements where people lived, something an outsider would never have known. The major challenge for Yusuf is lack of access and difficulty in reaching the people, and he hopes that basic services can come their way soon.
In Nigeria, CAFOD is currently working with its partners to improve how they work with volunteers. The EU Aid Volunteers-funded PEOPLE project is supporting 3 local organisations in Nigeria – including JDPC Maiduguri – to improve their systems and practices for managing volunteers, so that they can make the most of volunteers' role in Emergency Preparedness and Response. So we look forward to hearing even more inspiring stories for next year's International Volunteers Day!