What does a campaigner look like?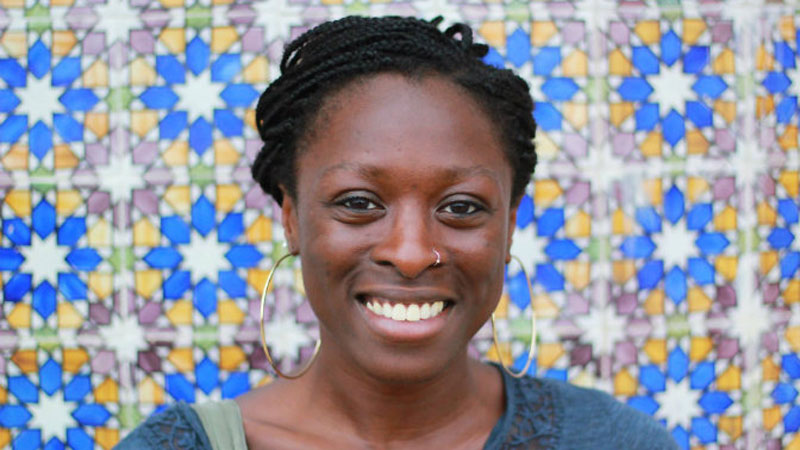 Sam is in the Campaigns team at CAFOD. As a British-born black woman with Ghanaian heritage, she wants to encourage and support more active Catholics from diaspora communities to get into campaigning.
My name is Sam and I'm the Campaigns Engagement Manager at CAFOD. Campaigning has been a part of my life for as long as I can remember. I put this down to three main reasons:
I've grown up in strongly Catholic campaigning environments.
I'm aware that campaigning is a right not everyone in this world has freely.
I am committed to addressing this.
Actually, there's a fourth reason.
There aren't many campaigners I've encountered who look like me. As a British-born, working class, black female with Ghanaian parentage, I'm not sure I fit the mould of 'traditional campaigners' in the UK.
Is that a problem? Yes, because it doesn't reflect what really happens in our churches. It doesn't really reflect the face of the Church today. It neglects a large proportion of active Catholics with voices and with power.
My parish in east London, for example, is mostly attended by people from diaspora communities – including West Africa, East Africa, South Africa, India, Malaysia, the Philippines and Poland. Two of our priests are from India and our main priest speaks his homilies with a strong east-coast of America accent, as a native of Boston.
You might attend a parish that is similar. With decreased vocations to the priesthood in Europe and rising mass numbers from international communities, it's likely.
Catholic communities of all kinds are committed to addressing issues that affect their communities. This is something to be celebrated and recognised.
Campaigning with CAFOD
I was drawn to work for CAFOD because I've grown up with CAFOD. I always felt I could be a part of their campaigns. I felt that my voice was also being called out for.
I have a lot of favourite CAFOD campaigns, but at the moment I'm glued to Our Common Home. We are living in a very special time of climate action right now. We have the power to change the course of things to come and I would like history to look on us kindly and say we did what was right.
Put your faith into action
We know there is power in campaigning. We know that campaigning works. We might be shocked by how much power we actually have! Putting faith into action can be for everyone, no matter how little or how much time we have.
I pledge to put my faith into action by engaging with 'non-traditional campaigners' in my church. I am going to promote the Creation Celebration to members of my church choir, who are all from – or descended from – diaspora communities. They have expressed concern and awareness of the climate crisis and I believe that CAFOD's resources for the new campaign will help them to play their part.
Have you thought about how you can put your faith into action? Why not begin by signing up to receive our campaign e-newsletter?