The Christmas lantern outside our window that says we are home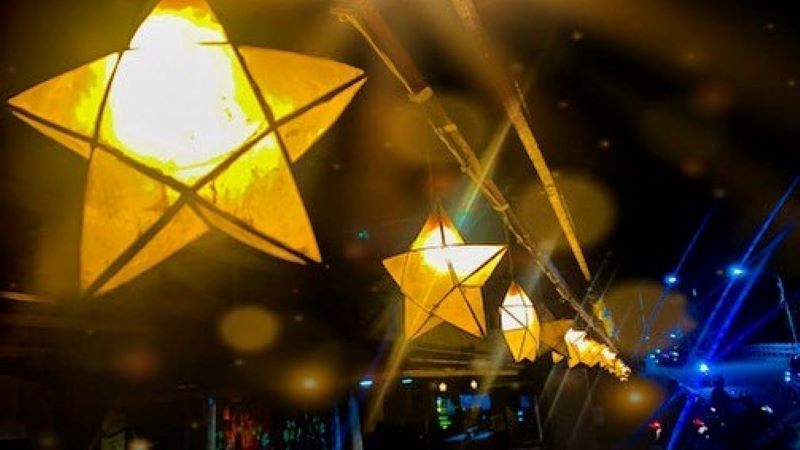 The Philippines has one of the largest diaspora communities in the world, with around 10 million adults living or working abroad. CAFOD's Digital Communications Manager, Michael Palacios, is one of them, and while he is unable to spend Christmas in Manila this year, a lantern in his family's window in London means they will still feel at home this holiday season.
You may have seen Disney's 2020 Christmas advert. Featured prominently in it is a star-shaped Christmas lantern from the Philippines: a parol.
Parols are mostly an outdoor ornament. Walk down a street in Manila, and you'll see all kinds — multi-coloured ones lined with garish neon, or simpler stars wrapped in translucent white paper (my fave). But the sight of a city street lined with pulsating lanterns is something to behold, and it's a visual I ache for every holiday season.
Feeling a connection with home
Because in the Philippines, Christmas is the Grand Return. One in seven Filipino adults work outside the Philippines, serving as the world's contractual human resource. Many of us staff hospitals, build skyscrapers, and keep cargo ships sailing the world over, spending months away from families and loved ones. So if we can manage it, we desperately want to spend Christmas at home.
But this year, the global diaspora (along with everyone else) is going to have to 'Christmas-in-place', over Zoom and WhatsApp. With luck, we'll be allowed to have a few friends over.
So I'm going to hang a parol from my window this Christmas, because I love the idea that someone is going to see that star and feel a connection to home. For one night, a light overhead means that we all share one home.
I think about the communities we serve in CAFOD. It can be hard to think of home in the middle of a Rohingya refugee camp, where a shelter kit is the most important thing in the world.
Share your light this Christmas
So maybe this Christmas is a chance to shine your light into the street beyond. Your gift of support this Advent can tell a refugee that your home is their home.
That's something we can all do, whether your star is hanging outside your window or topping a tree. Your light can be shared.
And for a Filipino stuck in the UK, making someone feel at home tells you that somehow, you're home too.