Reflections from El Salvador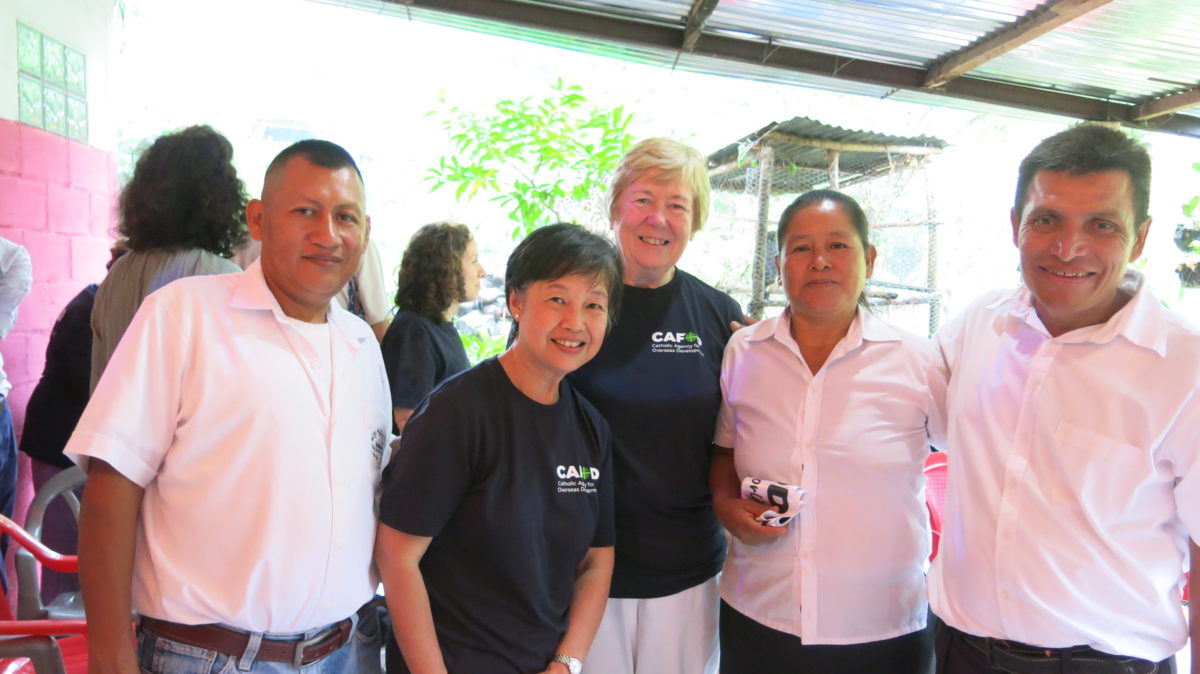 Irene, a CAFOD volunteer in the Diocese of Clifton, reflects on her visit to Puentecitos in El Salvador and the importance of working together.
I had the good fortune in November 2019 to be invited to go to El Salvador with CAFOD and the Romero Trust. Our days in El Salvador were packed with activities in the footsteps of St. Oscar Romero. Every encounter we had was a revelation of the suffering El Salvadorans endured during the civil war (1979 – 1992), the scars of which remain visible to this day.
There were many brave men and women who gave up their lives because they had the courage to speak out for the plight of the poor against injustice and inequality. Today, many continue to heal the wounds of loss and to improve the lives of the people they serve. From CAFOD we hear and read about the success stories and the joy. However, less well-known are the partnerships on the ground who work with CAFOD.
With the test of time, one project that stands out for me is run by a local organisation supported by CAFOD in Puentecitos
(Puentecitos means little bridges), Guaymango near the Guatemalan border. This was one of the poorest parts of El Salvador after the civil war where many people were displaced. Here many homes have no running water and electricity. Children suffer from malnutrition. The terrain is rocky and steep. Apart from growing beans and corn for subsistence, nothing else was grown as weather conditions were unpredictable with rain at the wrong time and drought at other times.
Learning new farming techniques
However, hard working farming communities work with local experts who help them build on existing skills, through sharing knowledge and expertise on growing 43 different types of crops including tomatoes, peppers, yucca, bananas and marrows – all organically grown. The variety of crops planted protects against total crop failure and disease that may affect one specific crop. As well as crop farming, families now diversify into pig, cow and poultry farming and recently are promoting beehives (honeybee).
Due to the difficult terrain and lack of internet access the radio is a very important way of sharing information widely. Solidaridad runs Radio Copinula, a broadcasting station, to give information on weather trends, what rainfall might take place, where and when.
Women are at the centre of this work
70% of this work is with women. Today, the women of Guaymango are recognised as farmers in their own right. Currently, 46 women's savings and loans group have been set up. Around 550 women participate actively and 3 cooperatives have been formed. Farming families have come a long way from traditional set-ups of a patriarchal society. Irma, a member of a savings and loans scheme, testifies, "When we started there was no trust that people will deal with money appropriately, to take care of money, and there was little uptake in the first year." But success breeds success and more joined.
"Workshops, helped us and we started to think differently. We've learnt such a lot, we like ourselves, and love ourselves; and we learn to love man and God, neighbour and nature. We also have children and they set up their own savings scheme. We don't spend money on things that are not good for health. In my group, 50 people including women are involved in training programmes. They now like to participate in such programmes and manage their own money," Irma said.
The women are empowered because their views are listened to and acted upon. They have access to money – savings that they have put aside. They are interested in new initiatives like skill development – using the computer or personal development or diversification into beekeeping, with access to courses and the University. They can turn ideas into economic activities, monitoring progress and evaluating their success. This is an exceptional achievement.
Our Common Home
Erasmo, who has worked closely with the farmers and women's groups, told us that they were starting a three-year training programme on what they mean by "Our Common Home". The climate crisis is structural, social and environmental as well as a human crisis, as it is about the loss of values."
"We are used to seeing ourselves as being at the centre of everything, rather than as part of a whole. We need to un-learn and look at what we do that is holistic. The secret is getting the farming method right, and adapting crop growing to the conditions of climate change."
"We need to think of the way we work. Savings is not about having an economic impact, but it has a social and cultural impact, so women can get together – to play, to pray and to enjoy relationships. Now we can relate and support each other."
Often we see the success story but sometimes overlook the bridge to success. CAFOD's partnership on the ground is that bridge. That, surely, is a game changer.
Find out how you can help build a kinder, fairer world with a monthly gift