Stepping up to the Walk Against Hunger Challenge this Lent!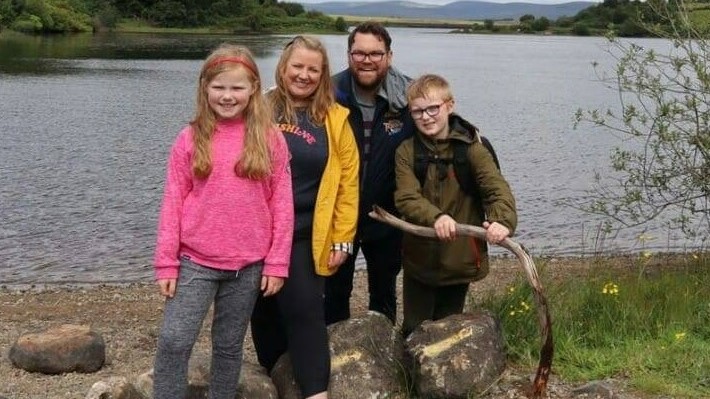 Hi! I'm Bronagh from Leeds and I'm lacing up my boots this Lent to Walk Against Hunger. Here's why this challenge means so much to me and my family and why I'd love you to get involved too!
Walking for my faith!
I'm walking again this year because it helps me put my faith into practice. Taking part in this challenge will allow me to spend time outdoors with my family and it will also help to make a lasting impact on the lives of so many families who struggle to access nutritious food. It's an act of solidarity – reaching out with love, compassion and friendship.
Walking for the love of my dog!
The dawn walks are the best! I'll be out at 7am with the dog, watching the world wake up slowly. I'll also say a little prayer and hope that I can make a real difference each day, in how I live my life and in how I respond to those around me.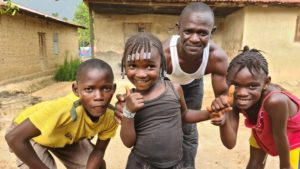 Walking gives me time to pray and think about how the donations from friends and family will make a real difference to families like Lombeh's from Sierra Leone.
Walking in nature!
Walking keeps me fit and healthy, but I also stay more connected to nature, which is a great way of looking after my mental wellbeing. When I'm walking with my dog, I feel a real sense of freedom and a special bond with nature. It reminds me of the fun I had as a child playing with my cousins on my Granda's farm in Ireland.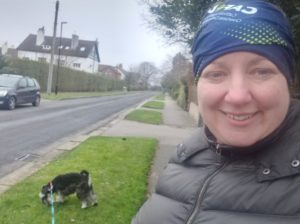 I'm also motivated to give thanks and treasure the important things in life: my faith, my family (and my dog!), my friends and my easy access to food and water – these are the building blocks of life.
This year I will be walking from school to school, in my diocese of Leeds, delivering assemblies and workshops with some of our amazing school volunteers.
I now feel re-energised and re-connected to the beautiful world that God created for us. And I'm ready to take on the Walk Against Hunger challenge!
Walking for the love of my family and families around the world!
I think it's brilliant that my children are really interested in how we can make a positive difference to others. By joining in the Walk Against Hunger challenge, they will learn why it's so important that we give thanks for the food we eat and why we need to raise awareness of nutrition projects and why we need to stamp out hunger around the world.
As a family, we try to eat healthily and not to waste anything. During Lent, we will cook simple meals, as well as complete our daily family 5km walks. In doing so, we will be thinking about the families around the world who don't get enough good, healthy food to eat.
If my children were here now they would tell you: one in nine people will go to bed hungry tonight, yet there is enough food to feed us all. It's up to us to make sure it's shared equally and fairly; it's grown in harmony with nature and the people who suffer the most from the climate crisis are given the support they need to survive and thrive.
Small steps … big changes!
Last year I signed up for the Walk for Water challenge. I walked with so many other amazing people: family, friends, parishioners, as well as school and parish volunteers. We walked to support communities suffering from a lack of access to safe and readily available water. So many families joined in. It was powerful to be a part of something together – walking to inspire change, walking to help our global family – and what a difference we made!
Join us and Walk Against Hunger!
This year, I'm really excited that families in my own parish will again be strapping on their walking boots! There is a real buzz about this year's challenge – everyone is doing it their own way – a real sense of solidarity with people joining in across the diocese, and across the country. My family in London have even said that they'll join in with me virtually. How cool is that?!
So, join us in our Walk Against Hunger. Let's put our faith into action and help stamp out hunger together!
---