East Africa Food Crisis: "Nothing would break their resolve."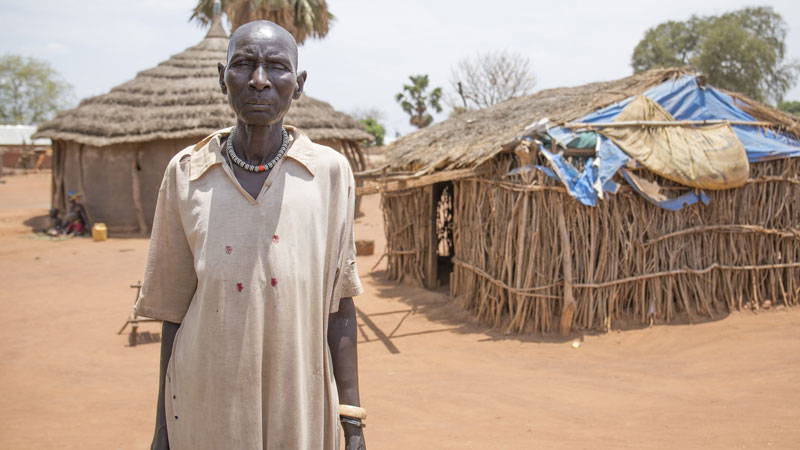 CAFOD's Africa News Officer, David Mutua, visited South Sudan in March to see how the money donated by you to CAFOD's East Africa Crisis Appeal was helping people at risk of dying from hunger.
Mary Akoye, a mother of seven girls and three boys, is partially blind. Frail from years of toil and hardship, the clothes that Mary wears hang loosely over her thin frame.
You can give food to people suffering from hunger – Donate to CAFOD's Emergency work
Journey to Mary's new home
I met Mary in the small village of Billing in South Sudan. It took a long time to get here – we travelled for over a day, through several towns and along dusty earth roads. You have to take a UN flight to Bor where you wait for a helicopter to take you across the Nile.
Then it is a five-hour drive on a road that can only be tackled by a 4×4.
The air is hot and heavy and takes some getting used to. The dusty road is deserted and the only sound one hears is the roar of the 4×4 engine as it manoeuvres the potholes on the earth road. You pass the occasional supply truck chugging along or a fuel tanker hauling refined oil.
A race against time to get food aid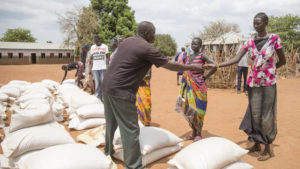 This is the dry season, and everyone is hoping for rain, but if rain does come, these dirt tracks will become impassable, cutting off towns and villages in the area.  So, it is critical that food gets to people in the next few weeks.
Thanks to donations to the East Africa Crisis Appeal and the Emergency Response Team, CAFOD has been getting food and aid to people in this area of South Sudan.
Find out how you can be part of our emergency response team
Cut off from anywhere other than a town 90 minutes' drive away, is the small village of Billing.  Scattered huts and makeshift structures are made of sticks and mud, and have roofs of dried palm leaves.
Fleeing conflict to a new home
Here hundreds of families, unable to farm their land in peace because of South Sudan's conflict, have fled to relative safety to this small village, where the host community are doing what they can to help their newly arrived neighbours.
According to CAFOD's local partner – the Catholic Diocese of Rumbek –  as of February 290 families had arrived in Billing after fleeing their homes in other areas of South Sudan.
Many people, like Mary, are emaciated from a lack of food.
Mary arrived a year ago, and her story is all too familiar.
"I am from Panjar in Unity state, but I fled to Billing in April 2016 as a result of the war that reached our village. At the same time, because we could not farm, we started experiencing extreme hunger.
"We came here with nothing at all. We fled with only the clothes we had in order to save our lives from certain death."
Mary and her family were allowed to build a small structure from sticks – shielding them from the sweltering heat of the day and sometimes chilly nights.
Staving off starvation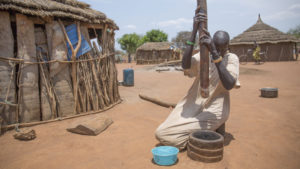 Even after settling in her home, the situation she fled from followed her. Hunger and the risk of starvation led Mary to take drastic measures to save her family.
"Every morning when I wake up, I go to the forest and forage for wild edible leaves for my family to eat. As we are approaching the Mango season here, I also pick some even though they are still raw.
"We eat the mangoes during the day and in the evening we boil the leaves and eat them. Even though they are very bitter, this is what we have to eat in order to survive until we get given food."
Help from CAFOD – vital food
In the school compound, underneath a large baobab tree, women and children start to gather. Some of the women are wearing the traditional bright cloth tied across their bodies, the bright colours of their billowing clothes for a moment makes you forget about the dire situation that these women face – no food to feed their families.
As more women gather the dry dusty silence is broken by their voices. They patiently await as groups of men remove from the classrooms – now temporary store rooms – white sacks of beans and sorghum.
Mary, along with the other families forced to leave their homes, gather and wait. Even as the heat from the sun intensifies they patiently wait. Nothing will break their resolve.
CAFOD, working in partnership with Irish sister agency Trocaire, employ a voucher system for the food distribution. One family member is given a voucher that they can spend at a local food store or market. Because of the insecurity in the area and lack of food in the market place, CAFOD and Trocaire worked with a local supplier to supply and transport the food to Billing village.
In neat rows the bags of beans and sorghum (the main food in South Sudan – a type of cereal grain, like maize) are set out.  People are called up in groups of twelve to hand in their vouchers, and each receives a 50-kilogramme bag of sorghum and beans. There's no pushing or shoving, only polite queues.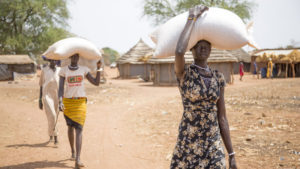 Akoi and Liapwel, Mary's two daughters, hoist a bag each on their heads and begin the short walk home.
Mary cuts a small hole in the bag of sorghum and let the beans cascade through her fingers, making sure that not one bean slips through her fingers and ends up on the floor.
Into a pale blue bowl, the beans fall. She walks to her neighbour's house to use their large pestle and mortar, and there she pounds the grains to make flour. This will be used to make a traditional meal of ugali – a stiff dough mixed with water.
"My children and I will pray for those who donated this food to us. With this food now I can get some peace and rest that my family has something to eat."
The only lifeline
As we left all I could think about was how many more families are in need. I know that as is customary, those who have received food will definitely share with those who do not have, because these communities sustain each other during good times and bad.
This is the only lifeline for people like Mary.
By David Mutua
You can help people like Mary and her children – set up a regular gift to the Emergency Response Team.
We'll keep you updated on how your money is helping people hit by drought, earthquakes, floods and other emergencies.