September 22, 2015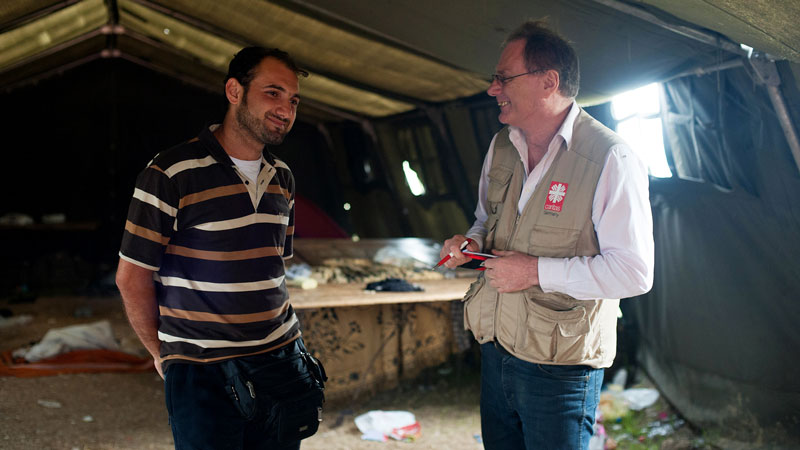 CAFOD is working with its partner Caritas Serbia to support thousands of refugees as they attempt to travel north. Stefan Teplan from Caritas describes what it was like to meet just one of them.
"I walked so many roads," says Abdalkarim. "I crossed so many rivers. I went over so many hills and valleys. I lost my home, my belongings, literally everything." Abdalkarim Zahra is only 26, yet he says he is "totally finished".
It's been many weeks since he fled his home in Syria. His journey has taken him to Turkey, Greece, Macedonia and Serbia. People smugglers have taken all his money. He has been pushed into an overcrowded boat to reach Greece. He has worn the same clothes for weeks. He has suffered hunger and thirst. He has been kicked by border police. "Can I still be called a human?" he asked.
Donate to our Refugee Crisis appeal
I meet Abdalkarim Zahra in a refugee aid camp in Kanjiža, a Serbian town 3.5 kilometers away from the Hungarian border. About 2,000 to 3,000 refugees come here every day on their way to Hungary. They then head mostly to Germany.
With support from CAFOD, Caritas Serbia is providing emergency relief there, in two other refugee aid camps in the south of the country in Preshovo on the Macedonian border and in the capital Belgrade. Just like tens of thousands before him (and most probably hundreds of thousands after him), Abdalkarim Zahra has stayed in them all.
In these camps, Caritas Serbia distributes drinking water and juice to the refugees, provides medical help and legal support. In Kanjiža, Caritas is even providing a temporary facility for refugees and migrants that has bathrooms, showers and beds.
"In these aid camps for the first time after so many exhausting weeks, I felt I was treated as a human," said Abdalkarim. Continue reading ""Treated like humans": CAFOD supports refugees in Serbia"