July 20, 2018
Runa volunteers for CAFOD. She tells us why a CAFOD beekeeping project inspired her to want to fund raise.
I recently helped my niece and nephew bake a honey cake for a bake-off challenge for their charity school fair.  A lot of families attended the event  and  it was a real success. It is great to see supporters looking to have a party-like experience while raising some money, although our cake wasn't the winning cake (I am still sad about that). I believe creating a fun atmosphere is the key in raising money for CAFOD this summer.
Get ideas from CAFOD's A-Z of fundraising
Beekeeping project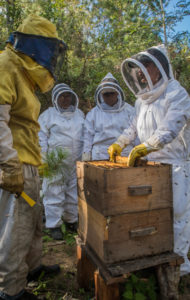 I was inspired by reading about CAFOD's overseas projects, and I came across the story of Bharoti. Bharoti lives in a village in Bangladesh with her husband. They are poor parents that led a very hard life and struggled to pay for the basics. CAFOD's beekeeping project gave Bharoti an alternative way to earn money. The project provides training on bee cultivation and advanced bee keeping techniques. They learn about proper nursing, feeding, treatment, and how to make a new queen cell to grow the bee colony.  It is great to hear Bharoti is now an expert on advanced bee keeping technologies, and she also provides technical support to others in the community.
Stories like Bharoti's prove how beneficial raising money is to families that need support. CAFOD Beekeeping projects provide an income and can create business opportunities.
The project is a source of hope for women where paid work is hard to come by and working with bees has helped build confidence and self-esteem within their communities. That's surely motivation to want to do fund raise this summer.
Do you feel inspired by CAFOD Beekeeping project and want to show your support? Organise a fundraising event
Continue reading "How reading about honey gave me a sweet fundraising idea"