Hands On Kitui: "In Kenya, anything is possible"
Mark Chamberlain is a communications officer with CAFOD. He travelled to Kitui in Kenya to record some of the work being done as part of Hands On, Kitui. Here he reflects on what makes the project so special.
We were walking through the old Musosya Dam in Kitui, Kenya and my first question wasn't so much a question as a statement of disbelief, "So, in a few months' time, this area will be full of water?' Nicholas Oloo, my colleague from Nairobi, looked at me – a glint in his eye and an almost imperceptible smile, "In Kenya," he said, "anything is possible."
Okay, I might need to qualify my disbelief.
Will you get Hands On by making a regular donation today?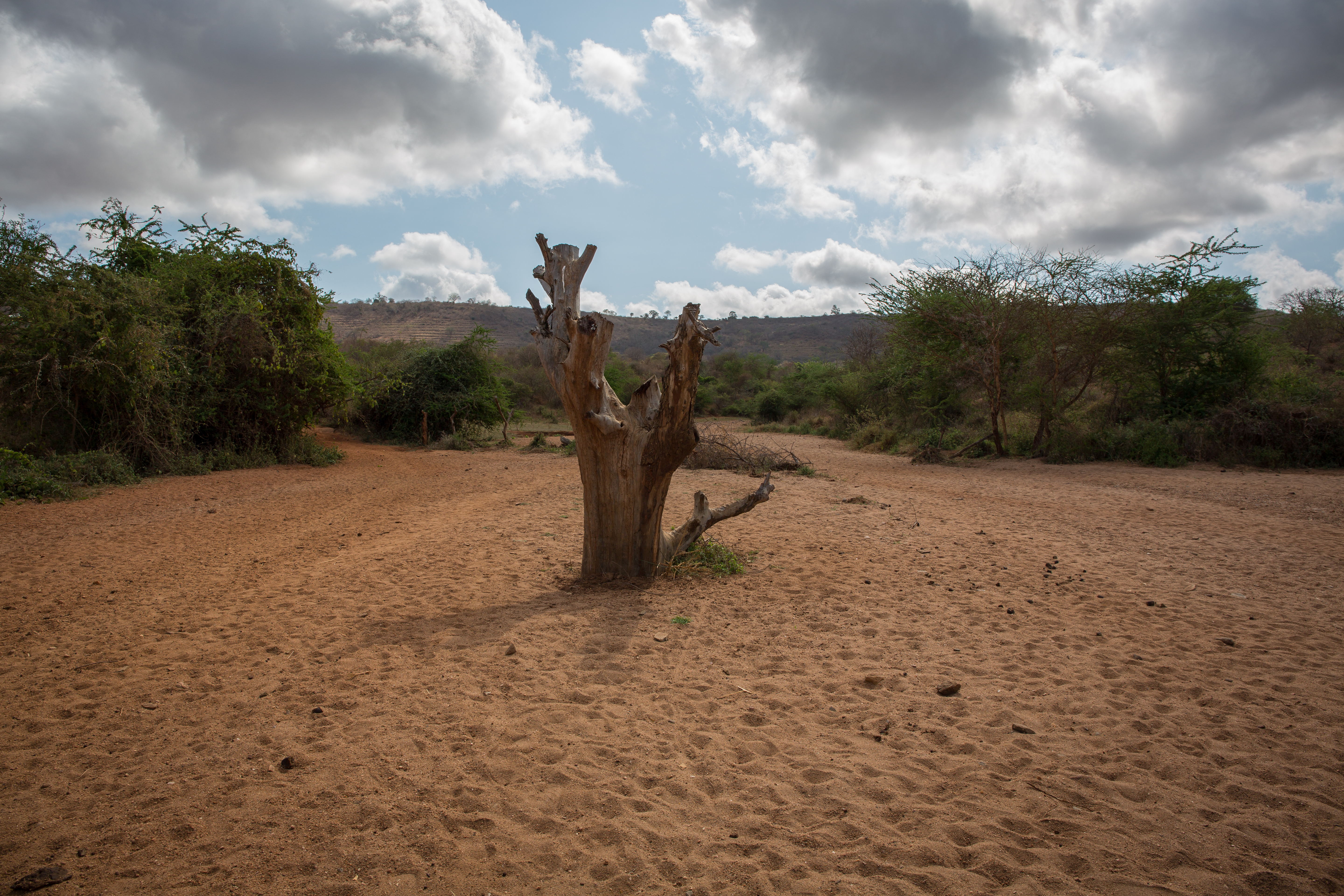 You are standing in the old dam right now. Look around you – high up on the hillside, perhaps 400 metres away: red, dusty land. Over there, far into the distance, the same. The flat land you're standing on, the dam itself, is huge – nearly seventeen swimming pools in size. Place your hand on your brow, squint into the sun and look, this expanse of land stretches for a long, long way. Here is a picture of the old tree in the middle of the old dam, choked in dry, red soil. Nicholas reaches his hand way up into the air. "When the silt wasn't here and the dam was working, I wouldn't be able to touch the top of the tree." Put your hand on the bones of the tree and even though your science teachers told you wood doesn't conduct heat, you can feel warmth from the old, dead tree.
…
Transformation of the land and people
I had read and seen so much about Hands On, Kitui. The dam that had dried up would be transformed to bring water to way over 1,500 women, men and children. But it was when I actually had the privilege of seeing the work up close, that I understood just what this project meant and why the people who lived around the old dam were so excited about it.
Find out about our second Hands On project in Doutchi, Niger
I walked among a group of women and men building a sand dam on the first day. What noise! The ringing sound of hammers and pickaxes hitting stone over and over. Voices calling to each other – encouraging, instructing.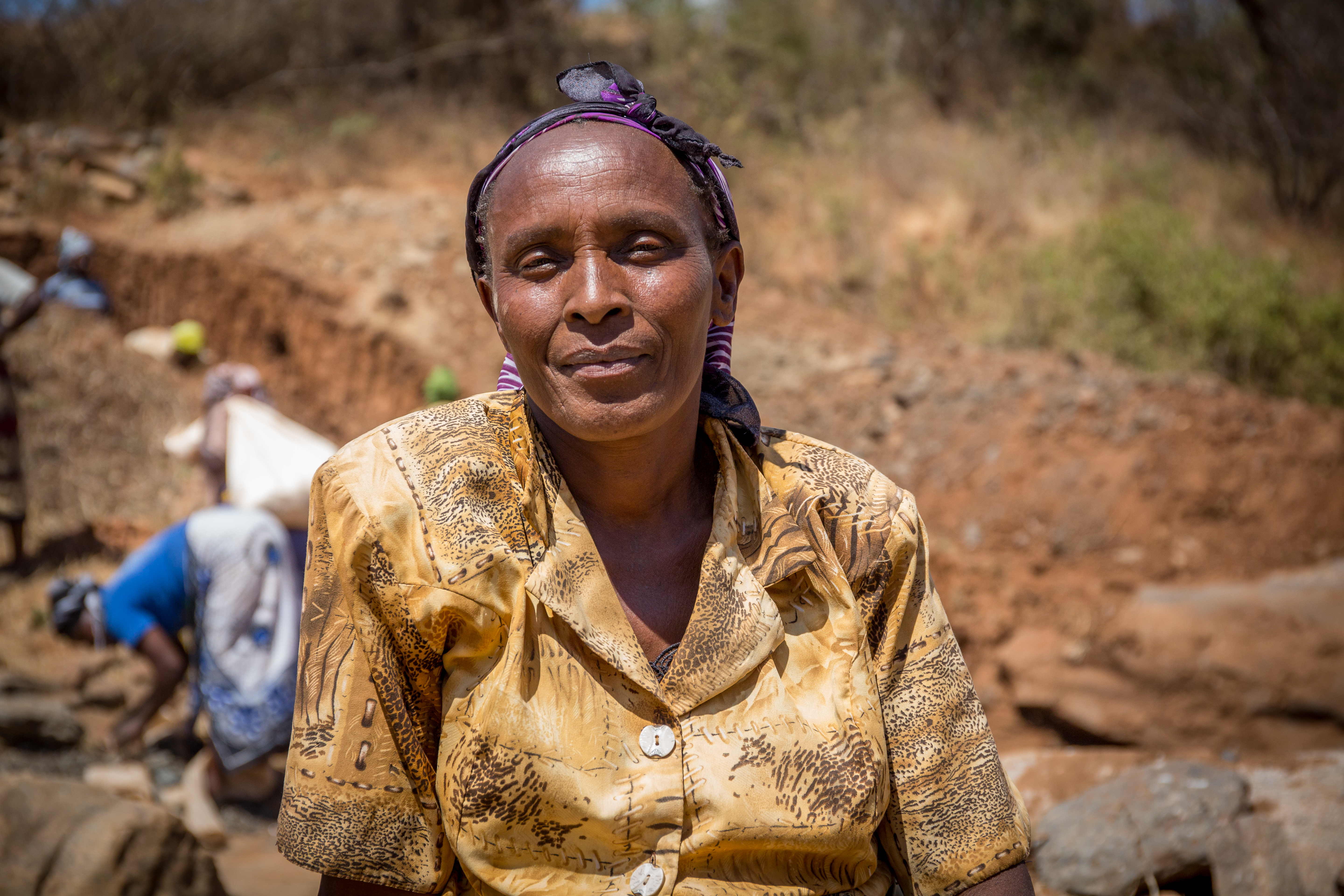 I sat with a woman called Sabeth. We talked, but she didn't look at me an awful lot – this was because she was concentrating on the work in hand: breaking rocks for ballast. Shards hit me as she continued. She laughed as I tried my hand at the work. A point to note: if you like your thumbs, you need to pay close attention to any hammer you're using. Trust me. "I think the first day I see water" Sabeth said, "I will be very grateful for the work and for all the people that have helped us." I left her to continue working.
'Kitui is dry'
Another day I went to see some women and men 'terracing' the land. This is where ridges are cut into the soil to prevent water from washing it away and so that the seeds they plant aren't carried away by the rains. Each person there was deep in concentration – from the chairman of the workers to every woman and man that was marking out the soil. By this day, I thought I had caught a cold and cough. I spoke with someone about it, they told me that "Kitui is dry. You haven't caught a cold, you have caught the soil."
Despite the conditions that Philip Nzula, the Hands On project coordinator in Kitui described as "A hostile environment", the people continued working.
At home with Stella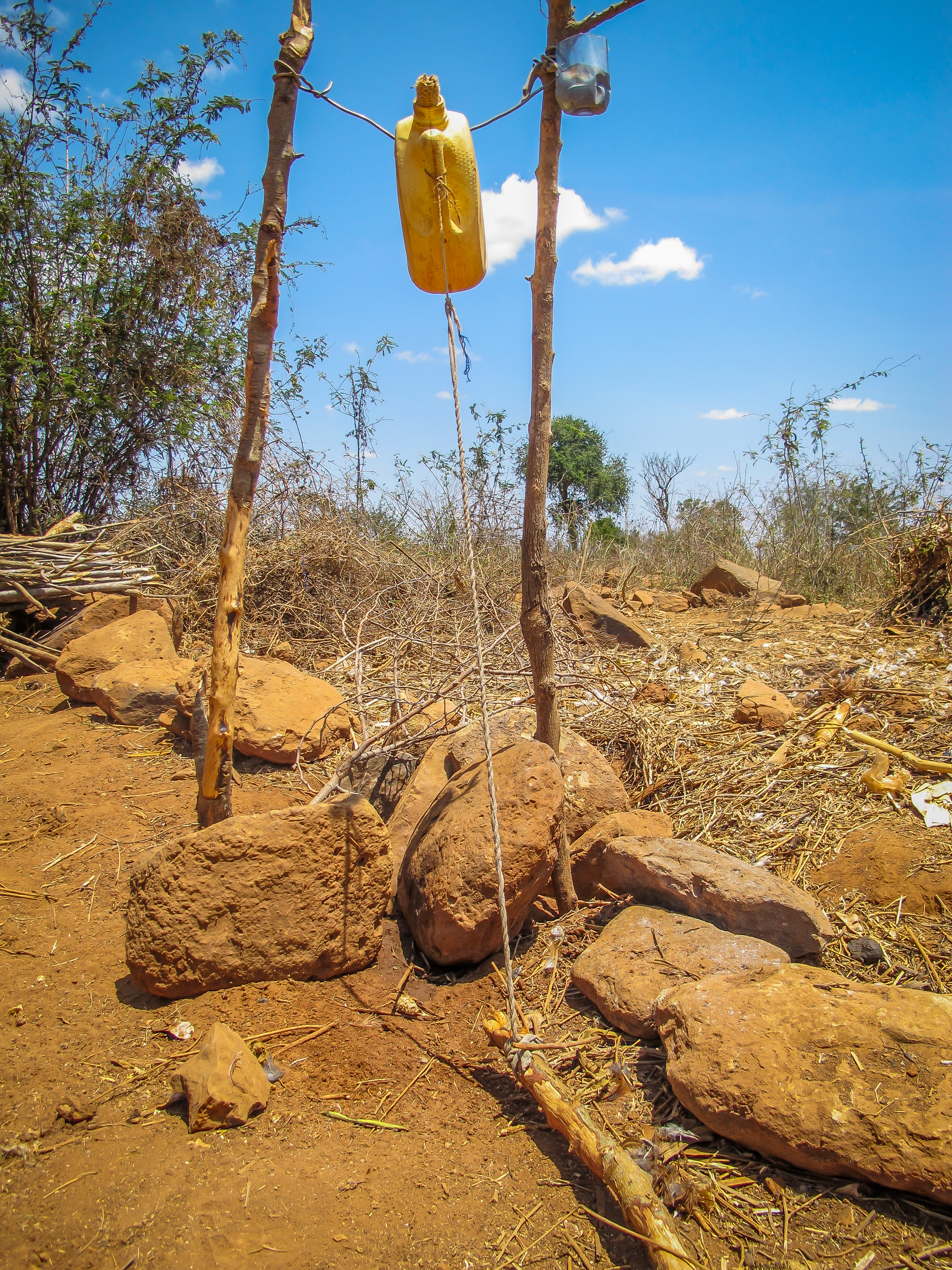 It was when I arrived at Stella's home and saw what she had done there that I really understood what the project means to the people working on it. She had terracing along her land, there were fertile 'zai pits' to grow crops in, she had been building 'stone bunds' which are like terraces made from large stones – they help to make sure seeds and earth isn't carried back to the dam when it rains. She had made a toilet and a special 'tippy tap' handwashing device.
All of the things I saw in her home and on her farm she had learned from the Hands On project. Phillip spoke to me as we left her home, "The biggest tool we can give people is not the hoe or the pick, it is knowledge. We are empowering people through knowledge. They can go home now and apply the skills they have here on their farmland." When I left, Stella didn't sit down to admire the things she had done – I saw that she went back to work the land.
On my final day in Kitui, I walked across the dry dam one last time and looked up to the vast hills, then across the red dirt. It became clear that there will be water here. Trees will bring shade. Crops will grow. Families will thrive.
I realised after seeing the people's determination, that Nicholas was right: anything is possible in Kenya. The amazing part is making it happen.