Connect2: Brazil: "It was a long fight, with many tears, but now all I feel is gratitude"
On Wednesday 19 August, the EU Ambassador to Brazil, João Gomes Cravinho, visited families in São Paulo where our partners, APOIO and MDF work, which has support from the EU.
During his visit, the Ambassador heard first-hand about the struggle of 450 families facing poverty and at risk of eviction in North São Paulo. With support and accompaniment from APOIO, the families have successfully negotiated with local government, a delay to the eviction order by 3 months. They have also secured a commitment from authorities to conduct a vulnerability assessment, which identifies people for referral to public housing and social programmes. Negotiations and dialogue with authorities to rehouse or provide permanent housing solutions for these families are on-going.
Several people told the Ambassador about the importance of this work. The Ambassador met resident Marcela Aparecida Neves, aged 26, who looks after her three daughters aged, 7, 6 and 18 months in Brasilândia.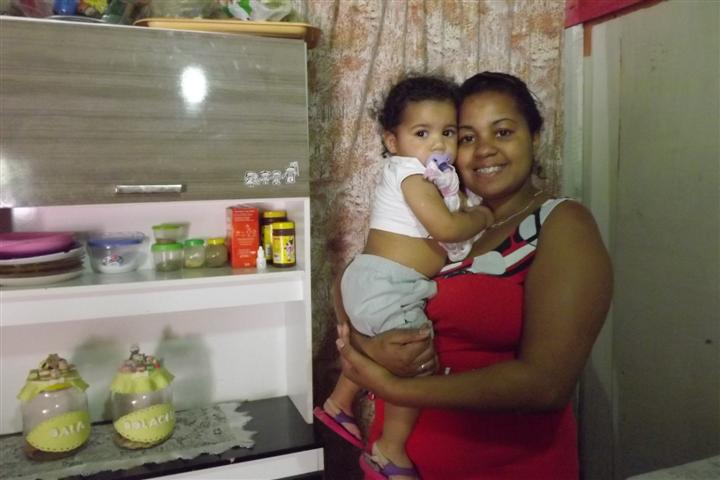 She says, "Rents in São Paulo are prohibitively high. We were not able to pay rent and put food on the table for our children at the same time. Here we have found solidarity with other families and hope to provide our children with a more dignified life." 
The Ambassador also visited a new social housing unit, Conjunto Minas Gás II, now home to 100 previously homeless families. For 15 years these families struggled for their right to access decent housing and with the support of the project's accompaniment, information, capacity building and community-based advocacy work, they have finally achieved their own home.
Claudete Amorim, one of the new residents, explained what the support of this project had meant for the families, "With the support of CAFOD and the EU through the Urban Programme, we had guidance about the decisions we were making which helped us to get to where we are today.  We had meetings and demonstrations, and met key actors to demand our rights. Then in 2013 the building works started and in June 2014 we moved in."  She remembers the emotion of the moment, "When I entered my home for the first time the first thing I did was give thanks to God.  It was a long fight, with many tears, but now all I feel is gratitude.  My son couldn't believe it.  We used to live in a tiny room with a bathroom outside.  When he saw his own bedroom he could not believe it." 
Claudete now has a home, and like other families in these apartments she is paying a mortgage at a level she is able to afford, but she continues to support other homeless families still struggling to access decent and sustainable housing.
To find out more information and sign up to Connect2: Brazil go to: cafod.org.uk/connect2