Letter from Stella in Kenya
Stella took part in our first Hands On project in Kitui, Kenya. Over two years, hundreds of people in Kitui were supported by more than 1,700 CAFOD supporters to rebuild their community dam and bring water back to the area. Having water nearby means families can irrigate their crops and don't have to spend hours walking to and from the river each day.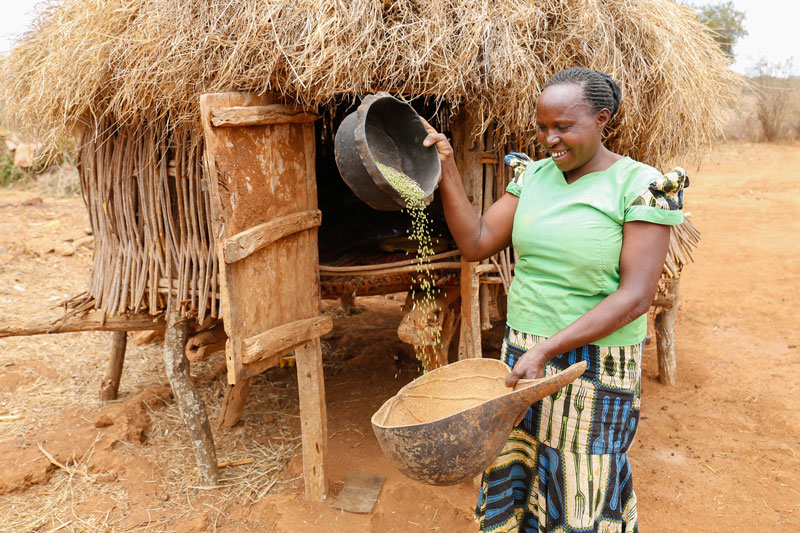 Dear friends,
I am very grateful to you for giving donations and enabling us to carry out this project.
The project has meant I am able to get a job and manage a small income. With my income I am able to buy seeds for my farm and cement so I can build a strong house. Before there was such a challenge with food that I had to divert all my energy and resources to food.
Hear Stella describe what life was like in her community
Thanks to the Hands On project activities, even at this time of year before the rains have come, we have food stored. I am able to harvest enough and still have surplus to sell so I can pay for my kids to go to school. Last term I sold beans to the school in exchange for school fees.
I would like it if donations could also be sent to other areas, not just nearby but in other countries. Before you start your new project in Bolivia, make sure you pray a lot because it is not easy to implement a project like this. I hope all the people working on the Bolivia project have the same commitment as the community here in Kitui. Because all you need is commitment and God's blessing.
With love,
Stella
Get Hands On and fund a new project helping families to grow food in Bolivia