Clean water is vital – How Mike from Liverpool brought water to a remote Kenyan community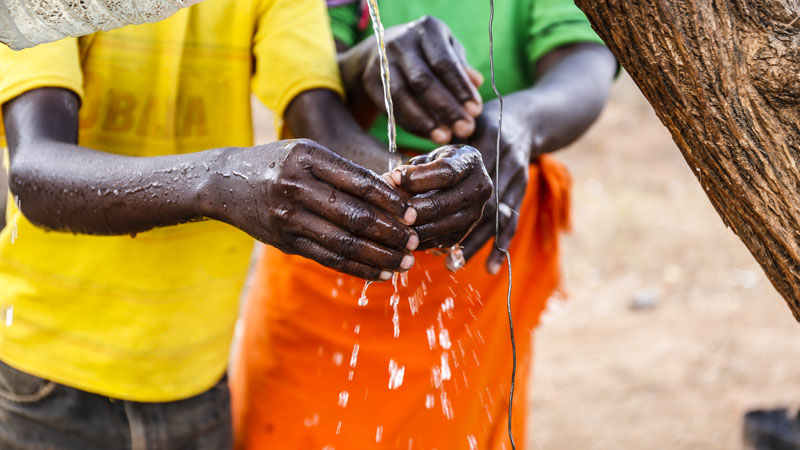 Mike Gilligan from Liverpool Diocese is one of 1,700 Hands On supporters who were all inspired to fund a two-year water project in Kitui, Kenya. Hands On supporters in England and Wales followed the community's progress in Kitui, and each month sent vital donations, encouragement and prayers.
Mike shares why Hands On is so special to him.
I first heard about Hands On through a flyer. It sounded like a very good idea, as the community were helping themselves and not relying on external organisations. It also gave me the opportunity to do my bit. I am helping someone, somewhere, in a place I can't dream of seeing. Here in the UK we have an over-plentiful supply of water, but people in Kenya have such little water to work with. Clean water is vital – that's why I signed up to help.
At the beginning it was a challenge to imagine how, in such a dry environment, the project would be successful. But I was convinced their effort would yield long-term rewards and I followed as the community all joined in and helped.
Meet the people who got Hands On
I have felt involved throughout the project because I have been receiving regular updates in the post and by email. The updates have been really interesting and I have been able to see changes over periods of time. One of the highlights for me has been receiving videos with interviews from people who will use the dam. This kind of regular communication makes me feel involved in the ongoing relationship.
I would encourage anyone who is able to, anyone who has a little bit of spare resource, to sign up to Hands On. There is a lot of demand for finance from charities, but with Hands On I can see where the funds are going. This particular project in Kitui has just finished and on a personal level, I look forward to another opportunity to support a new Hands On community.
If you, like Mike, want to be part of a journey to transform lives for thousands of people, join our latest ambitious Hands On project in Bolivia.