Great Generation: Playing my part
Oscar is a CAFOD volunteer who joined campaigners from across England and Wales at a parliamentary reception on 24 April.
"If young people shout loud enough, the government will listen!" Oscar.
The CAFOD MP Correspondence on Monday the 24 April was a truly great experience, and was inspiring in many ways. I came along for multiple reasons.
One key reason was to make the best use of my time as a CAFOD young leader. CAFOD is truly a great organisation with meaningful aims, and I wanted to be a part of that and represent that at Speaker's house in parliament. Also, I have a passion for politics, so going to parliament and talking to MPs and campaigners about CAFOD's work and my work as a young leader was a great chance to gain experience and visit parliament.
Download our general election 2017 briefing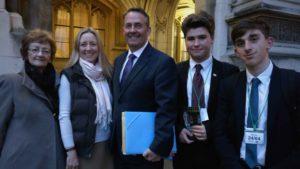 The speech from the speaker of the house John Bercow really inspired me. He showed me that politicians do take CAFOD's message and work seriously, and the other speeches were both inspiring and thought provoking, and even got me thinking about what more I could do as part of CAFOD in future.
As well as being a CAFOD young leader, I am also the Member of Youth Parliament (MYP) for Reading. My role means I have to represent the youth of Reading, and fight for real change and recognition of young people as a powerful and meaningful voice and group. The experience of being a youth leader at CAFOD has really helped me carry out my role as an MYP and indeed vice versa.
Three top things to ask candidates this general election
As a person and long-time activist and public speaker, I want to achieve real change in this country and world, and promote youth voice and the power of my generation to bring about revolutionary change, for the better! And being a young leader at CAFOD is a great way to help achieve that change. As I always say, if young people shout loud enough, the government will listen!
Watch this film and find out how you can use your talents to start a change: