Defending Indigenous People's Rights in Cambodia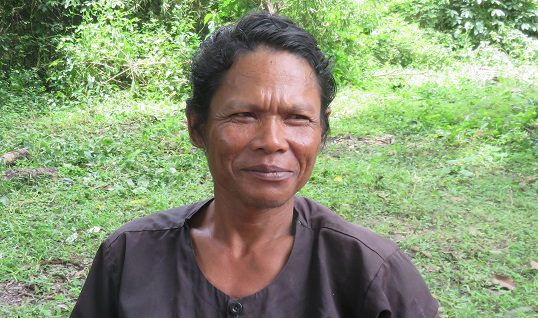 Today marks the International Day of the World's Indigenous People. CAFOD's Programme Officer in Cambodia, Sorphoarn Sok meets indigenous land activist Hean Heak to find out more about how he is helping his indigenous community stand up for their rights in Cambodia and defend their land from land grabs by large companies.
Activist Hean Heak is from Ngorn, a remote village in Kampong Thom province in central Cambodia which is home to the Kuoy Indigenous Peoples.
Be an activist – get involved with CAFOD's campaigns
Like other indigenous communities in Cambodia, Kuoy people in Ngorn have traditionally relied on subsistence farming. But instead of collecting fruit, rattan, and vegetables from the forest surrounding their village, they now sell their labour to private cassava employers.
Since 2011, the forest around their village has been systematically cleared. This has limited their agriculture production and depleted their local natural resources.
Losing their forest
The destruction of their forest has brought the Kuoy people to the brink of losing their culture, traditions and lives.
"People in this area did not understand anything about laws. It was very easy for them to be cheated, and threatened to abandon their land," says Heak, whose indigenous community is threatened as large companies have purchased the land without their permission.
When the companies came in, villagers didn't know what to do or who could help them, and they were banned from accessing the land. Heak says people lived peacefully before the private companies arrived. Nowadays, their lands around the village have been taken over by plantations, and their lives are much harder.
Speaking on behalf of the villagers, Heak says companies should consult with local villagers before they engage in work that affects the local people.
"I am worried about the future of my village and hope that the remaining land in my community will be protected, as well as our culture and farming practices," he says.
Taking Action
Heak has turned his growing concern into action, volunteering to represent his people and take a lead in the legal land registration process. "I am happy that Ngorn villagers lay their trust on me and elected me to form an Indigenous People Committee to claim ownership over our land."
But taking a stand to defend land and the environment is a dangerous job all over the world, including in Cambodia. Community leaders like Heak can face threats, intimidation, attacks, detainment and even killings.
Join Heak in speaking out about peace and justice-sign up to our campaigns e-newsletter
As Heak's village is remote and the local authorities stationed far away, he is the bridge of communication between villagers and local authorities. He is often approached to discuss and report issues put forward by his community, which he then discusses with heads of the village and the commune.
As well as being a part of the network of Indigenous Rights Active Member (IRAM), Heak and other members in the committee help vulnerable villagers address land issues. They do this by educating them on legal systems, laws, peaceful advocacy, and indigenous rights. "I strongly commit to this work though I understand that the process is lengthy," Heak says.
Before receiving support from CAFOD's local Cambodian partner, Development and Partnership in Action (DPA), Heak helped his community file a complaint requesting assistance for an investigation on land encroachment by private companies. But he was struggling, as he didn't know who to ask or seek advice from.
However, without legal ownership, little could be done to legally protect their land.
Mobilising the community
Through CAFOD's local partner, Heak now has the confidence to speak up for indigenous rights. He has mobilised people in his community, and with support from DPA, he has completed the relevant documents to register their identity as Kuoy Indigenous People.
As a result, the Kuoy peoples in Ngorn village have been recognised by Cambodia's Rural Development Ministry. They will now apply for legal status at the Interior Ministry and Heak hopes they will then be able to apply for their land titles.
"I have strongly committed to fully participate in this whole process, and hope that people remain in solidarity for this joint action to claim our land titles," he says.
The Kuoy people in Ngorn village have not yet received the official land titles they dream of. But Heak and his community are extremely grateful to CAFOD and DPA for supporting them to address the huge challenges they face. "I am very thankful for helping the Kuoy ethnic people in Ngorn village to develop. We hope that we will be able to pursue this process until it is complete."