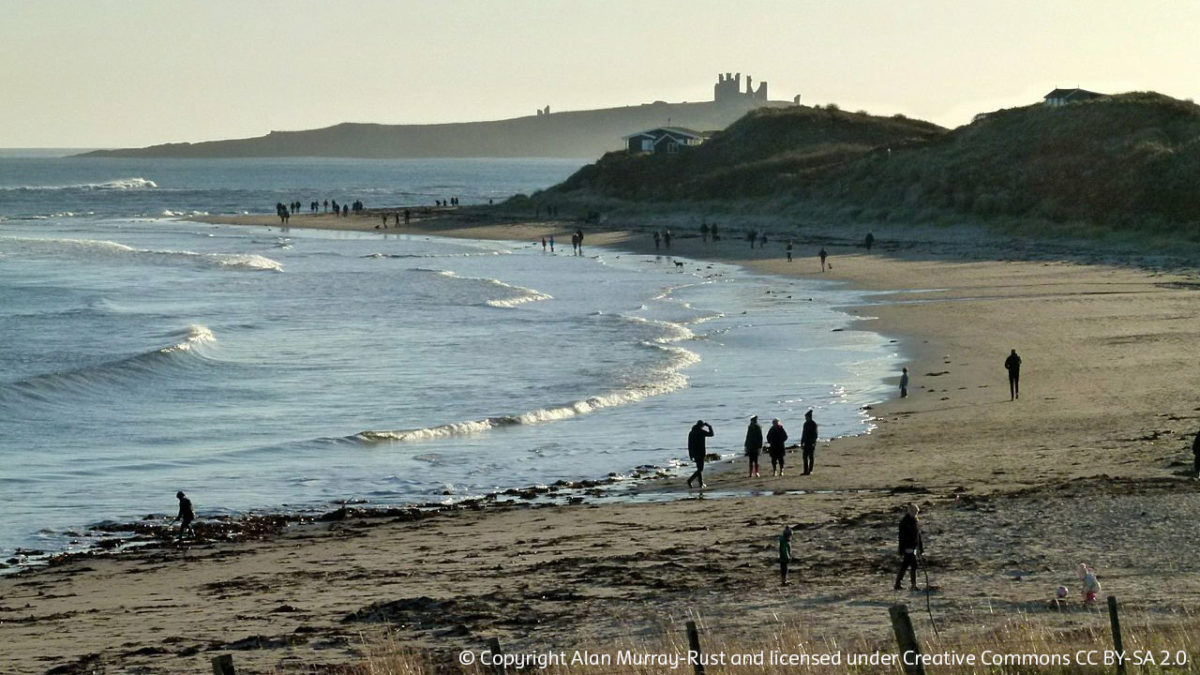 Throughout England and Wales, hundreds of people are getting ready to Share the Journey with refugees by planning walks in solidarity with those forced to flee. Our free guide can help you organise your own walk – by yourself or in a group, as long as you want and wherever you want! To give you some ideas here are some of our favourite walks.
Jeremy: A walk from Seahouses to Low Newton, Northumberland
For some the Northumberland coast conjures up images of horizontal rain and freezing winds. Instead, imagine long stretches of golden sands, dunes teeming with wildlife and cosy coastal villages.
Park the car at Seahouses, head down to the harbour, trying to resist the ice cream and fish and chip shops, and turn right. The beauty of this walk is that that's just about all the directions you'll need: keep the sea close on your left and you'll be fine!
Once you get to Beadnell harbour- and as long as the tide is out- you can drop down to the beach. If you're walking with children this is going to slow you down seriously, as they stop to do all the things kids do on beaches, but that's all part of the fun!
Plan a walk in solidarity with refugees – order a free guide
When you see High Newton up the slope to your right, it's time to leave the beach and head out over the dunes again. In less than a mile, you'll find yourself in Low Newton, home to the Ship Inn, an absolute gem of a pub. You'll have done a little less than 6 miles by now so, suitably refreshed, you can head up the road to High Newton and a bus back to Seahouses for fish and chips, or carry on down the coast to the impressive ruins of Dunstanburgh Castle.
Fiona: Walking near Ponsanooth, Cornwall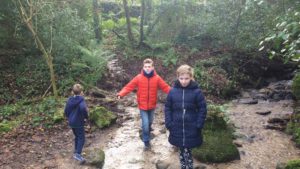 Near to the grandparents' house in Ponsanooth, Cornwall, is our favourite walk along a disused quarry which used to provide gun powder for the Napoleonic wars.
The kids love exploring the various pathways, jumping over streams, trying not to fall in, and running past waterfalls cascading down the hillside dodging the spray.
The walk changes by the season, summer when it is alive with the sounds of birds and other kids, to winter after heavy rainfall when the river charges down its course – the noise of which can be deafening.
Afterwards the kids love choosing a treat from the local shop and then back to grandparents' home for hot chocolate.
Every step you take is a message to world leaders to step up and support refugees
Jack: Coastal walk from Shanklin to Ventnor, Isle of Wight
I must have been around 8 years old the first time I walked this route. Actually that first time I wasn't so much walking as jumping over ancient trees and scrambling through bushes in what was, to my mind, a spot-on recreation of Raiders of the Lost Ark. I've been back almost every year since, and the knotted branches and vines that twist along the cliff-top path reignite the same childish wonder of that first expedition every single time.
As you walk, every now and then you'll turn a corner or find a break in the trees and suddenly see miles of blue sea stretching out in front of you. In the late afternoon sun these places have an almost melancholy loveliness. Don't rush past – sit down, have a sandwich and a sip from your thermos and, if you watch long enough, you might even catch a glimpse of dolphins playing in the cresting foam far below
Ffion: A short walk around Cardiff Bay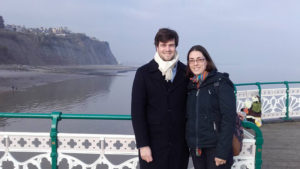 Did you know you can now walk the whole way around the coast of Wales along the recently finished coastal path? I've walked parts of it already, mostly in Pembrokeshire, but one day I hope to cover the whole 1400 kilometres. So much of the Welsh coast is stunning beaches and rugged cliffs, but there's beauty in some of the urban locations too.
A simple yet interesting walk can be done around Cardiff bay. Starting outside the St David's Hotel you can walk around the whole of the bay passing the impressive buildings of the Senedd, Wales Millennium Centre and, my personal favourite, the Norwegian Church. Dr Who fans can also spot the shrine to Ianto Jones along the way. This walk is flat and accessible to anyone and has plenty of opportunities to stop for a break along the way.
For a potentially windy extension to the walk you can also continue along the Barrage and cross over into Penarth. Pass Penarth Head and finish up with an ice cream on the Pier.
Plan a walk in solidarity with refugees – order a free guide
Libby: Walking around Harter Fell, Lake District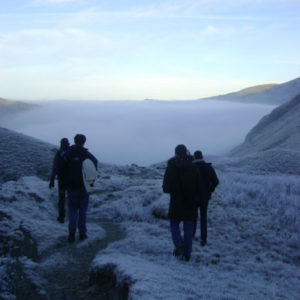 Years ago we did a Christmas walk around Harter Fell in Cumbria. It was an incredible experience. We started at the base with everything covered in ice and snow; by the time we tackled a very steep incline, we were above the clouds and sitting in sunshine. It was really breath-taking – literally and metaphorically – and really inspiring; challenging but entirely doable for novices (I was with a bunch of hungover lads).
Marine: A walking route from Craster to Dunstanburgh Castle and Rumbling Kern, Northumberland
Wrap yourself up warm for this coastal walk.
Go to Craster and park your car at the entrance of the village in the car park. Don't forget to take a few coins for the car park (not expensive). From the car park go to the centre of the village and look for the walk towards Dunstanburgh Castle.
Start your walk along the path to Dunstanburgh Castle, the ruins of which you will see outlined on the horizon. Keep an eye out for the incredible rock formations along the way.
Once you've had a look at the castle, take the path to your left towards the golf and a little further south is the hidden cove of Rumbling Kern, once the haunt of whisky smugglers bootlegging their contraband up and down the coastline. You will reach this award-winning, secretive beach where you can stroll along until you decide to turn around and go back to Craster. Don't forget to pay a quick visit to the smoke house to get some kippers.
We're aiming to walk 24,900 miles – the distance around the whole world. Plan a walk and add your miles to ours