Five ways to start a conversation about climate change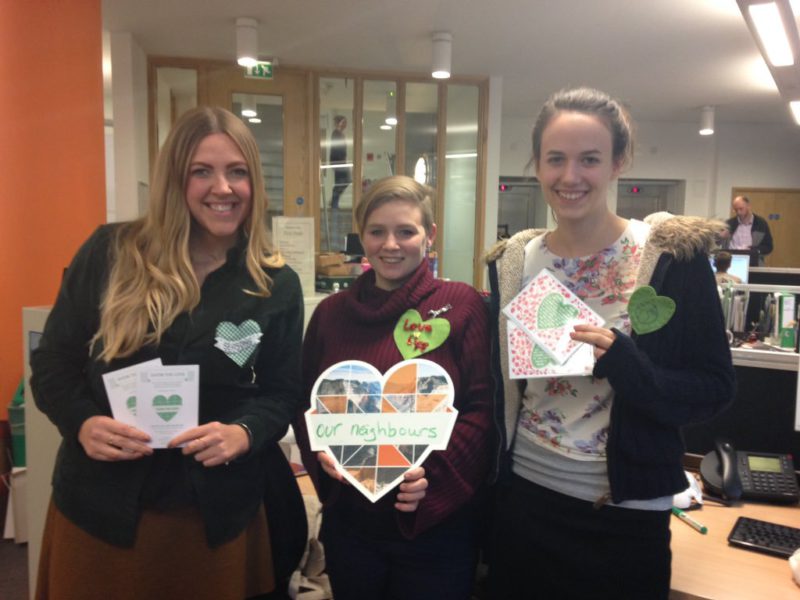 Sarah Croft works in CAFOD's campaigns team. This week, she's challenged herself to talk to five new people about climate change. Why?
Last week I was shocked to learn that women my age are the group least likely to talk about climate change, even though they are the most concerned about the issue.
We are not alone in our reluctance to talk. Two out of three people have never had a conversation about climate change – ever.
CAFOD campaigns on climate change, so I am unusual in that I spend most of my working day thinking and talking about it to colleagues.
But despite this, when I leave the office and head out to have drinks with friends or to see family, I rarely bring the topic up.
Find resources to help you start conversations about climate change this Valentine's Day
Why? I have put this down to a fear of seeming too preachy, irrelevant or a bit of a killjoy. After all, the cards 'Happy birthday…another year older, another step closer to 1.5 degrees' or 'You are invited to attend my wedding (meat free and climate friendly!)' don't really invoke that warm fuzzy feeling.
And yet how can we expect politicians to take action to tackle climate change, unless they know it is an issue that people are talking about?
Around Valentine's Day this year, CAFOD will join with other organisations in The Climate Coalition, to challenge all of us to have a conversation about climate change with someone new.
It could be talking with your grandchildren after school, the neighbour you bump into or your priest after Mass.
This week, I have set myself the challenge of having chats about climate change with five new people and wanted to share my top tips:
Say it with what you wear: I put one of the Climate Coalition green heart stickers on my phone and made a green heart badge to pin to my coat. Instead of having to force climate change into conversations, I've found people ask me where I got them from and what they mean.
 Say it with tea and biscuits: A very British way to approaching a problem. Next week, I will be making green heart biscuits, using this recipe, to give out in the office. Although they probably won't get the Paul Hollywood handshake, they will be a talking point.
Say why you care: Telling people about the things you love that are affected by climate can be easier than trying to remember numbers and facts. I am a proud aunty of two nephews – so when people ask me why I was wearing a green heart, I'll tell them about my concern about the world they will grow up in.
Say it on social media: Instead of sharing the latest climate stat, why not share a picture of that place you love that is affected by climate change, whether that is where you take your dog for a walk in the morning or somewhere on the other side of the world?
Say it differently: People expect me to care about these issues as it is part of my job. However, they are surprised when I tell them how many other people care too: astronaut Tim Peake tweeted his concern from space and football players will be wearing green hearts to support the campaign. Follow #showthelove to see who else is sharing green hearts this year.
Whatever you can do to make people more aware of the problem of climate change, the closer we get to solving the problem. Sign our petition to lobby the Prime Minister to commit the UK to net zero greenhouse emissions by 2045, meaning we are no longer contributing to climate change.