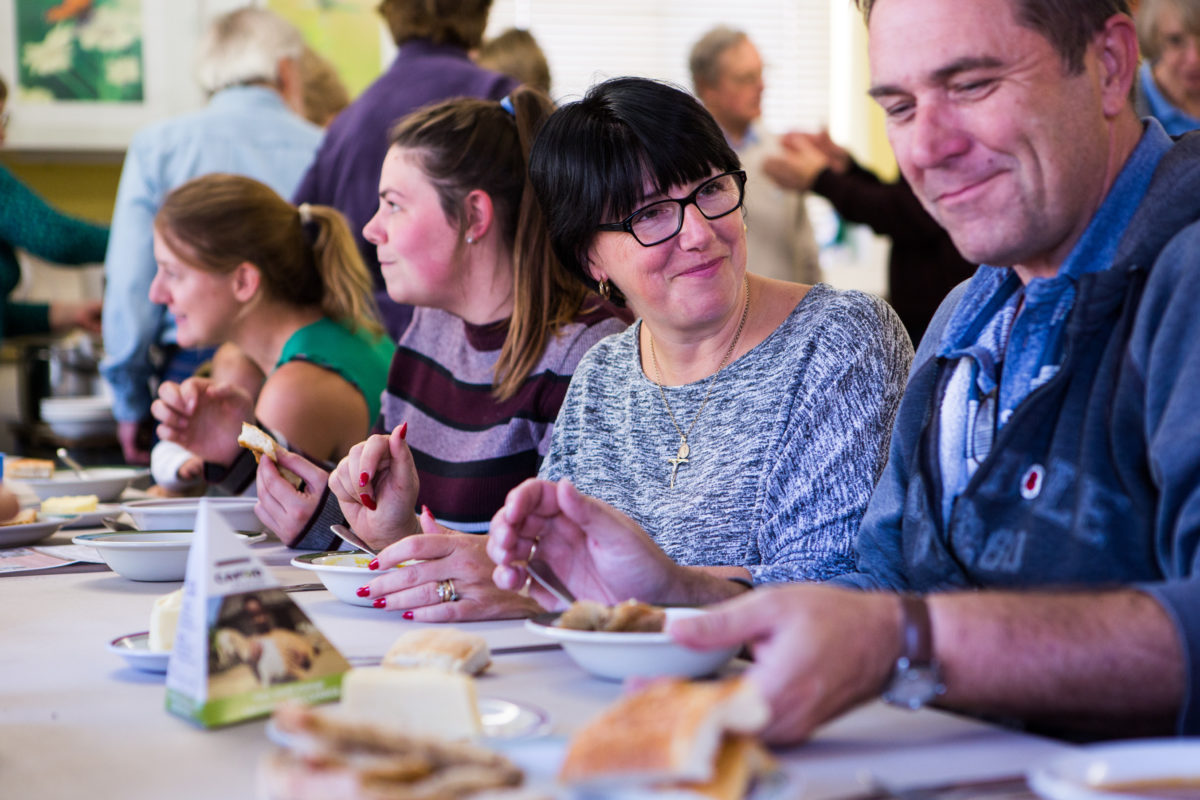 Joe, a volunteer from the CAFOD Birmingham team shares some inspiration from the St Osburg's parish in Coventry on running a soup-erb lunch for Family Fast Day.
With Lent rapidly approaching, our thoughts will be turning to what we might give up, but, even more importantly, how we and our communities might give. Well, if we're looking for inspiration, the people of St Osburg's parish in Coventry provide a wonderful example.
Soup lunches at St Osburg's
They've been running 'soup lunches' for CAFOD there every Friday for over 20 years, with about 25 people coming along every week (that's about 25,000 mugs of soup!!). This is a wonderful and inspirational example of people living out the Gospel, just by sharing a simple meal.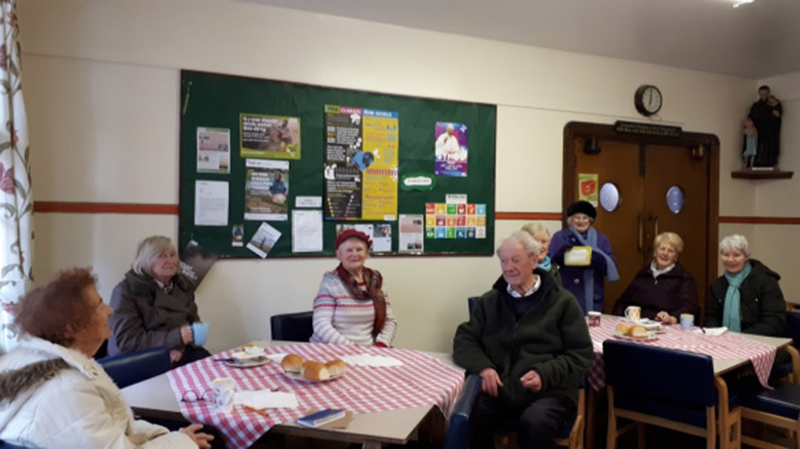 Livesimply has been a key CAFOD message for many years, and simplicity is absolutely the key to the way they do things. Everything is prepared for the Friday meal the day before, with the soup home-made by a team of three on the Friday morning. Then taken to the church hall in flasks, with fresh bread rolls and butter bought from Morrisons (other supermarkets are available!) The team of three, Beckey, Philomena and Teresa, serve the soup after midday Mass, with tea or coffee available for those who don't want soup. All three demonstrate the faithfulness and commitment that is the key to the running of the lunches.
These lunches are provided with no expense to the parish or its people. In turn, those coming for the Friday lunch give whatever they wish at the door. Even if they cannot join the lunch, people put donations in the plastic box at the door – the people of St Osburg's have a real 'grá' for CAFOD, to use the Gaelic word for love. By now, of course, after so long they all know about the lunches. But there's also a notice in the Newsletter, and a small poster at the back of church, although in the best Catholic tradition, word of mouth remains vital.
The CAFOD infection
This is how they explain their motivation (though perhaps inspiration would be the better word): 'We've always been associated with CAFOD and coming to Coventry we became "infected" with it. People were looking for Christian outreach beyond Coventry and we responded. And, of course, Friday is also a time for people to come together, share their lives and be reminded by each other that there are many who have been made poor and are being kept poor, because of our having more than enough. To put that in terms of the CAFOD campaign, we want to live simply so that others may simply live. This really is an example of the people living out the Gospel.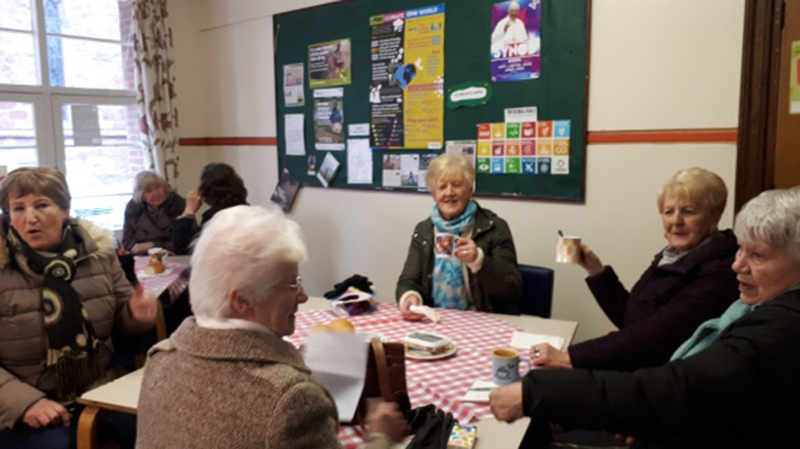 The global aspect of CAFOD's work attracts people, and takes them beyond their own interest and shores – the global outreach is especially relevant at the moment. Talking about CAFOD can be very informative and educational for people. What's more, they feel safe in knowing that all monies are accounted for.
Why do we do this?
At all stages of the 'operation' simplicity is the word. Just two or three people who are interested, can get on with things quietly and without fuss. The people at St Osburg's, when asked 'why do we this?' respond that the answer lies in the Gospel: Jesus was sent, and we are called, to bring the Good News.
Financial transparency is also vital. The parish treasurer banks all the monies from the lunches, and sends a cheque to CAFOD every three or four months. In addition, all this information is published on the parish notice board, so that people who contribute know just what's going on.
During Lent, CAFOD Lent Fast Day, which this year is Friday 15 March, is stressed, but they don't do anything extra, on the grounds that every day is special! Last year they raised £615.50 in Lent.
So, lots of very good pointers if we're still wondering what to do this Lent!