We celebrate the International Day of Women, with Krubah Weedor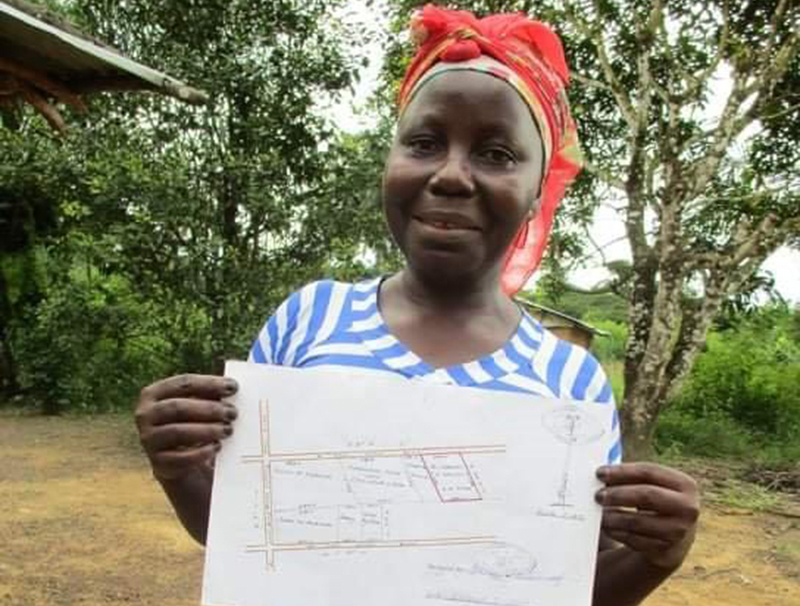 Willet Salue is CAFOD's local expert in Liberia, she tells us about Krubah Weedor who has fought for herself and women in Liberia to inherit land. A success we can all celebrate on International Day of Women.
Krubah Weedor's husband died some years ago after a long illness. When he was alive, they bought a parcel of land, 2.18 acres, in both of their names. That was at the end of 2005. At that time, they did not survey the land or pay any tax because they never had enough money to do so.
"When my husband died things were so hard for me, the struggle was too much, feeding my children, taking them to hospital, paying school fees, I had no money in hand."

Krubah Weedor
People came into Krubah's community, she wasn't sure who they were, but they wanted to take over her land and sell it to a business man.
"Just because I didn't have money and power, they wanted to take my land, and leave me with nothing, but God did not allow it to happen."
Krubah's story is typical of many marginalised, rural women in Liberia, who find that the land they are living on, vital for their family's survival, can be sold off from under their feet.
The struggle women face to inherit land
Women are denied access and ownership to land because of discriminatory traditional customs. In communities like Krubah's, land ownership is passed down to clans through the male family lines, and most of the time men control the decision making, distribution, management and use of land, leaving women mostly relying on men to obtain a restricted portion for producing food to feed their family.
Due to lack of money to pay for surveys and taxes to obtain legal titles, if a woman is left with a piece of land, she ends up losing it to a richer land grabber, usually a man.
Krubah was worried about being thrown off her land and wasn't sure what she could do to protect herself and her family.
"One morning I heard a loud noise, when I went to see what was going on, I saw a group doing drama, calling women in the community to come out and attend a meeting about land rights".
Women fight to get their land back
The noise was coming from Development Educational Network – Liberia (DEN-L), one of CAFOD's implementing Partners, working alongside the Liberia Law Society on the European Union funded Land Rights for Liberia Project. Together, they are giving women renewed hope by supporting them to exercise their legal rights to their land.
Working within forty communities across Nimba, Lofa, Margibi and Bong, CAFOD and her implementing partners are working to ensure that every woman has access to the advice and support they need to secure land tenure.
Krubah's life was about to change for the better. She got involved with the meetings, and eventually DEN-L and the Liberia Law Society paid for surveyors to survey her entire land and probated her land deed and paid the first tax on it.
Women are at the heart our development work across the world. We know that when women are fully supported, they and their families can flourish. Please give to our Lent Appeal so we can support more women across the world.